Hopewind participated in Solar Energy Future Vietnam 2022
10:44 | 15/04/2022
- From April 12th to 13th, Rooftop Solar Vietnam2022, a Part of Solar Energy Future Vietnam 2022, was held in Ho Chi Minh City, Vietnam. As a global renewable energy company, Hopewind was invited by the summit and launched innovative distributed photovoltaic solutions for the development of industrial and commercial rooftop photovoltaics in Vietnam.
The two-day summit mainly discussed the high-quality development of industrial and commercial photovoltaics in Vietnam. There were not only Vietnamese rooftop photovoltaic market and policy analysis, industry expert panel discussions, but 1-1 project matchmaking meetings, etc. The organizers hope that through in-depth exchanges and dialogues, they can help global energy companies better settle down and take root in the Vietnamese market and bring more assistance to the healthy development of Vietnam's industrial and commercial photovoltaic market.
The summit has now formed a platform effect of multi-dimensional development. Based on the local situation in Vietnam and the global energy development trend, the summit will build a multi-level, wide-ranging field and all-around mutually beneficial cooperation pattern from Vietnam to overseas, photovoltaics to energy storage, government to enterprise, project developer to a solution provider.
Hopewind Vietnam team presented the distributed photovoltaic solutions to participants at the summit, including 8-33kW residential small-power inverters, 36-50kW commercial medium-power inverters, and 60-125kW commercial high-power inverters. Hopewind's distributed photovoltaic solutions were recognized by participants through exchanges and discussions at the booth.
Hopewind's string inverters not only have a complete range of models, but also have efficient power generation, stable performance, and intelligent operation and maintenance. The inverter has multiple MPPTs, which can support up to 210mm high-current solar panels, while reducing the mismatch loss of solar panels and increasing power generation; The inverter has undergone strict tests before selling, such as vibration, high and low temperature, anti-salt spray, etc.; And with nighttime SVG function, which enables remote operation and maintenance.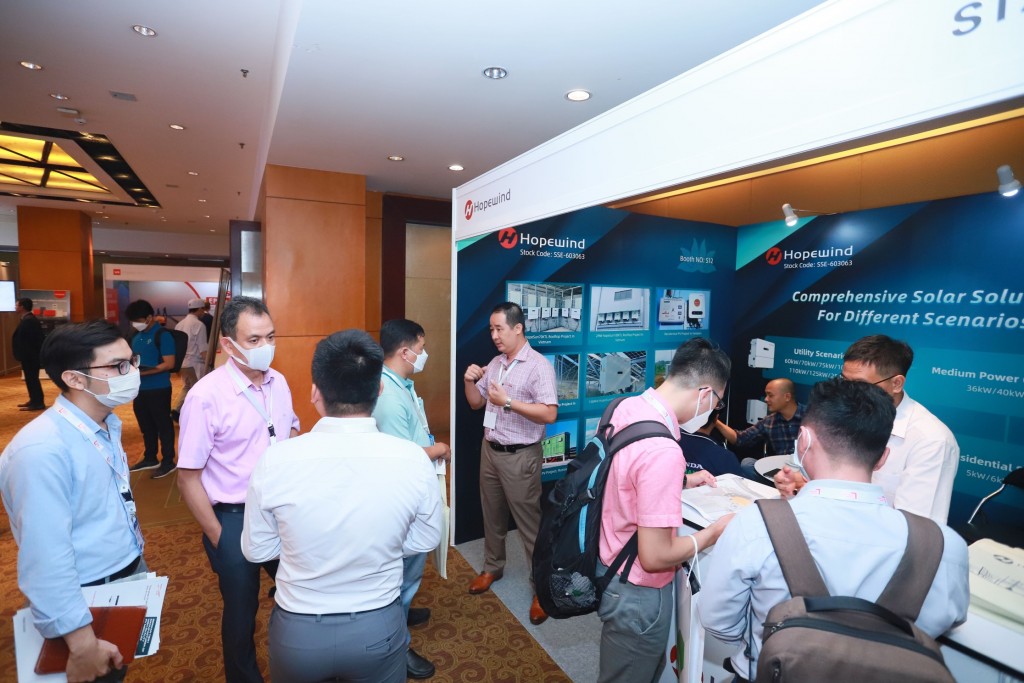 The rapid development of local industrialization in Vietnam has led to a surge in demand for energy and electricity. However, due to factors such as the large population and limited land resources, the development of traditional electricity in Vietnam is limited. Therefore, distributed photovoltaics adapting to local conditions have become the mainstay of energy and electricity development in Vietnam. It can not only effectively meet Vietnam's electricity demand, but also contribute to environmental protection. At the same time, distributed photovoltaics have low investment and high returns. Compared with traditional energy sources, they have more prominent economic advantages and have achieved explosive growth in the Vietnamese market. .
In the development of the globalization strategy, Hopewind provides distributed photovoltaic solutions for the development of Vietnam's photovoltaic industry, which are widely used. Clean, efficient, and safe green power, will promote the diversification of the local energy structure, ease the regional electricity demand and promote economic development.