Putting the drilling rig ThTC-02 at the White Rabbit field into operation
07:57 | 11/12/2015
- On December 7, 2015 Vietnam - Russia Joint Venture Corporation (Vietsovpetro) held a ceremony for pinning the project board, summarizing emulation of building works and putting the drilling rig ThTC-02 at the White Rabbit field into operation.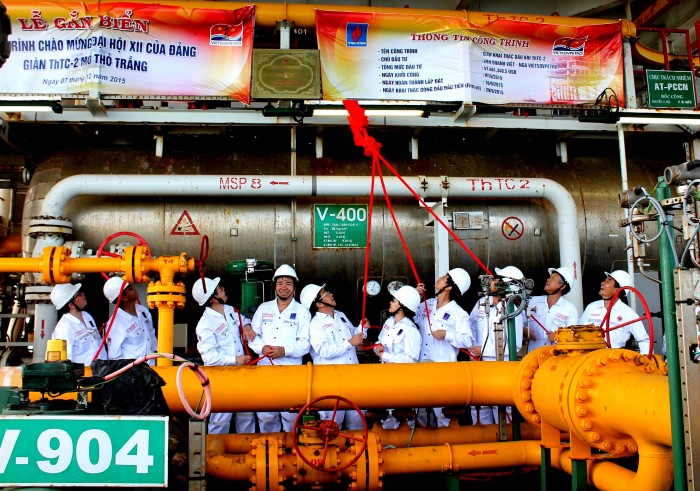 The ceremony for pinning the project board ... (Photos: Vietsovpetro)
That, the drilling rig ThTC-02 has been completed and put into operation, has not only a significance in honor of the 12th Congress of the Communist Party of Vietnam, but also an important meaning for Vietsovpetro in contribution to complete the task to exploit petroleum output of 5 million tons per year and for PVN to increase its petroleum production in 2015 and coming years. Besides, the project ThTC-2 still is an important milestone to confirm the sovereignty of Vietnam on the East Sea.
The US $47.5 million project ThTC-2 was started for develop from April 2015. This project is located from ThTC-1 in about 3.8 km to the west southwest, from the rig MSP-6 of Bach Ho field in 7.5 km to the northwest and from Vung Tau city in 120 km with a sea depth of 50 m. This is a typical light petroleum drilling rig with a total weight of about 3,400 tons.
After over 5 month construction and installation, the project was completed put and gave the first oil flow on Sep 29, earlier than initial plan for 47 days with a saving sum of US $2.82 million for the Joint-Venture Corporation.
VietnamEnergy.vn