Restarting and launching PV DRILLING V rig
14:55 | 20/04/2021
- At PTSC Downstream Port, in Vung Tau City, PetroVietnam Drilling and Well Services Corporation (PV Drilling) carried out a ceremony for restarting and launching PV DRILLING V rig.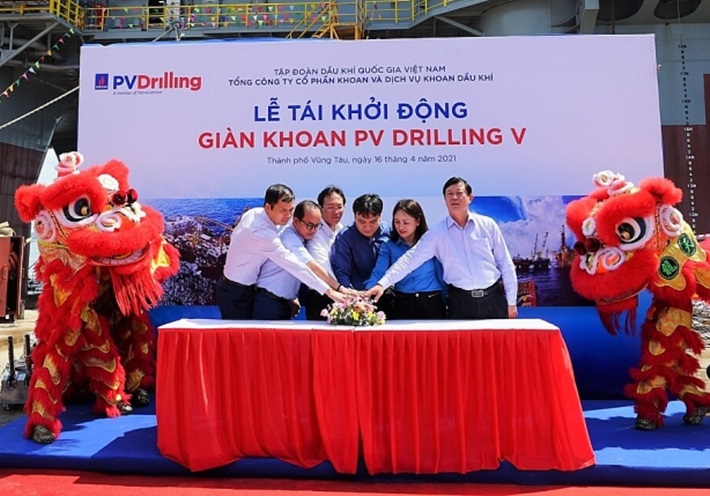 The Cerymony of Restarting and launching PV DRILLING V rig (Photo: Petrotimes)
According to PV Drilling, PV DRILLING V rig that has been built at Kepple Fels Shipyard (Singapore) is the 8th TAD rig in the world belonging to the most modern generation of TAD rigs today with Model SSDT 3600 E HP. This is the TAD drilling rig with many outstanding features and high technology in comparison with the existing support rigs.
The rig has been completed at the end of 2011 and started implementing the drilling contract for BIENDONG (EAST SEA) POC campaign at Hai Thach - Moc Tinh field since early 2012. The rig has completed beyond the plan 16 wells in deep, remote water with a very complicated geological condition, helping save the time and costs for BIENDONG POC campaign.
During the project implementation period, PV DRILLING V rig was always operated safely and effectively with an efficiency of over 96% and highly appreciated for financial efficiency, high technology application and high technology and capacity for managing and operating the first in Vietnam semi-submersible supporting rig owned by PV Drilling.
After nearly 9 months of bidding and intense negotiation, overcoming the strong drilling contractors in the region, on September 24, 2019, PV Drilling and Brunei Shell Petroleum (BSP) officially signed a contract to supply TAD - PV DRILLING V rig for BSP's deep water drilling project in Brunei, with a reliable contract term of 6 years plus two optional extensions with every two years.
At present, the rig restarting and maintenance works have been completed for 91% in comparison with the plan and the equipment re-certifying has been completed for 95 %.
The project of restarting PV DRILLING V rig and building new DES drilling equipment cluster for BSP drilling campaign under the signed contract is extremely important to maintain the jobs for the engineers, workers as well as for PV Drilling Corporation development.
In particular, the TAD-PV DRILLING V rig participation in BSP is an opportunity for PV Drilling to continue affirming its capacity and position in the international market and also affirming the brand and mission of "The pioneer of Vietnam petroleum drilling sector".
VietnamEnergy.vn