Signing power purchase agreement for Ca Mau 1 and 2 power plants
15:06 | 17/12/2021
- On December 15, 2021, in Hanoi, PetroVietnam Power Corporation - JSC (PV Power) and Vietnam Electricity (EVN) signed a Power Purchase Agreement (PPA) for Ca Mau1 and 2 Power Plants 1 and 2.
After the Vietnamese side completed the recovery of the ceded gas from the PM3 overlapping area, implementing the current legal regulations and the direction of the Ministry of Industry and Trade (MOIT), experienced through a very difficult but goodwill negotiation process between PV Power and Electricity Power Trading Company (EVN/EPTC) on conversing PPA signed by both parties (since 2008) with a two-component electricity price structure into a PPA according to the regulations for Ca Mau 1 and 2 Power Plants to participate in the electricity market.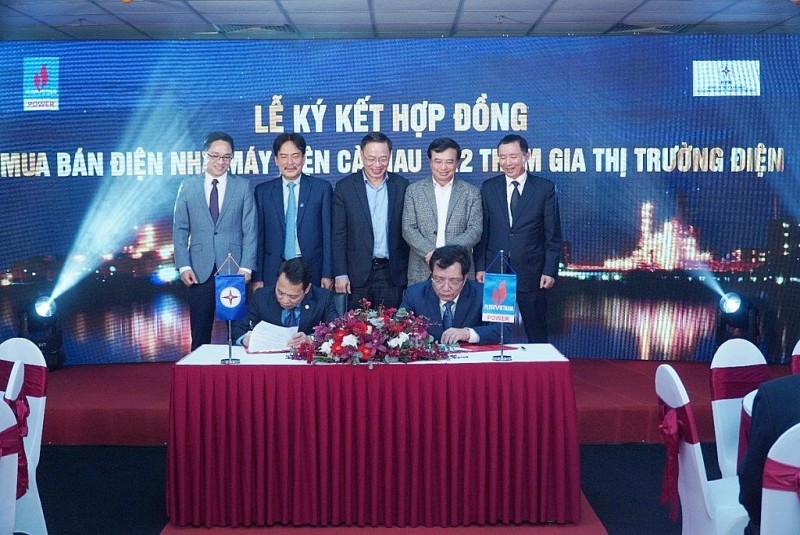 The signing ceremony
Speaking at the Signing Ceremony, Mr. Hoang Quoc Vuong – PVN Chairman emphasized: This event is a great significance, helping Ca Mau PV Power/PV Power proactively develop a bid plan for generating electricity in the market, thereby, contributing to creating a fair, transparent, efficient and flexible electricity generation environment for Ca Mau PV Power, and at the same time contributing to promoting the cooperation relationship between PVN generally and PV Power particularly and EVN. Today positive results in energy cooperation are thanks to the focused and drastic direction of MOIT and the active participation of the two sides.
The PVN Chairman affirmed that many opportunities for energy cooperation between PVN/PV Power and EVN will still be ahead and hoped that both sides will achieve new successes in the future.
On behalf of EVN, Mr. Cao Quang Quynh – A Member of the EVN Member Council highly appreciated the recent cooperation results between ENV/EPTC and PVN/PV Power and expressed hope that the signed projects will be implemented effectively.
Ca Mau 1 and 2 power plants are managed and operated by Ca Mau PV Power. These plants, including 2 Combined Cycle Gas Turbines with a total capacity of 1500MW