Towards Carbon Neutrality by 2050 – The Mechanisms for clean power projects in Vietnam
11:08 | 12/04/2022
- On April 7, 2022, in Hanoi, with the participation and chair of the Committee on Science, Technology and Environment of Vietnam National Assembly, the State Bank of Vietnam, the Climate change Department (Ministry of Natural Resources and Environment), Institute of Energy (Ministry of Industry and Trade - MOIT), Vietnamese and international organizations and enterprises… Scientific Council of Vietnam Energy Review organized a Vietnam Clean Energy Forum (The Second) with the Subject: "Towards carbon neutrality - Mechanisms, policies, technology and finance for wind, solar and gas power projects" and "Awarding TOP 10 Wind and Solar Power Investors with the best Technology, Equipment and Services in Vietnam in 2021".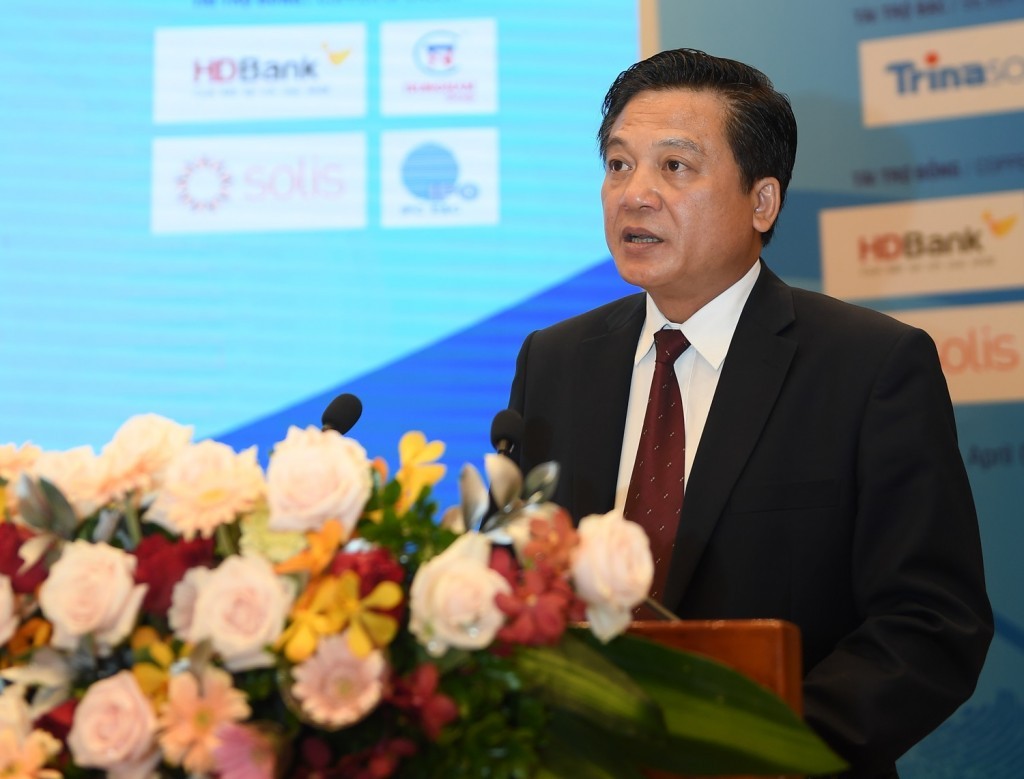 Mr. Phan Quoc Tuan - Editor-in-Chief of Vietnam Energy Review stated the reason for the Forum.
After the introduction of the Scientific Council of Vietnam Energy Magazine, Mr. Pham Van Tan - Deputy Director of the Climate Change Department gave the opening speech of the Forum.
Mr. Pham Van Tan - Deputy Director of the Department of Climate Change (Ministry of Natural Resources and Environment).
n behalf of the Presidium, Mr. Vuong Quoc Thang - Member of the Science, Technology and Environment Committee of the National Assembly gave a welcome speech, in which he said that despite the impact of the Covid-19 pandemic Vietnam achieved a good economic growth rate, ranked high place in the region. The electricity industry also had a high growth to meet economic growth. The contribution of the electricity sector to CO2 greenhouse gas emissions has a high proportion in Vietnam's total emissions. Vietnam has made a very high commitment to cut CO2 and methane. Such commitments need to be legislated. The Renewable Energy (RE) Law could pave the way for all society to participate in implementing a commitment for long-term net-zero emissions.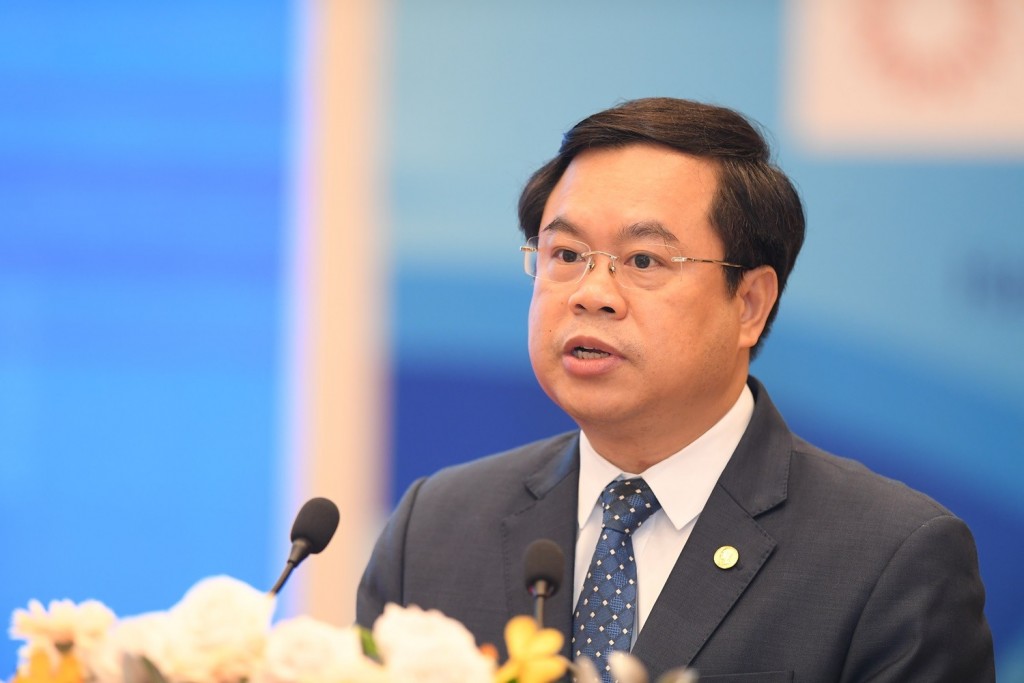 Mr. Vuong Quoc Thang, Member of the Committee for Science, Technology and Environment - National Assembly.
In the coming time, the National Assembly deputies will ratify the Electricity Law (amended) allowing the private sector to invest in the power transmission grid for releasing the capacity of RE projects and directly selling electricity to customers.
The Committee on Science, Technology and Environment of the National Assembly is ready to listen to the opinions of representatives of state management agencies, enterprises and scientists at the Forum to advise the National Assembly on appropriate policies.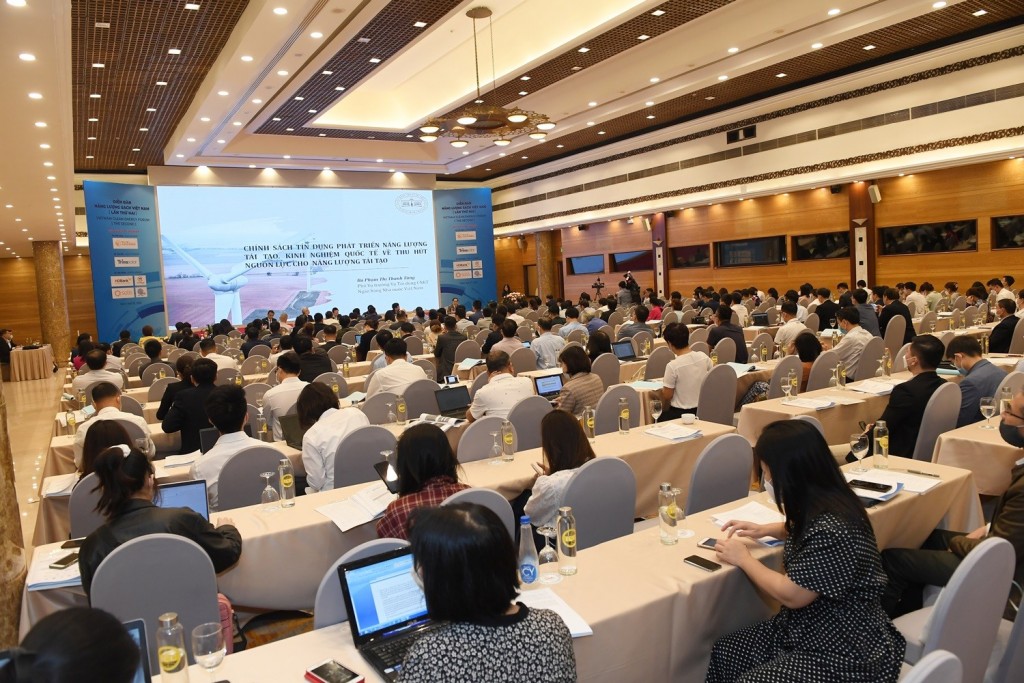 Forum overview.
A representative of the Institute of Energy (MOIT) presented that the electricity demand of Vietnam is forecasted to increase at a high rate as 8.5%/year to 2030 and 4.0%/year in the 2031-2045 period. Therefore, the power plants must increase to meet the demand. According to the forecast, the sale of electricity in Vietnam will be 886 billion kWh by 2045. The draft Power Development Planning (PDP) has been adjusted to match Vietnam's commitment to carbon neutrality by 2050, in which, RE projects (excluding hydropower) will contribute 32% in 2030 and 58% in 2045.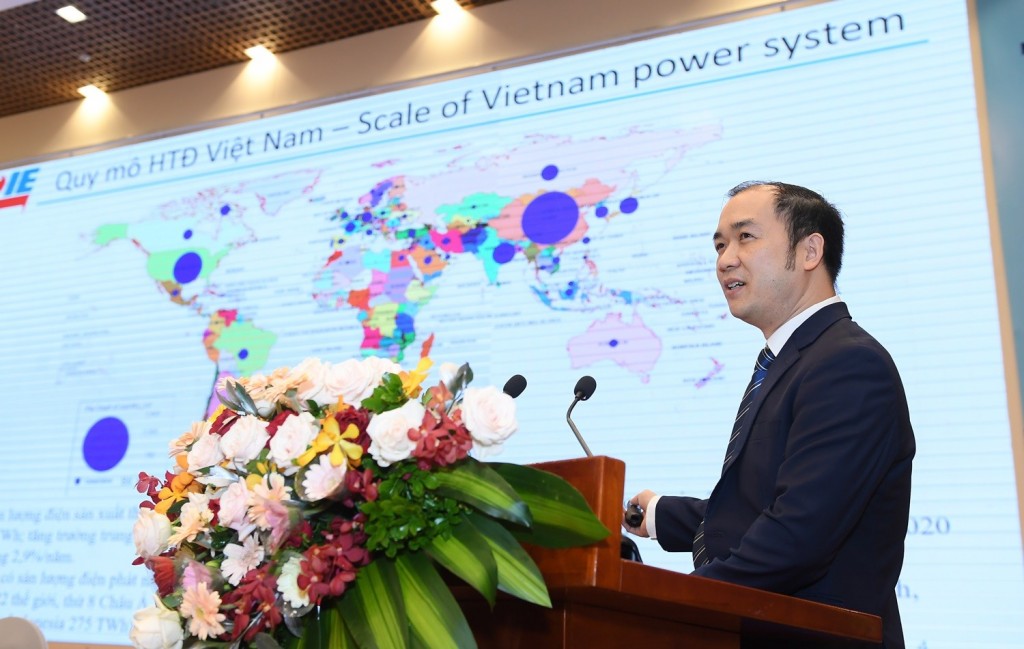 Mr. Nguyen Manh Cuong, Deputy Head of Power System Development Department, Institute of Energy - MOIT.
Along with the power plants, the power transmission grid needs to be upgraded and newly developed for ensuring electricity supply. The investment capital for the carbon-neutral scenario increases by 33% compared to the pre-COP26 scenario, leading electricity prices in PDP to an average increase of 30%. For RE good development, it is necessary to build new power transmission lines with the contribution of investment from the private sector. The power source structure must also be diversified, taking into account the power storage systems and producing the new fuels such as "green" hydrogen, and Ammonia - NH3 to ensure energy security. It is necessary to implement DSM to keep the balance of electrical capacity in the system.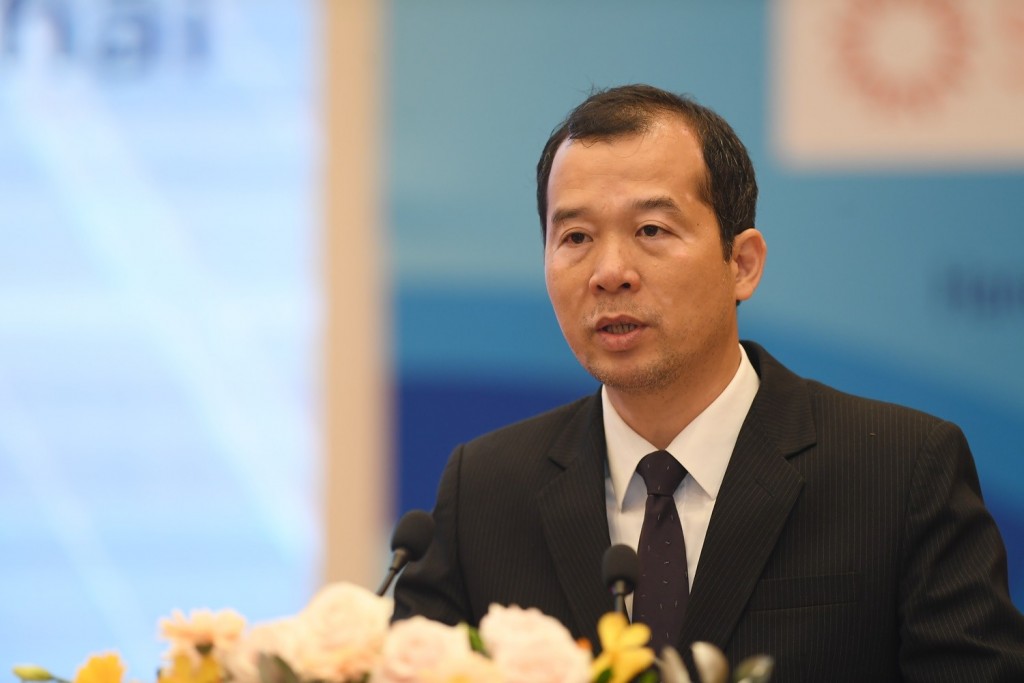 Mr. Luong Quang Huy - Head of GHG Mitigation and Ozone layer protection Department of Climate Change Department - MONRE.
The Climate Change Department introduced Vietnam's Normal GHG Emissions Scenario (BAU) by 2030 in 2020 updated project for the Nationally Determined Contribution (NDC). Calculation in this NDC shows that, even the most optimistic case, Vietnam will continue to increase greenhouse gas emissions until 2030. Therefore, to achieve carbon neutrality by 2050 Vietnam faces many challenges. Energy is the largest greenhouse gas emitter (65%), so fundamental changes are needed. The Ministry of Natural Resources and Environment is presiding over and coordinating with relevant ministries and agencies, international organizations and other organizations for bilateral and multilateral funding to RE development. There are still some difficulties in capital sources because RE investment has a payback period of 5-10 years, meanwhile, loans of commercial banks must comply with the ratio of short-term capital for medium and long-term loans. Decisions on electricity purchase prices have a too short term, so investors, as well as credit institutions, have difficulty in calculating investment efficiency. The time for monitoring wind speed data for wind power projects is too short for a reliable assessing the annual power output in the estimate.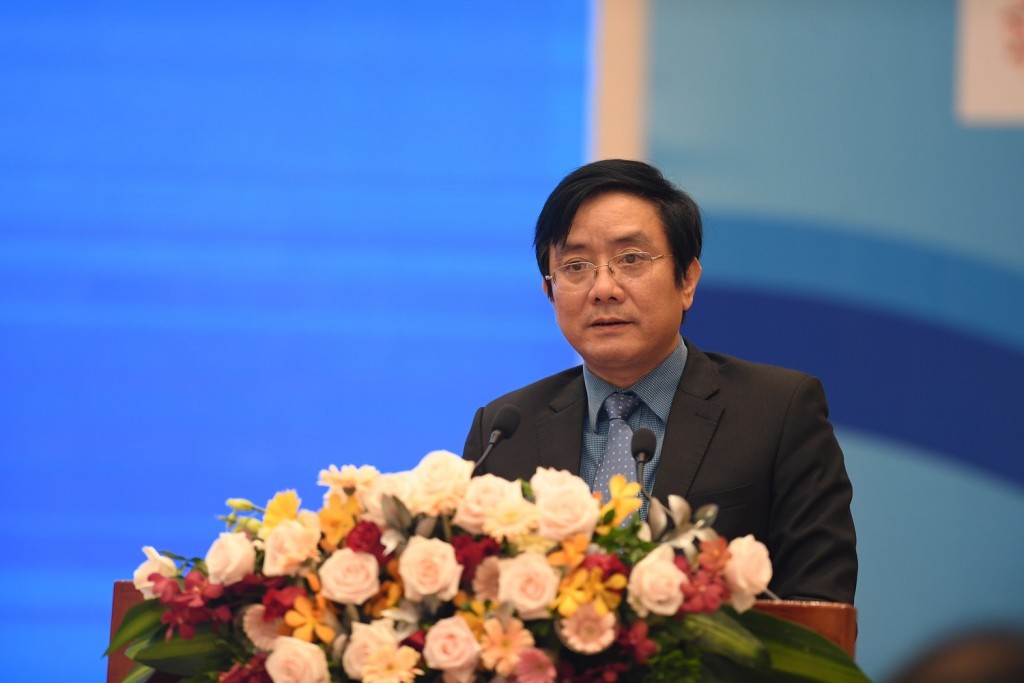 Mr. Hoang Trong Hieu - Deputy Chief of Office of the National Steering Committee for Electricity Development.
The Office of the National Steering Committee for Electricity Development explains the Renewable Energy Development Strategy, Resolution No. 55-NQ/TW of the Politburo and a series of mechanisms to encourage the development of renewable electricity. FIT pricing mechanisms have been applied for wind power, solar power, waste electricity, and biomass. In addition, RE enterprises also enjoy other supports such as tax incentives, land use and financial access.
However, the "hot" growth of wind power and solar power in recent years has led to an imbalance of source - load by region - region and caused congestion in the transmission grid. Regarding electricity and gas, only Nhon Trach 3 and 4 projects are capable of being put into operation around 2023 - 2024. A lot of procedures in the legal regulations on capital construction investment, especially projects BOT project, leading to a long licensing period. All projects have problems with site clearance. The price of electricity from renewable energy sources is currently high, causing an increase in electricity prices.
Technically, the current backup source is not enough to be able to absorb many renewable energy sources that depend on the weather. Even with the latest Draft Power Master Plan VIII, the implementation of Vietnam's commitments at COP26 is still extremely difficult.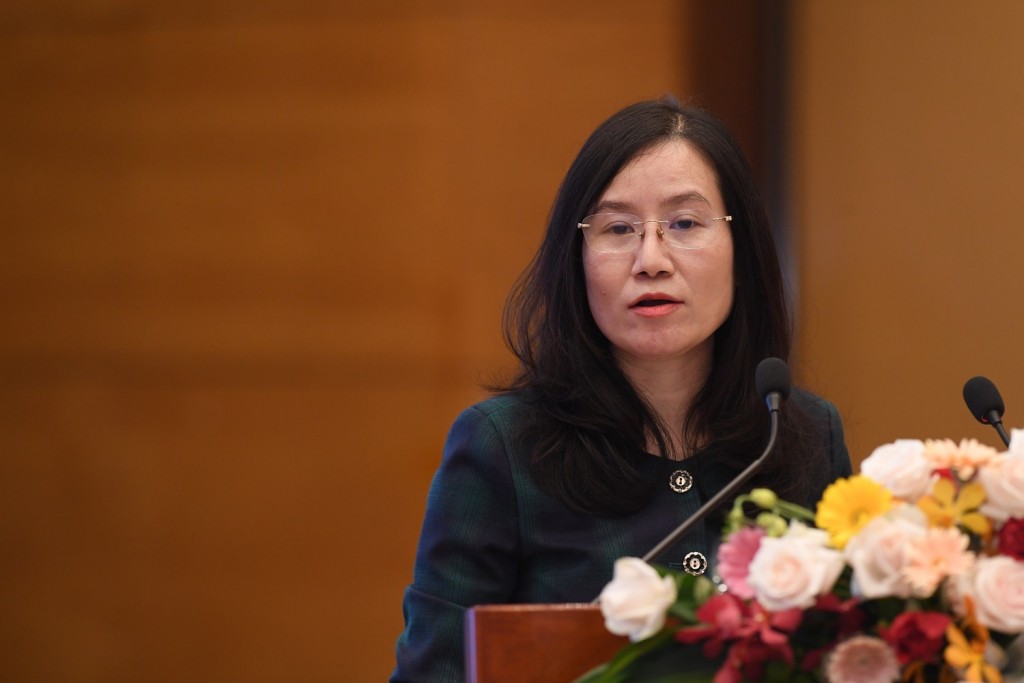 Ms. Pham Thi Thanh Tung - Deputy Director of Credit Department for Economic Sectors - State Bank of Vietnam.
The State Bank mentioned international experiences in attracting investment sources for clean energy projects such as: Separate Law for Renewable Energy, credit support, FIT prices, green bonds, tax policy, financing for the scientific research activities... Proposals for policies include classification of clean energy, renewable energy, consistent electricity prices, and model contracts with EVN suitable with an assessment of the credit institutions.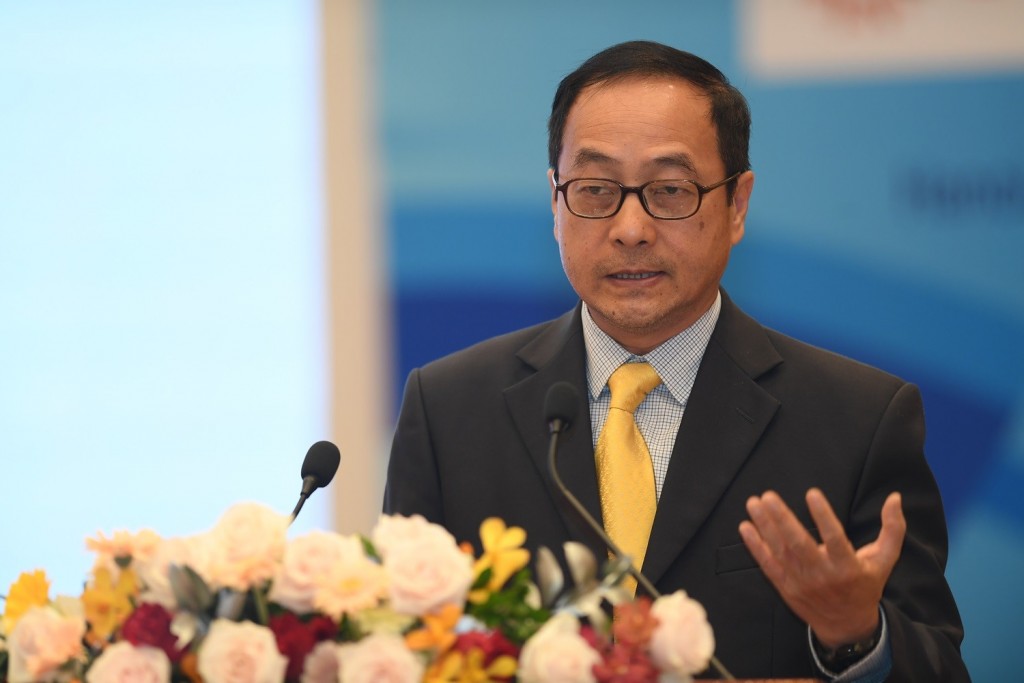 Mr. Nguyen Anh Tuan (B) - Standing member of the Scientific Council of Vietnam Energy Review.
The Scientific Council of Vietnam Energy Review presented the newest happenings of RE development in Vietnam, the new contents of PDP VIII amended draft for appropriating the role of the energy industry in carbon neutrality by 2050.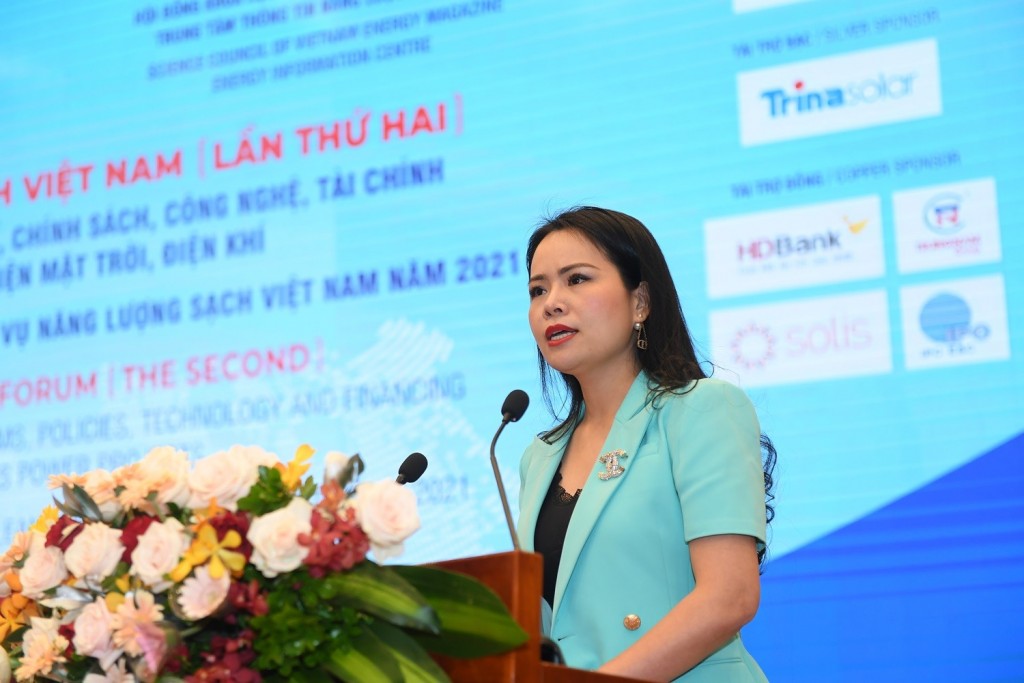 Mrs. Nguyen Thi Thanh Binh - Deputy General Director of T&T Group.
T&T Group introduced its enterprise and proposed the mechanisms and policies to support clean energy. T&T Group has put into operation nearly 1,000 MW of RE projects and planned to invest in about 12 - 15 GW of RE and LNG power.
Speaking at the Forum, Ms. Nguyen Thi Thanh Binh - Deputy General Director of T&T Group suggested that Vietnam need to have breakthrough solutions on the legal corridor to remove bottlenecks in power transmission (as issuing clear legal documents on attracting social resources for power transmission system investment).
In the long term, the Deputy General Director of T&T Group proposed that the support mechanism for the RE field should be smooth and continuous, not broken after a few timelines. T&T also hoped that Vietnam will soon develop offshore wind power and marine space planning for mobilizing investment resources from different economic sectors into this field.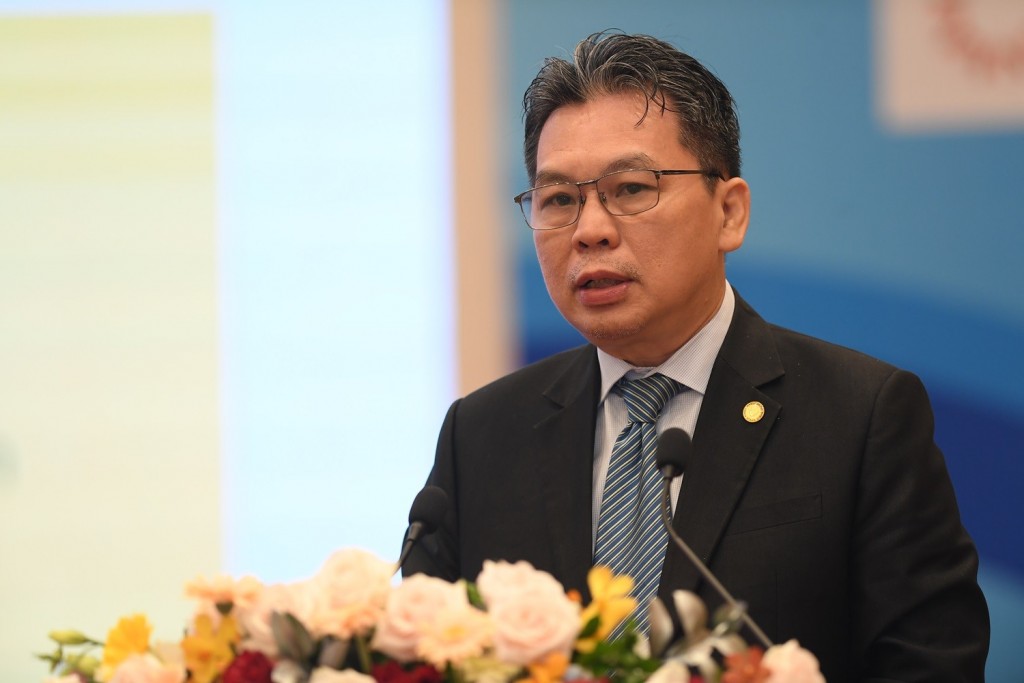 Mr. Tran Hoai Phuong - Head of Corporate Banking Division - HD Bank.
On the side of the lender, the representative of Development Commercial Joint Stock Bank of Ho Chi Minh City (HD Bank) informed that HD bank is sponsoring concentrated solar power projects, rooftop solar power with a total capacity of 1278 MW. The borrowers consist of the investors, contractors and households. Current credit balance for RE is more than 15 trillion VND. The loan term of the bank is up to 12 years, longer than the payback period of a solar power project. The sponsorship package for rooftop solar power project installation has many attractive terms, including the form of a Green Card for Vietnamese families.
HD Bank is also worrying that Vietnam still does not have FIT3 or a policy for long-term purchasing electricity of the wind and solar projects. Many solar power projects were the subjects to cut capacity due to causing instability for the power grid leading to losses for the investors and credit suppliers.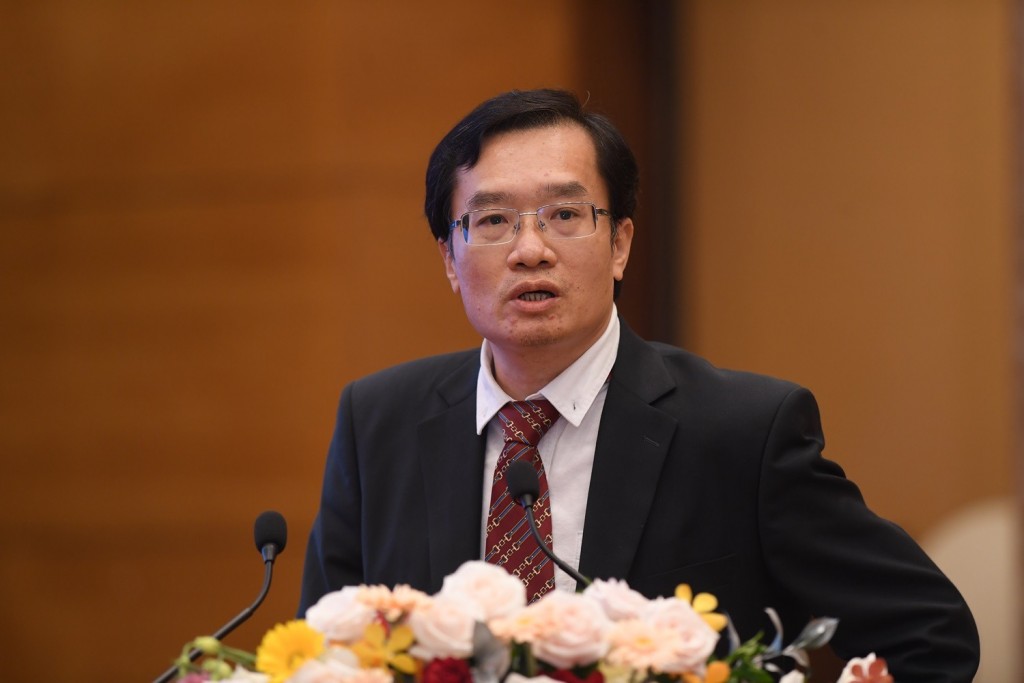 Mr. Nguyen Thanh Minh - Vice President of Marketing & Service Department - Vietsovpetro - Vietnam - Russia Joint Venture.
Vietsovpetro is a leading Oil and Gas enterprise in Vietnam that has the fleet, and capacity to design, manufacture, operate, and maintain the off-shore oil exploiting projects and can act as the EPCI contractor for off-shore wind power projects and shipping the super-long and heavy things at the sea.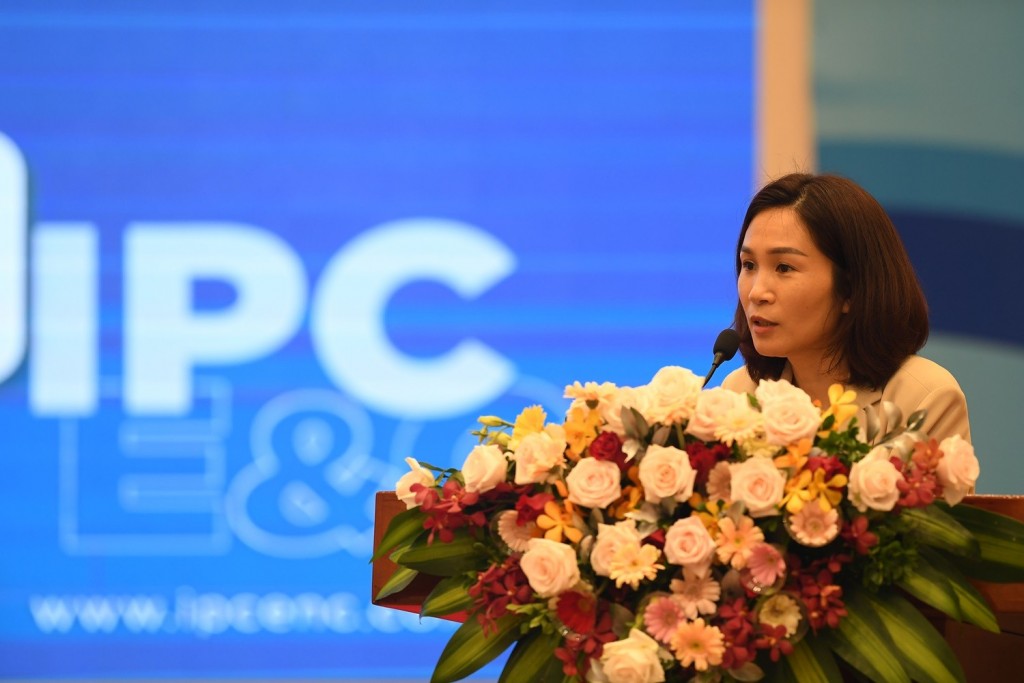 Mrs. Ngo Quynh Lan - Head of Business Development Department, IPC Construction Construction Joint Stock Company.
IPC E&C Joint Stock Company introduced the RE projects and services that the company participated. IPC E&C is not simply an EPC contractor but also supports the investors in financial arrangement, site clearance, and O&M service in completing projects. IPC E&C proposed that it is necessary to develop the mechanisms for the private sector to participate power grid, for priority to develop domestic supply chain and domestic EPC contractors and develop the more clear policies on site clearance, compensation for surrounding the wind power turbines, and the roads for transporting turbine blades, towers.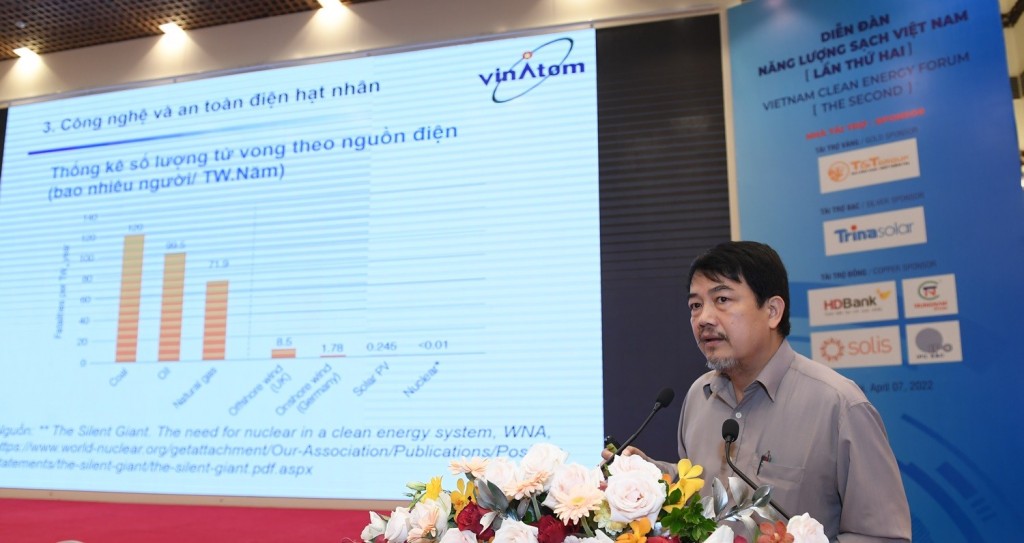 Mr. Tran Chi Thanh - Director of the Vietnam Atomic Energy Institute.
Dr. Tran Chi Thanh - Director of the Vietnam Atomic Energy Institute highlighted the worldwide urgency to transform the electricity structure to combat climate change. Vietnam has high electricity growth while hydroelectricity is almost used up. The Ukraine conflict put up oil and gas prices and made energy security more important than ever. For carbon neutrality, nuclear energy will play an important role.
There are currently 441 energy nuclear reactors in the world in operation, with an installed capacity of 394 GWe and 51 under construction. There are 32 countries possessing nuclear power plants and in the next 10 years, there will be about 10 more countries developing nuclear power plants.
The light-water nuclear reactors with generation III+ are very different compared to generation II and all meet the latest strict safety requirements, issued after the Fukushima accident. Although nuclear fuel must be imported, it can be stored for decades of the year, thus energy security should be guaranteed. The small modular reactors (SMR) are very efficient but not suitable for Vietnam.
The director of the Vietnam Atomic Energy Institute suggested that the Government should keep the planned sites for the construction of nuclear power plants, so that once we again restart the nuclear power program, it will not take much time and resources for finding new locations.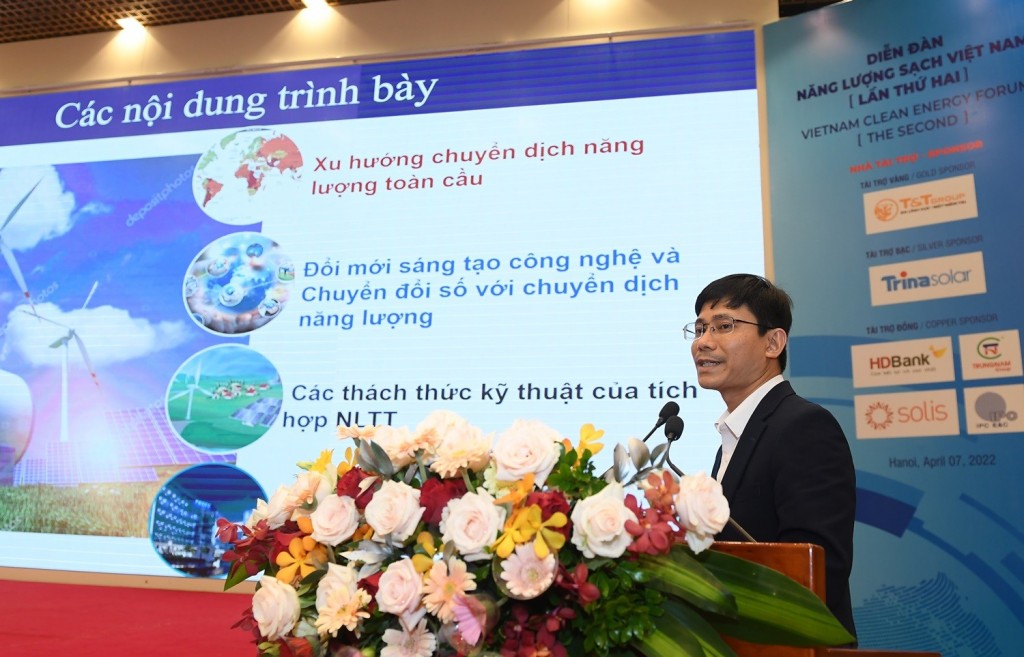 Mr. Tran Huynh Ngoc - Deputy Director of Training and Development Center (PECC2).
The Power Construction Consulting Joint Stock Company 2 (PECC2) is a leading brand in the energy consulting field. At the Forum, a PECC2 representative presented the global energy transition trend with technologies such as electric vehicles, green hydrogen, storage systems. He recognized the technical challenges of RE integration in real-time from both medium and long-term perspectives. PECC2 not only provides consulting services, but also acts as an EPC contractor, and equipment manufacturer and also invests in power projects and in applied research (such as forecasting solar generating capacity).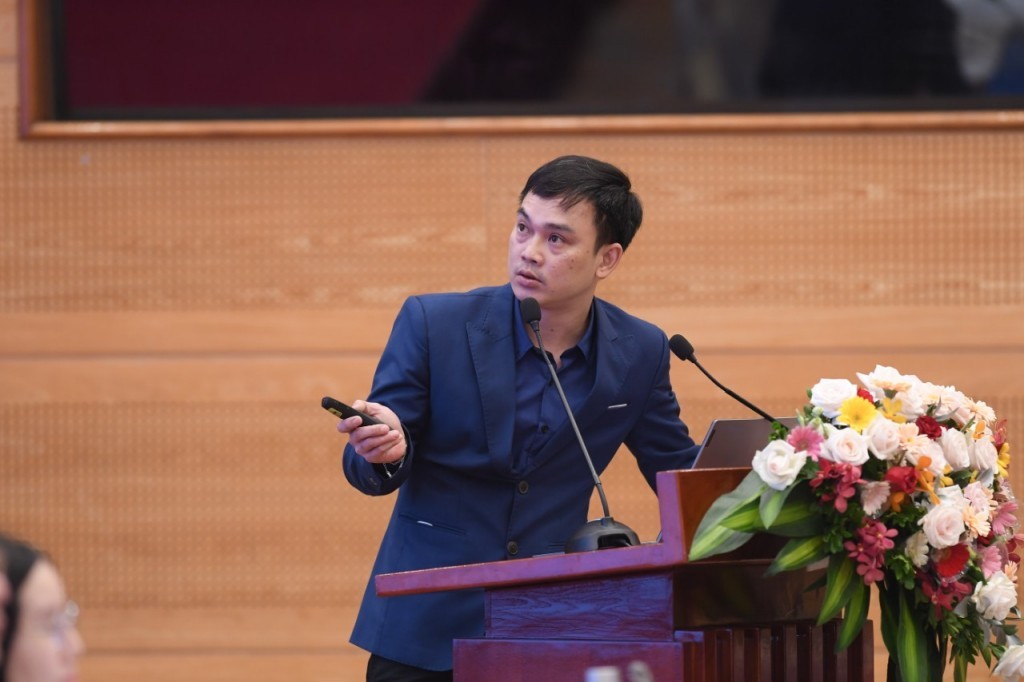 Mr. Nguyen Quang Tu - Director of Solis Vietnam Market Development.
Participating in the Forum, Ginlong Technologies Company introduced a new series of Solis brand inverters - a smart product chain with high reliability, advanced and safe functions. Ginlong Technologies products meet the needs of households to industrial factories. Ginlong Technologies has installed 40 GW of solar power projects in the world worldwide.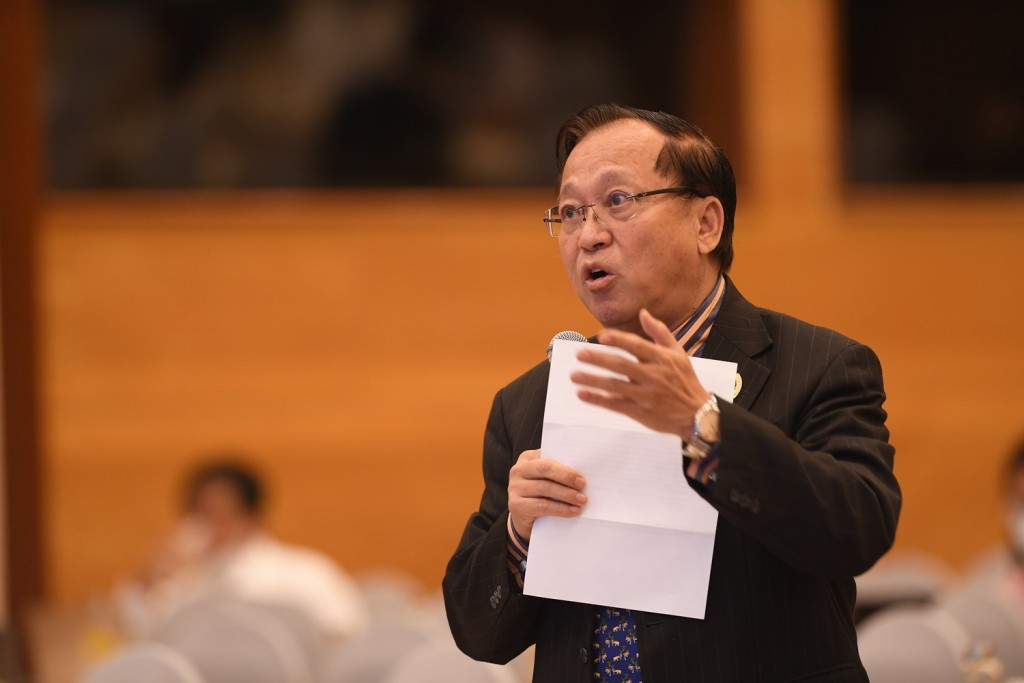 Professor Ha Ton Vinh.
In the discussion, Mr. Ha Ton Vinh - who was working for over 30 years with international infrastructural financial institutions in many developed countries in Asia and Africa, expert of infrastructural finance for the World Bank in China, the Philippines and Vietnam.
According to Mr. Vinh, it is not appropriate that EVN currently takes two roles as business and social work (rural electricity supply, electricity prices, and RE power grid support...). He expressed that the World Bank highly appreciates Vietnam's success in both ensuring economic development and social development. Currently, there are many large companies in the Middle East that want to invest in hydrogen production infrastructure in Vietnam.
He also said that the transition to clean energy should gradually eliminate gasoline cars and use "green" hydrogen produced from RE projects is the future of transportation.
Another opinion is that LNG power projects are too concentrated in the South and Southern region of the Center where there is abundance of RE power projects (especially offshore wind power projects). The LNG power projects should better be developed in the North as in Hai Phong and Quang Ninh.
Nuclear power projects should be also considered in the future after 2030.
The Representative of the World Energy Council commented that: It is not possible to reach carbon neutrality by 2050 with alone wind and solar power, so it needs to consider hydrogen production. Currently, the North of Vietnam is lacking electricity, but there is no mechanism to encourage solar power in the North.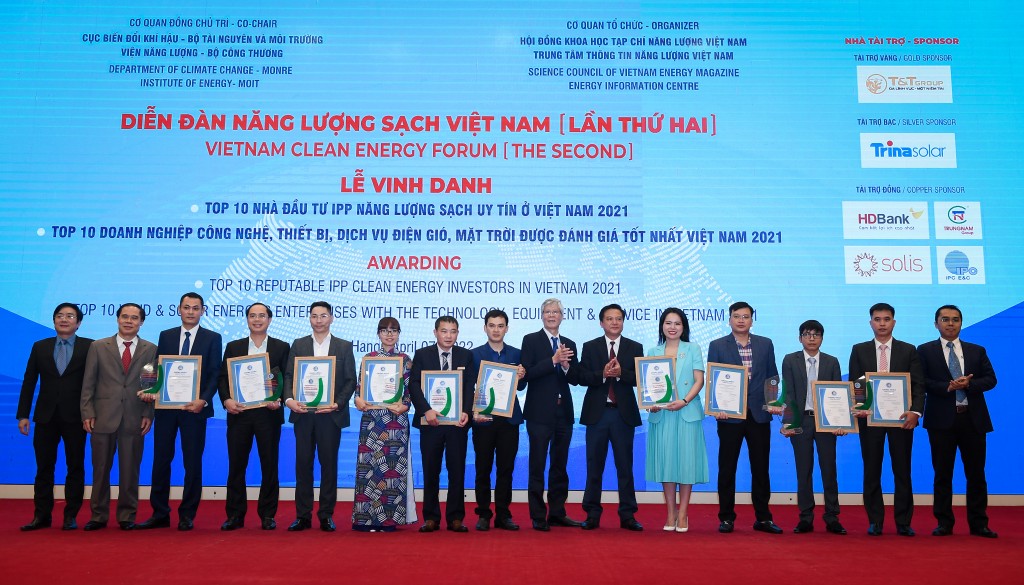 Awarding "TOP 10 prestigious clean energy IPP investors in Vietnam 2021", and "TOP 10 enterprises with the best technology, equipment, and services on wind and solar power in Vietnam 2021".
Trung Nam Group sent an article to the Forum stating the difficulties in mechanisms for RE. A number of difficulties were raised by Trung Nam as PDP VIII has not been approved yet, the offshore wind power development plan is still unclear, and the power purchase agreement is still only through EVN, and the power transmission grid is still not synchronized.
The Green Growth Subcommittee of the Eurocham commented on Vietnam's reasons to quickly switch to green energy. Many European companies should require green and sustainable supply chains. The European financial resources will also cease to support fossil energy projects.
Erocham proposed the Vietnamese Government have more open and long-term policies in terms of prices and bidding for the new technologies so that RE can easily access major investment sources from Europe.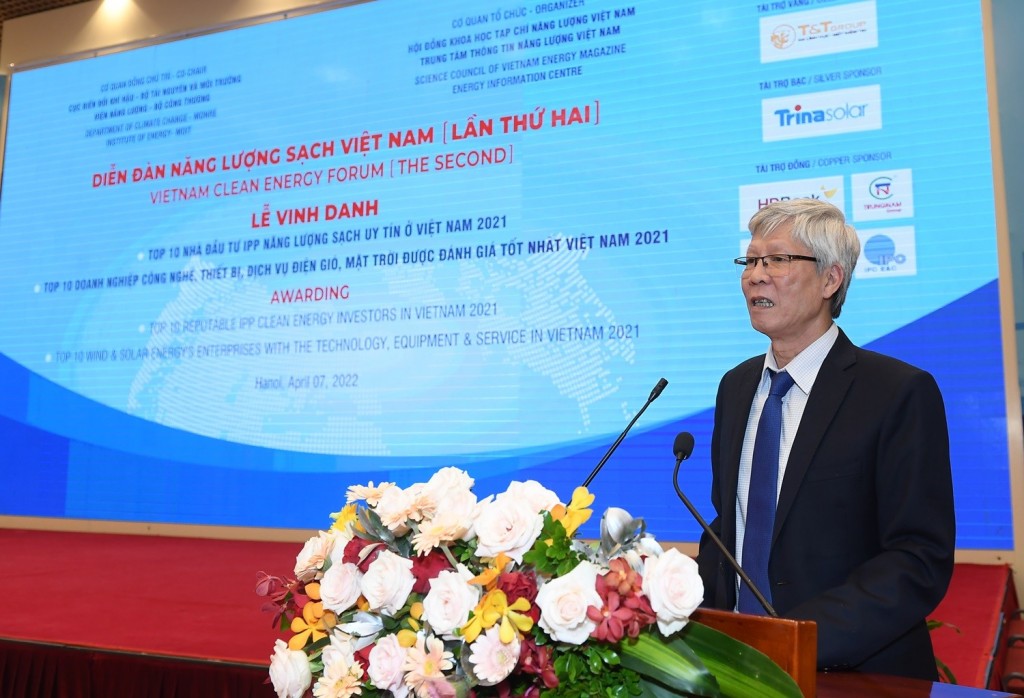 Mr. Nguyen Anh Tuan (A), Permanent member of the Energy Science Council, Vietnam Energy Review.
In conclusion of the Forum, the Scientific Council of the Vietnam Energy Review should fully acknowledge the comments and contributions of the speakers at the Forum and make the documents for the competent authorities to consider and promote the clean energy in Vietnam in accordance with the Party and Government orientation and International commitments.