Vietnam supports the U.S in cooperation of petroleum field
08:18 | 26/05/2014
- On May 22, at the Presidency Palace, President Truong Tan Sang received a delegation of Petroleum Group Exxonmobil (USA) which is visiting and working in Viet Nam.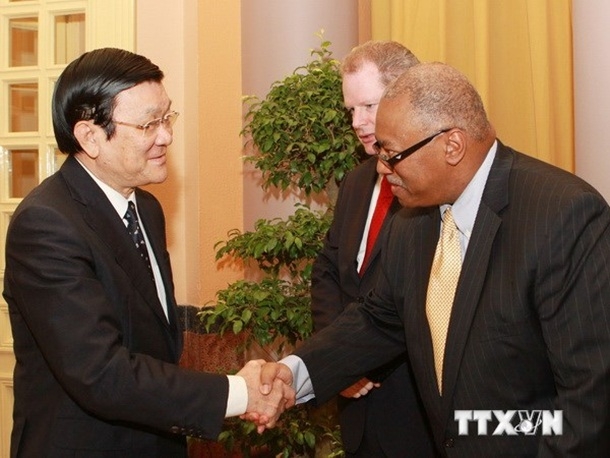 President Truong Tan Sang received delegation of Petroleum Group Exxonmobil (USA) headed by Mr. Peter P. Clark and Mr. Raymond E. Jones, Vice Presidents of the Group.
At the reception, the two Vice Presidents of Exxonmobil, Mr. Peter P. Clark and Raymond E. Jones reported to President Truong Tan Sang on constructive results in cooperation with PetroVietnam for implementation of the projects.
Representatives of Exxonmobil expressed their hope: the projects are facilitated comfortably and they would definitely bring benefits for the both sides.
Assessing the Vietnamese market as an attractive destination for investments, the representatives of Exxonmobil thanked Vietnamese agencies for help. They also should like to receive the further support and guidance of the State leaders and the agencies of Vietnam.
The U.S enterprises also committed that after concluding the agreement, they would mobilize the means, manpower and try their best to speed up the programs of collaboration in 2014, so that it would be a background for starting up the further trade pledges.
The President Sang highly appreciated the corporation of the U.S enterprises which contribute to enhance the trade turnover and support Vietnam to participate in TPP Agreement.
The President affirmed that Vietnam supports the activities on cooperation of the US enterprises with Vietnamese partners in petroleum field; He also desired the US enterprises and the other foreign partners in Vietnam, as well to achieve the successes.
Highly assessing the good will of Exxonmobil in executing survey and collaboration with Vietnamese partners, the President recommended the two sides to concentrate on effective implementation of the trade pledges in 2014.
Source: Translated from VNA