BCG Energy and Siemens Gamesa Renewable Energy cooperate for WPD in Vietnam
15:24 | 02/11/2021
- Within the framework of the 26th Conference of the participates in the Framework Convention of United Nations on Climate Change (COP26) taking place in the United Kingdom, under the witness of Vietnamese Prime Minister (PM) Pham Minh Chinh, Siemens Gamesa Renewable Energy (RE) and BCG Energy signed a Memorandum of Understanding (MOU) on Siemens Gamesa RE providing BCG Energy with equipment and technical solutions for wind power development in Vietnam.
Siemens Gamesa RE is a member of Siemens Group (Germany) - the world's largest supplier of wind power and renewable energy technology and equipment. According to the signed agreement, Siemens Gamesa Renewable Energy will be the supplier of equipment and technical solutions for BCG Energy to implement the roadmap for wind power development with a capacity more than 500 MW and an investment of about 400 million USD.
BCG Energy is one of the renewable energy pioneer - developers in Vietnam. Today, the total capacity of BCG Energy solar power projects (including ground and rooftop solar power projects) in operation in Vietnam is 577.1 MW. BCG Energy expects to develop wind power projects in Vietnam with a total capacity of 1.5 GW by 2023.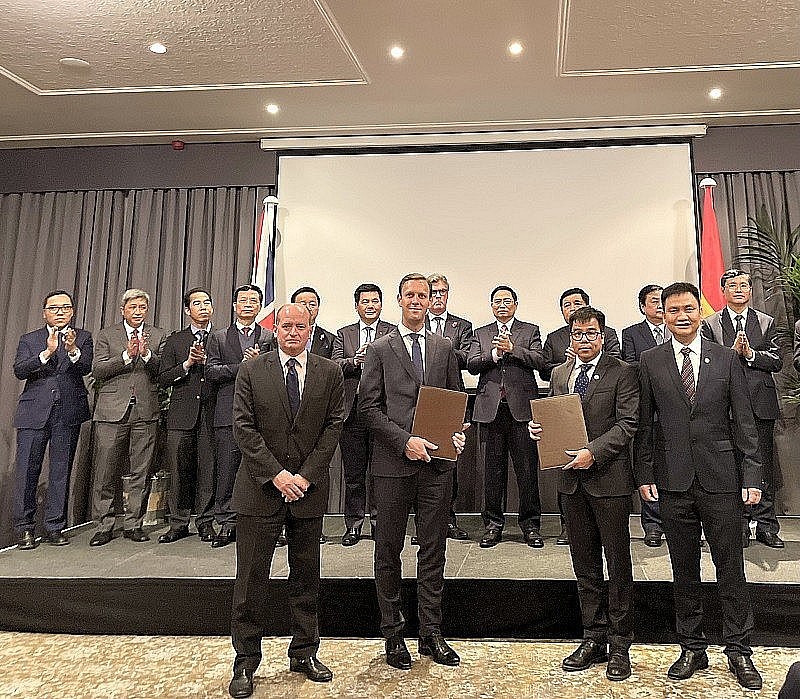 BCG Energy and Siemens Gamesa Renewable awarded the cooperation agreement under the witness of Prime Minister Pham Minh Chinh,. Photo: BCG.
In a working meeting of the PM Pham Minh Chinh with enterprises, the representatives of Siemens Gamesa RE and BCG Energy committed to effort working with the relevant partners to promote the economic growth of the wind power industry and support the goals of green transition and sustainable development of Vietnam.
Siemens Gamesa RE is the world leading supplier of wind power technology and equipment with 40 years of experience. The enterprise specializes in supplying, installing and maintaining wind turbines; and made more than 100 GW of wind turbines, supplying electricity for 87 million of households in the world. At present Siemens Gamesa RE is supplying equipment and technical solutions for 14 wind power projects with a total capacity of 1.17 GW.