Construction of Vinh Hao 220kV transformer substation and connection line
13:13 | 09/03/2022
- On March 6, in Binh Thuan province, Power Project Management Board 2 coordinated with contractors to organize the construction of Vinh Hao 220 kV transformer substation and a connection line.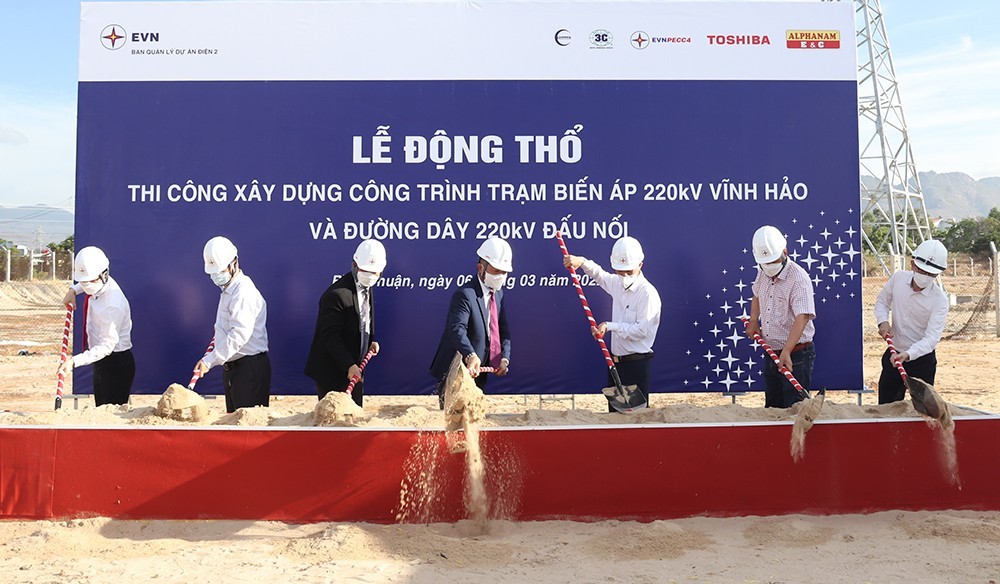 Deploying the project of 220 kV Vinh Hao substation and connecting lines.
The project includes Vinh Hao 220/110/22 kV unmanned transformer substation with a capacity of 2x250 MVA and 220 kV transmission line for connection with a length of 1.3 km.
The project is developed in Vinh Hao commune, Tuy Phong district, Binh Thuan province; invested by Electricity of Vietnam (EVN), managed by Power Project Board 2 on behalf of EVN with a total investment level of 211 billion VND.
The project is constructed by the consortium of constructors as Telematic Joint Stock Company - 3C Computer Communication and Control Joint Stock Company - Power Engineering Consulting Joint Stock Company 4 (PECC 4) – Vietnam TOSHIBA Transmission and Distribution System Co., Ltd. - Alphanam E&C Joint Stock Company.
The project is invested with the goal of strengthening the transmission grid capacity for releasing the capacity of renewable energy projects in Binh Thuan province and neighboring areas and ensuring reliable operation of the 110 kV Phan Ri - Ninh Phuoc transmission line in N-1 fault regime.
The project expects to be completed and energized in the third quarter of 2022.