Starting Van Phong 500 kV transformer substation and connections
14:23 | 27/09/2021
- On September 26, 2021, in Khanh Hoa province, the National Power Transmission Corporation (EVNNPT) under the Electricity of Vietnam (EVN) organized starting to construct Van Phong 500 kV transformer substation and connects.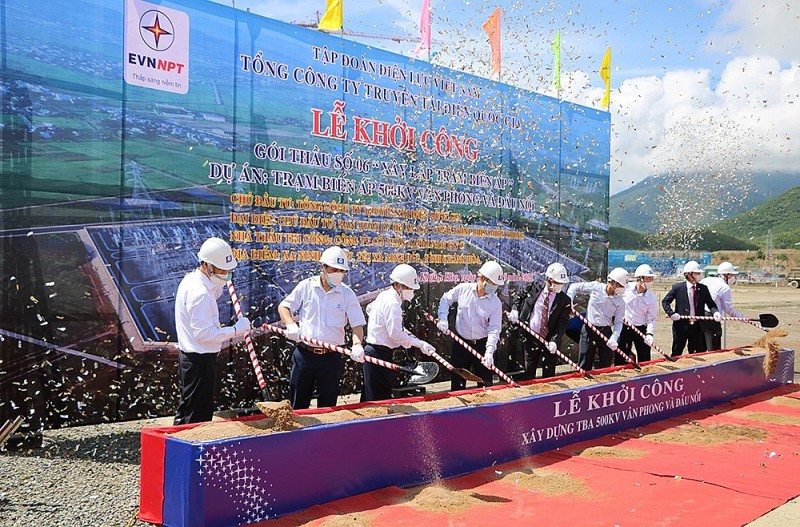 Groundbreaking ceremony.
The Van Phong 500 kV transformer substation (and connections) is an urgent power project in the National Power Development Planning VII (Adjusted project) with the aim for releasing capacities of BOT Van Phong 1 thermal power and Renewable Energy power projects in Ninh Thuan, Khanh Hoa and Phu Yen provinces.
The project includes 2 transformers with a capacity of 900 MVA each, 6 feeders of 500 kV, 13 feeders of 220 kV and 26.1 km of 220 kV line from Van Phong 500kV transformer substation to Van Phong 220 kV transformer substation, that connected to a circuit of Van Phong – Tuy Hoa 220 kV line
The Central Power Management Board (CMPB) as the Project Management Board made a plan and asked relevant units to promote the human and material resources, rise high the spirit of self-discipline and responsibility and closely co-ordinate with the local authorities and units inside and outside the electricity sector for carrying out assigned tasks.
CPMB suggested Khanh Hoa Provincial People's Committee (PPC) as soon as possible ratify Resolution on land acquisition in Ninh Hoa town for perfecting procedures related to compensation for site clearance. Khanh Hoa PPC should direct the provincial departments, agencies and Ninh Hoa Town People's Committee to co-ordinate for carrying out the procedures, not rising the houses, objects in agreed power line route corridors and procedures for conversing forest land use purposes.
EVN asked Khanh Hoa PPC to create the best conditions, especially to hand construction site in time for the project to be completed in a timely schedule.
Mr. Nguyen Tuan Tung, EVNNPT Member Council Chairman informed that, in accordance with the PPA and BOT contract of Van Phong TPP 1, EVN is responsible to complete Van Phong 500 kV transformer substation, connections and Van Phong – Vinh Tan transmission line no later than December 26, 2022. In case if these projects would be late, EVN should pay about 23 billion VND per day with the rising other costs. If this situation could not be overcome after 6 months, the project investor has to terminate the project and the Vietnamese side must buy it in accordance with regulations.
According to Mr. Nguyen Tan Tuan – Khanh Hoa PPC Chairman, the Van Phong 500 kV transformer substation is developed on an area of the Management Board of Van Phong Economic Park (in Ninh Phuoc commune, Ninh Hoa town, Khanh Hoa province) should be completed in 15 months, that would be a great challenge for the locality, especially in outbreak Covid-19 pandemic. Therefore Khanh Hoa PPC Chairman asked provincial departments, agencies, PCs of Dien Khanh, Cam Lam districts, Ninh Hoa and Cam Ranh towns to create all the conditions for EVN to complete the project in time.
A number of the features of Van Phong 500 kV transformer substation and connections:
- The National Power Transmission Corporation (EVNNPT) is assigned by EVN as the investor.
- The Central Power Project Management Board on behalf of the investor manages the project.
- Construction site: Ninh Hoa town, Khanh Hoa province.
- Total investment: about 1,098 billion VND.
- Design consultant unit: Power Engineering Consulting Joint Stock Company 2 (PECC 2).
- Constructing and installing transformer substation: Alphanam E&C Joint Stock Company.
- Installing and testing AT1 and AT2 transformers: Power transmission engineering service company.
- Operational management unit: Power transmission company 3.