EVN discussed the implementation plan of PDP VIII
14:50 | 29/06/2023
- The Electricity of Vietnam (EVN) just held a meeting to discuss the implementation plan of Power Development Planning (PDP) VIII. Mr. Dang Huy Cuong – A Member of the EVN Board Member Council in charge of EVN's Member Council chaired the meeting.
On May 15, 2023, the Prime Minister (PM) issued Decision No. 500/QD-TTg for approving PDP VIII. In this Decision, PM assigned EVN to play the main role in ensuring stable and safe electricity supply for socio-economic development, and carry out investment in power plant and transmission grid projects according to assigned tasks.
To Implement PDP VIII, EVN is deploying 14 key power plant projects as the thermal Power Plants Quang Trach 1, Quang Trach 2; Hoa Binh, Ialy Expanded Hydropower Plants; Bac Ai Pump- Storage Hydropower Plant and the thermal power plants Dung Quat 1, Dung Quat 3.
Besides, EVN and its member units also proposed to implement power projects in the period of 2030 such as expanding the existing hydropower plants managed by EVN and its member units, the wind and pump-storage hydropower projects, the floating solar power projects on reservoirs of the hydropower plants … and 950 of 500-220 kV power grid projects in which there were 116 projects completed by EVN and its member units in 2021-2022 and 2023 beginning year.
At present, EVN and its member units are being assigned to invest in 449 power grid projects.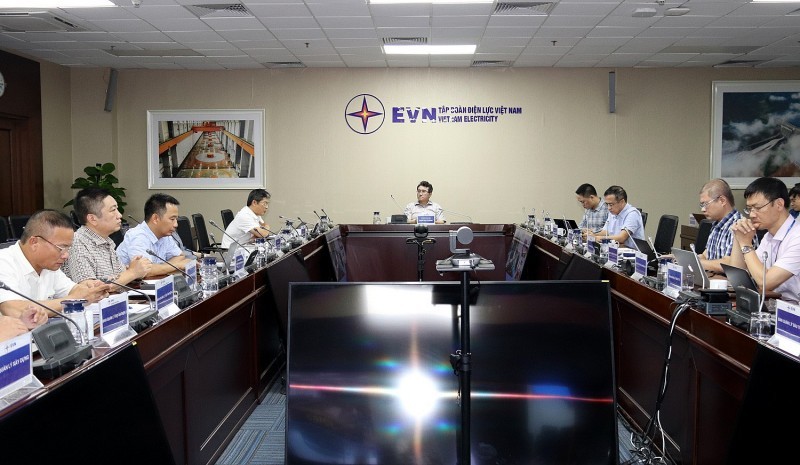 EVN discusses the implementation plan for the implementation of Power Plan VIII.
At the meeting, the EVN professional boards, and member units contributed ideas and solutions for the group to have a specific and detailed plan for effectively deploying PDP VIII. Speaking at the meeting, Mr. Dang Huy Cuong highly appreciated the contributions of EVN leaders, professional boards and member units, and asked them to review and carefully appropriate all ongoing projects and take measures to speed up the progress of projects with the following items:
1/ The professional boards in coordination with the units update the calculation of the balance of electricity supply demand by 2030 and propose solutions and implementation mechanisms.
2/ Studying the mechanisms for speeding up the projects, especially selecting consultant contractors.
3/ Calculating the ability to raise capital in the period up to 2030.
4/ Studying the legal basis for deploying the construction investment in the projects approved in the national planning and provincial planning, etc.