EVNHANOI and SONHA Group cooperate in developing rooftop solar power systems
09:16 | 13/03/2020
- On March 12, 2020 Hanoi Electricity Corporation (EVNHANOI) and SONHA Group signed an agreement to cooperate in developing the rooftop solar power systems in Hanoi city.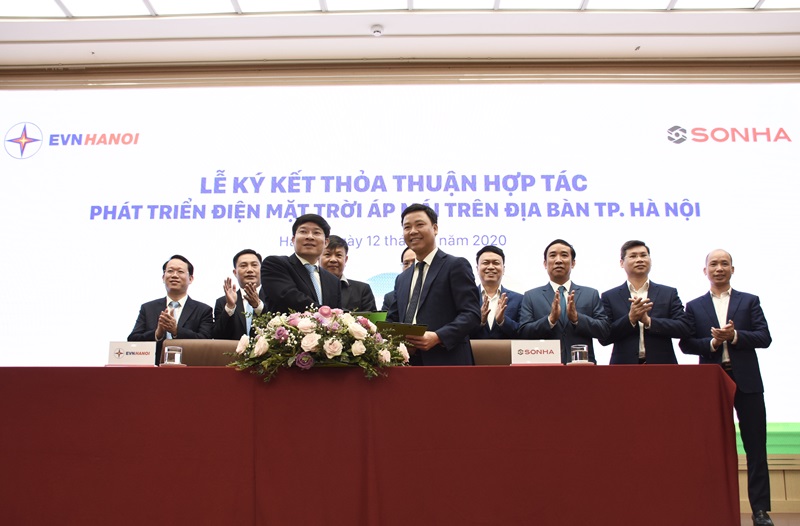 EVNHANOI and SONHA Group sign an Agreement for the cooperation on rooftop solar power systems.
Investment in developing solar energy, including rooftop solar power, is one of the solutions contributing to struggle against climate change by reducing greenhouse gas (CO2), to decreasing load for power plants of power sector, supplying electricity for daily life and production of people with the benefits in reducing pressure on the distribution power grid and saving costs for developing transmission power grid.
Mr. Nguyen Danh Duyen - General Director of EVNHANOI said: Mobilizing the partners for cooperation and development is a solution bringing the economic effectiveness for the investors and benefits for customers using electricity.
In 2020, when installing rooftop solar power systems, EVNHANOI and SONHA will support VND in cash for customers as 2 million for systems with capacity of less than 3 kWp and 5 million for systems with capacity from 3 kWp up; carry out the procedures related to replacing 2-way electricity meters, providing free maintenance services for the system in the first 2 years.
In addition, the rooftop solar power systems of the large customers (enterprises, industrial parks, hotels…) will be committed to connecting to the national power grid for convenient use and can sell back to the power company at a preferential price.
With the investment cost of about 20 million VND/1kWp for the rooftop solar power systems (depending to installing conditions), the customers can pay back initial capital for 5-6 years only and then take profits.
At the signing ceremony, Mr. Le Vinh Son, the Chairman of Son Ha Group said: Son Ha is very proud to officially cooperate with and accompany EVNHANOI in the goal of developing rooftop solar power products in Hanoi city.
Son Ha Group commits to cooperate with EVNHANOI to disseminate information on the economic, environmental benefits of the rooftop solar power systems and the electricity purchase policy of the Vietnamese Government.
At the same time, as a pioneer in the field of renewable energy, SONHA will supply for the customers products with a quality of the international standards, high efficiency, ensuring durability, stability and safety for customers, as well as for power grid of EVNHANOI.
The development of the rooftop solar power systems will contribute to saving electricity, increasing the efficiency of production and business, and at the same time show the contribution of businesses to the cause for a society using clean energy, reducing burden for power plants when coal, gas and hydropower resources in the country are gradually exhausted.
PV.