Gas-fired power prices may sharply increase
22:11 | 25/05/2014
- The recent gas price increase would lead to Vietnam's gas-fired power plants' fear of a sharp hike in their production costs in the coming period.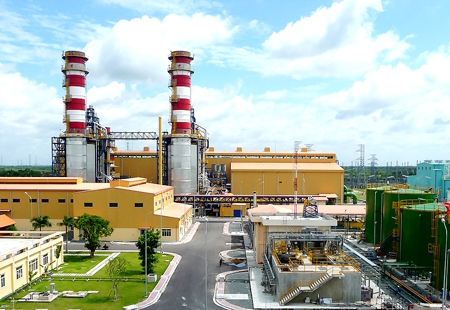 Gas price rises will have knock-on effects on electricity costs.
The price of non-contract gas increased from April 1. Gas sold to the power sector for production reached a value of 70 per cent of market price plus transportation and distribution expenses and this level will be later revised up to entirely meet the market price plus transportation and distribution costs from 2015.
The market price is set at 46 per cent of the average FO oil prices on the Singapore market.
At present there are only three gas purchase contracts signed with the state-owned Electricity of Vietnam (EVN), Mekong Energy Co which manages Phu My 2.2 build-operate-transfer (BOT) power plant and Phu My 3 BOT power plant, meaning other gas-fired power plants mainly source non-contracted gas for production.
A power firm based in Nhon Trach district in the southern province of Dong Nai said power plants in this area could be seriously affected by the gas price hike.
Before the decision on the new gas price from April 1 took effect, the gas price at Nhon Trach power plant was about 40 per cent more expensive than that of power plants in Phu My which use contract-based gas.
Gas costs often account for about 70 per cent of power production costs. Therefore, the higher non-contract gas price would inevitably lead to a jump in power production costs at gas-fired plants.
"This additional cost will inevitably be added to electricity prices," said the firm.
In the southwest, the Ca Mau 1 and Ca Mau 2 power plants, with the combined capacity of 1,500 megawatts, source gas from MP3-CAA and Cai Nuoc gas-fields and the gas price here is equal to the Singaporean market price (46 per cent of average FO oil prices). The gas here is currently priced at about $8 per million BTU.
The southeast hosts the Phu My power centre which comprises EVN's power plants, Nhon Trach 1 and 2 power plants which have huge investment from the state-run PetroVietnam and some BOT power plants operated by foreign investors. This power centre source gas from the Cuu Long and Vietnam's leading gas field of Nam Con Son basin.
Here, the price of gas sold to those power plants is set following two mechanisms, for contract-based gas volumes and for non-contract gas volumes.
The gas from Nam Con Son basin to feed those power plants was reported at 6.05 billion cubic metres in 2012.
Of this, contract-based gas volumes accounted for 58 per cent of the total, tantamount to about 3.55 billion cubic metres.
The price for contract-based gas was reported at $3.68 per million BTU and subject to a 2 per cent price adjustment annually. This means the gas price will be nearly $3.9 per million BTU within this year. Meanwhile businesses using con-contract gas have to pay about $5.39 per million BTU.
According to the National Load Dispatch Centre's figures, Vietnam's gas-fired power plants last year produced 42.8 billion kWh, accounting for 32.6 per cent of the nation's total power output.
Source: VIR