PV Drilling accompanies Thai Binh's women volleyball Team
21:57 | 27/01/2015
- On January 21th, 2015, in Thai Binh city, PV Drilling (PetroVietnam) and Department of Culture, Sports and Tourism (Thai Binh province) held a signing ceremony on a finance agreement of PV Drilling for Thai Binh Women' Volleyball Team.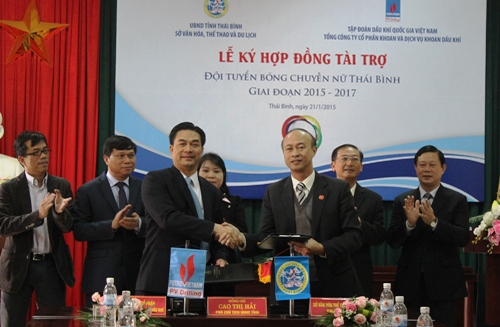 The Signing Ceremony on finance agreement for Thai Binh Women' Volleyball Team.
As a Corporation of PetroVietnam, recent years PV drilling often deducted a part of their profits to contribute to the social welfare work. Specifically, from 2012 to 2014, PV Drilling monopolized a sponsorship for Thai Binh Women' Volleyball Team that helped very much the team to overcome difficulties, maintain training courses and play with a stable spirit at the national competitive tournaments.
PV Drilling has decided to continue financing Thai Binh Women' Volleyball Team with a VND4.5 billion fund in three coming years (2015-2017).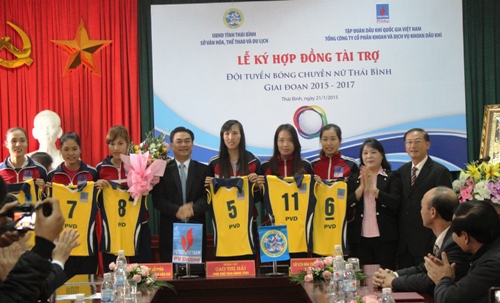 The Ceremony of the player' shirt handing to Thai Binh Women' Volleyball Team.
Speaking at the ceremony, Vice Chairman of Thai Binh Provincial People Committee Mrs. Cao Thi Hai, acknowledged and thanked PV Drilling for the companionship and support to social welfare activities of Thai Binh province in general and the Thai Binh Women' Volleyball Team in particular. Mrs. Hai also introduced and assigned the training board, coaches and players to try their best in training and competitions in order to achieve the good successes for meeting the trusts of fans as well as attention and finance of PV Drilling.
Being moved and fired by the attention of the provincial leadership and support of PV Drilling the leader of the Thai Binh women' volleyball team has promised to try the best to win the higher achievements in Vietnam volleyball village in 2015 and subsequent years.
VietnamEnergy.vn