More than 1,000 Vietnamese students have received a Doosan Vina Scholarship
11:05 | 25/11/2016
- On November 25th, 2016 Doosan Heavy Industries Vietnam, Dung Quat Economic Zone, Binh Thuan Commune, Binh Son District, Quang Ngai, Vietnam: Education is one of the three focuses of Doosan Vina's Corporate Social Responsibility (CSR) programs. The company has supported education for the past nine years granting more than $282,000 in scholarships awards to 1,078 Vietnamese students.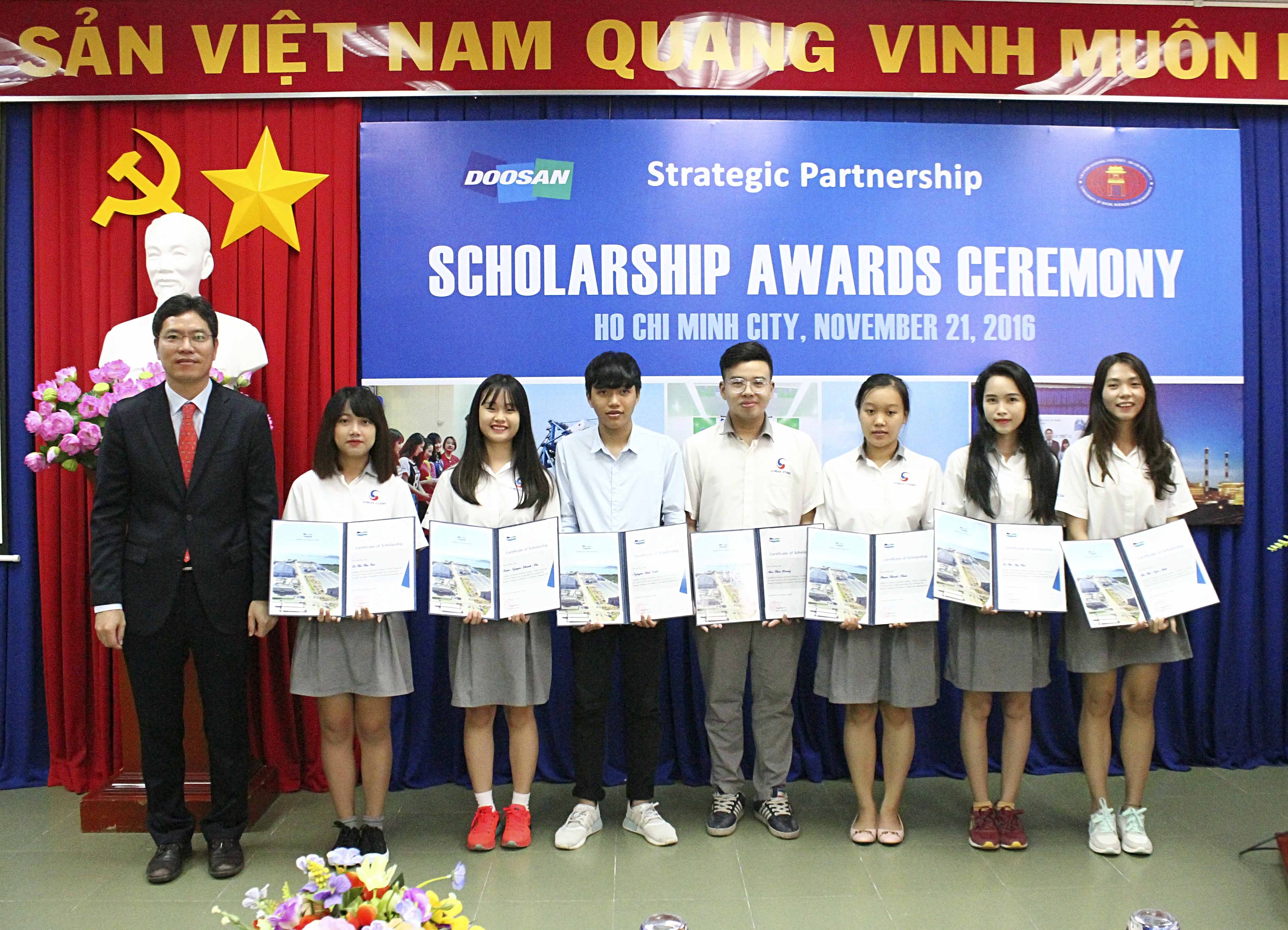 Mr. Park Chan Up (the 1st from the left), Director of Human Resource Division presents scholarship to students of Ho Chi Minh University of Social Sciences and Humanities.
Doosan Vina and Doosan's Yonkang Foundation held this 9th round of annual scholarship awards between November 21st and 23rdat universities across Vietnam. This year 96 Vietnamese students received scholarships totaling nearly $30,000 and Danang University of Technology was awarded a grant of $1,500 to buy teaching equipment.
Speaking at the scholarship ceremony, Park Chan Up, Director of the Human Resource Division said, "Doosan Vina not only focuses on our business, but we also care deeply about the human resource development side of society. Our CSR emphasis is centered on three core values: Education, Healthcare and Housing because we believe that these three pillars are what support and create "Healthy Communities" which is our vision and the goal of our CSR initiatives. We hope this financial support will encourage students to expand their studies and help them contribute to Vietnam's future development."
Ho DacHai from Hue University of Foreign Languages was one of the students who received a scholarship and said,"We are so happy to receive these scholarships from Doosan Vina, they motivate us to keep studying and learning so that we can contribute to Vietnam's development, become the country's next generation of leaders, be good citizens and a force to foster good relationships between Viet Nam and Korea."
Students receiving scholarships were from Ho Chi Minh University of Social Sciences and Humanities, Da Nang University of Foreign Languages, Hue University Foreign Language, Ho Chi Minh University of Technology and Education, Da Nang University of Technology and Pham Van Dong University.
Some of the photos: