Signing MOU on implementing Son My 2 LNG Power Project
08:45 | 12/11/2019
- On November 8, in Hanoi, the Ministry of Industry and Trade (MOIT) and AES Group (USA) signed a Memorandum of Understanding (MOU) on implementing Son My 2 Combined Cycle Gas Turbine (CCGT) project.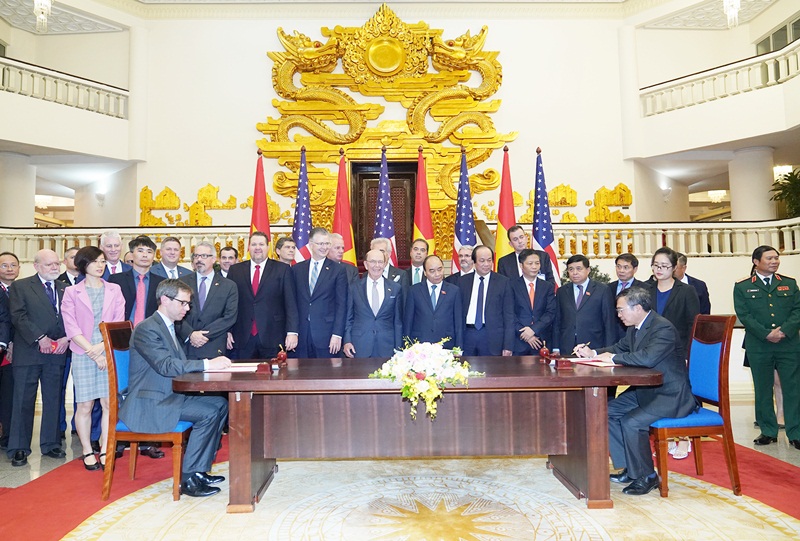 The signing ceremony was held with the attendance of the Prime Minister Nguyen Xuan Phuc, MOIT Minister Tran Tuan Anh, Minister of US Department of Commerce Wilbur Ross and US Ambassador in Vietnam Daniel Kritenbrink.
Son My 2 CCGT Project with a total capacity of 2,200 MW, an estimated investment of US$ 1.7 billion, and contract term of 20 years, will be developed in Binh Thuan province.
"LNG provides a solution for clean and more reliable energy at a reasonable price, so it will play a key role in resolving more and more growing energy demand in Vietnam. Signing MOU this time is an important milestone for developing Son My 2 power plant, a project that we believe will help the energy industry transition in Vietnam" said Mr. Mark Green, the President of AES in Asia-Europe region.
Speaking at the signing ceremony, Mr. David Stone, Vietnam AES Executive Director said: "The MOU defines the roles and responsibilities of AES and MOIT and specifies the project overall progress that will help AES very much to carry out the next steps of this important project".
The Son My 2 CCGT project adds the investment capital to the project of AES for developing US$ 1.4 billion Son My LNG Terminal that Vietnam Government approved in August 2019.
"The development of Son My 2 CCGT and Son My LNG Terminal projects is a wonderful evidence of the partnership between the United States and Vietnam. We believe that implementing these two projects will significantly contribute to the bilateral trade and investment relationship between our countries, and create the jobs and support Vietnam towards a more clean energy future" Mr. David Stone shared.
PV.