The Environmental Impact Assessment Report of Bac Lieu LNG PP has been approved
11:58 | 06/09/2021
- The 3,200 MW Bac Lieu LNG Power Project is the largest project with 100% foreign direct investment in the Mekong Delta region. The Environmental Impact Assessment of the project has been approved by the Ministry of Natural Resources and Environment on Sept.01, 2021.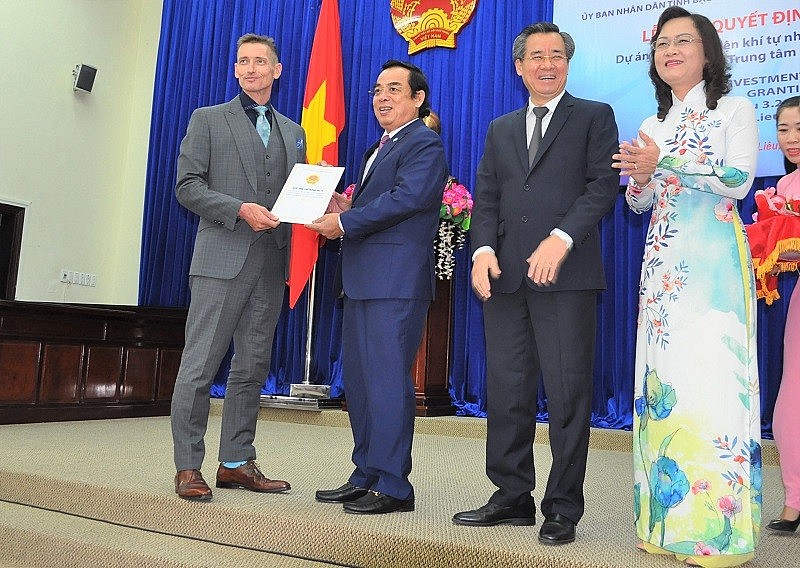 Bac Lieu province's leaders give certificates to the investor of the Bac Lieu LNG project
Bac Lieu LNG Power Project is a combined cycle gas turbine (CCGT) including 4 units by 800 MW (4x800 MW) on a land area of ​​40 ha in Vinh Hau A commune, Hoa Binh district; a floating storage unit (FSU), or floating storage and regasification unit (FSRU) on a sea surface area of approximately 100 ha with a storage capacity of 150,000 to 174,000 cubic meters of LNG; a regasification station and 35 km of the gas pipeline with high pressure, invested by Delta Offshore Energy Pte. Ltd (DOE, Singapore) in 100% Foreign Direct Investment (FDI) with a total investment of 93,000 billion VND (equivalent to US 4.0 billion), including 15% of equity and 85% of loan capital.
The general contractor of the project is Bechtel Group (USA), and for managing the project, on June 17, 2021 was established the Bac Lieu LNG Power Company Limited with the General Director as Mr. Do Ba Canh, who was the General Director of Phu My 3 BOT Power Company Limited. Mr. Canh also held important positions in the Nam Con Son gas project. He was the Director of Vietnam British Petroleum (BP) - a member of BP Energy Company from 2010 to 2015.
The project is expected to be fully completed in December 2027.