Vietranstimex and Fagioli Asia combined to develop Petroleum, Renewable Energy and Infrastructure projects
08:06 | 06/12/2022
- In recent time, at Sotrans Group's office, Vietranstimex and Fagioli signed a MOU Signing Ceremony on the implementation of complex projects in Oil and Gas, Renewable Energy and Large Infrastructure in Vietnam market.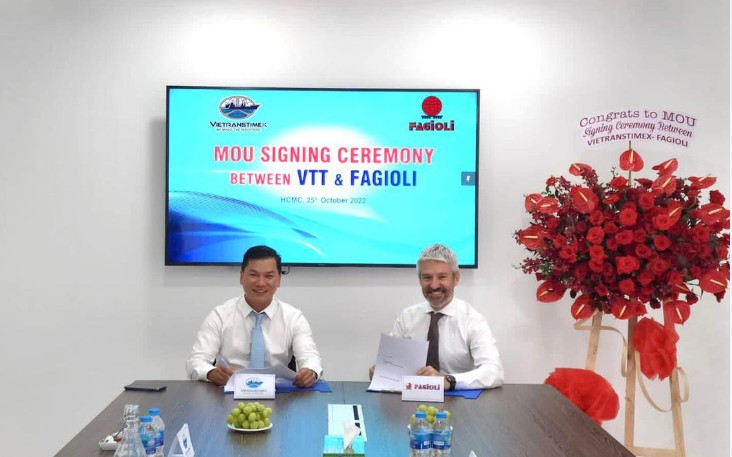 Mr. Bui Quang Lien - Vietranstimex's General Director and Mr. Cristiano Cavallini - President & Managing Director Asia-Pacific Area at the Signing Ceremony.
The MOU Signing Ceremony was successfully held with the participation of Mr. Dang Vu Thanh – Vietranstimex's Chairman, Mr. Bui Quang Lien - Vietranstimex's General Director; Mr. Le Trieu Phong- Deputy Director of Vietrantimex - Central Vietnam and representatives of Fagioliinclude Mr. Cristiano Cavallini - President & Managing Director Asia-Pacific Area together with the witness of other members of Vietranstimex and Fagioli.
Another milestone development for Fagioli Group expansion in Asia, we are very proud to announce that Fagioli Asia and Vietranstimex has entered in a Cooperation Agreement leading to a future Joint Venture agreement to jointly deliver complex projects for Oil & Gas, Renewable Energy and large Infrastructure in the Vietnamese market.
The joint combination between Fagioli advance engineering and innovative solutions together with Vietranstimex extensive presence in the country, will deliver a unique business proposition to the Vietnamese market.
Cristiano Cavallini, Fagioli Group Managing Director for APAC, commented: "Vietnam is one of the most promising economy in South East Asia, fast developing as an international manufacturing hub, with a growing demand for energy and infrastructures. Our collaboration with Vietranstimex will allow us to effectively introduce to the market our advanced skillsets and unique constructability knowhow, serving our local and international Customers in the Renewable Energy, Oil & Gas, Power Generation and Infrastructure. We are proud for Vietranstimex trust in selecting Fagioli, as their partner in Vietnam and Indochina".
David Lien, Managing Director of Vietranstimex and long-term expert for Logistic activities in Vietnam: "Working long term with Fagioli is a privilege when Vietranstimex can establish the local expertise combined Fagioli international engineering experience and unique knowhow for many industrial sectors supporting to the fast growth developing Vietnam and Indochina".
Fagioli: is a world-wide certified engineering company specialized in Heavy Transport and Lifting, Project Logistics and Freight Forwarding activities, with over 70 years of history, that operates worldwide through his three operation hubs, bases in SantIlario (Italy), Houston (USA) and Singapore. www.fagioli.com.
Vietranstimex: after 40 years of development, is the leading company in the field of oversize, overweight multimodal transportation services in Vietnam and Region. Vietranstimex has been ranked as 33rd (2021) and top ranking of the IC Transport 50, the world's largest specialized transport companies as from 2011 up to now. https://www.vietranstimex.com.vn/.