Vietranstimex and Goldwind sign "Strategic cooperation agreement" on wind power projects development
10:22 | 06/12/2021
- On 3 December 2021 in Hanoi, representative of Vietranstimex Multimodal Transport Joint Stock Company (VTT) – one of the World's Top 50 oversize and overweight transport companies, and Goldwind International Vietnam Co. Ltd. (Goldwind) – one of the World's Top 2 Technology and Equipment companies signed a strategic cooperation agreement.
Under the Agreement, Vietranstimex will provide transportation and installation services, support to and connection with customers for current and future projects of Goldwind in Vietnam and South East Asia.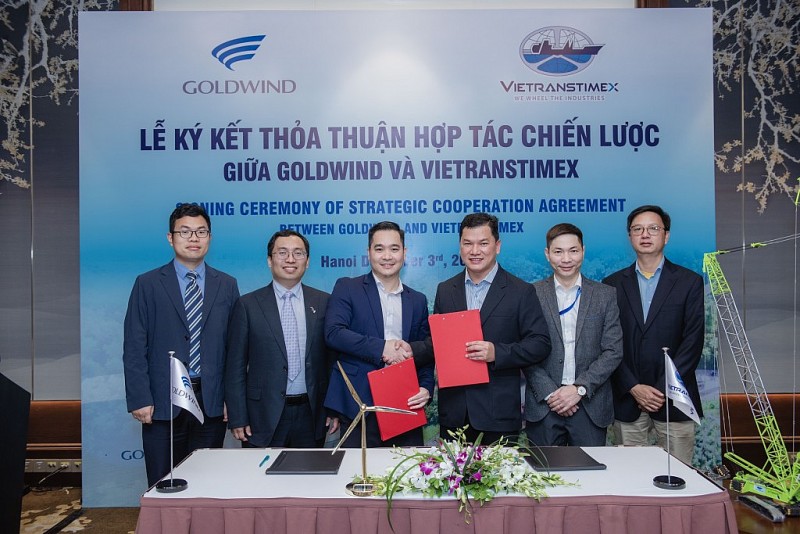 The signing ceremony of strategic cooperation agreement between Goldwind and Vietranstimex
With more than 40 years of building and development, Vietranstimex is the leading transport company in South East Asia in the area of oversize and overweight equipment transportation, loading and installation for industrial projects. Vietranstimex owns modern equipment and vehicles including heavyweight barges capable of marine equipment transportation and installation, special purpose trucks, self-propelled transporters (SPT) and self-propelled modular transporters (SPMT) with a lifting capacity over 3000 tons. Especially, Vietranstimex owns and operates many specialized installation equipment including cranes with lifting capacity from 120T to 1600T and 03 sets of windmill blade adapters, specialized 2000-10.000 tons barging. Vietranstimex has been the reliable partner for many large international corporations in transportation and installation for industrial projects in general and for the energy sector in Vietnam.
Goldwind Science & Technology Co. Ltd. has a history of 36 years in the research and production of wind turbines. The company has transferred and installed windmills in 30 countries with a total capacity exceeding 77 GW, equivalent to reducing 157 million tons of carbon dioxide emissions annually. Southeast Asia has always been one of the strategic regions of Goldwind, of which Vietnam is one of the most core markets. In Vietnam, Goldwind has signed contracts for wind turbine supply to projects with a total capacity of 1.2 GW. To this end, Goldwind has established offices in Hanoi and Ho Chi Minh City, solution factory in Binh Duong province to provide full services from marketing, sales, project development, construction to operation and maintenance of wind power for customers in Vietnam.
From the beginning of 2020, Vietranstimex and Goldwind have learned, exchanged and shared each other's business philosophies, visions, strategies and strengths. In 2021, the two sides cooperated successfully to provide the transportation and installation of equipment for a number of projects in Vietnam.
This initial cooperation has led to the signing of a strategic cooperation agreement. Based on this agreement, the two companies will implement activities to develop business cooperation relations towards the goal of becoming comprehensive strategic partners.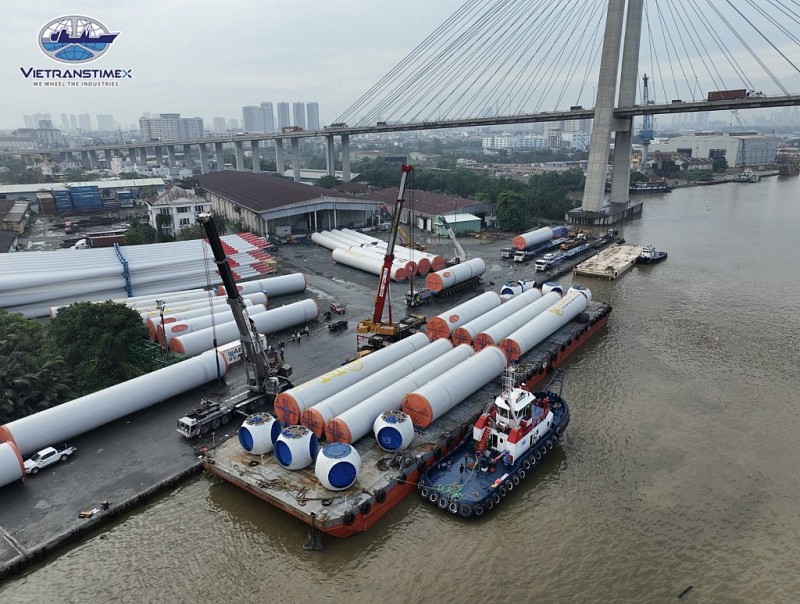 Vietranstimex transports the wind turbines for a project in the Mekong Delta by river
At the signing ceremony, Mr. Bui Quang Lien - CEO of Vietranstimex said "Today's signing ceremony is an important milestone for the business development stage at a higher level of our Vietranstimex. The two sides, based on the strengths, will cooperate to promote advantages, enhance complementary strengths, jointly take advantage of market opportunities to exploit the potential, boost the growth, diversify activities to improve business efficiency and market competitiveness".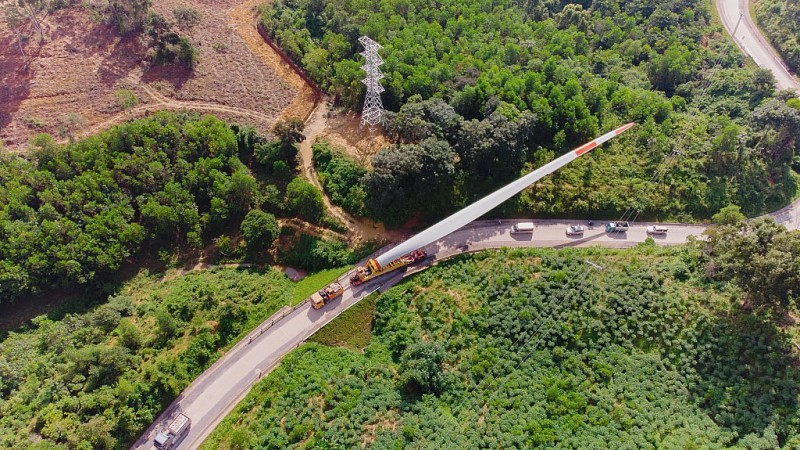 Vietranstimex transports wind turbines for a project in Quang Tri by road
Delivering his speech through the online conference system, Mr. Dong Yin Ming - Asia general manager - Goldwind Science & Technology said "Goldwind is very impressed with the capacity and performance of VTT. Vietranstimex has a strong background in logistics and in recent years the company did transportation and installation work for many wind projects in Vietnam. We appreciate the strong support from VTT so far, and as the wind market in Vietnam is still growing, we believe there will be more and more connections and cooperation between the two companies. We, of course, can do more together."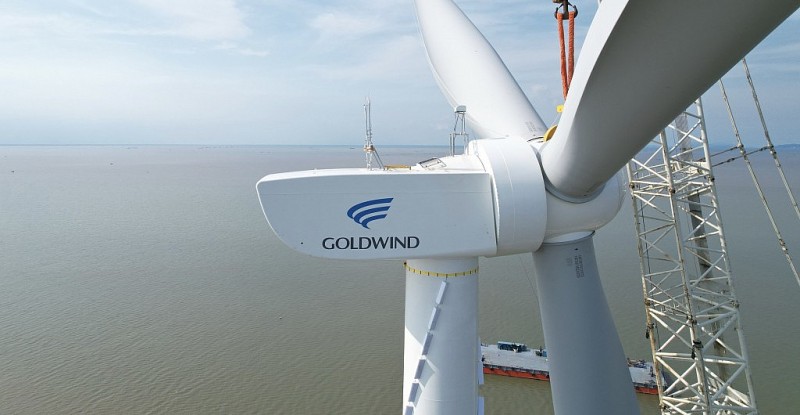 Goldwind Group is an enterprise in the Top 2 in wind power technology and equipment in the world
After COP26 Conference, renewable energy with reach a new development level to help reduce emissions and finally reach the Net zero in the future that Vietnam has committed. The strategic cooperation between the two companies promises to contribute significantly to the development of renewable energy on the road to "Net Zero" not only in Vietnam but in other nations in Southeast Asia.