Vinacomin and HUST signed a cooperation agreement
10:37 | 19/10/2021
- Vietnam Coal and Mineral Industries Group (Vinacomin) and Hanoi University of Science and Technology (HUST) held a signing ceremony on the cooperation agreement.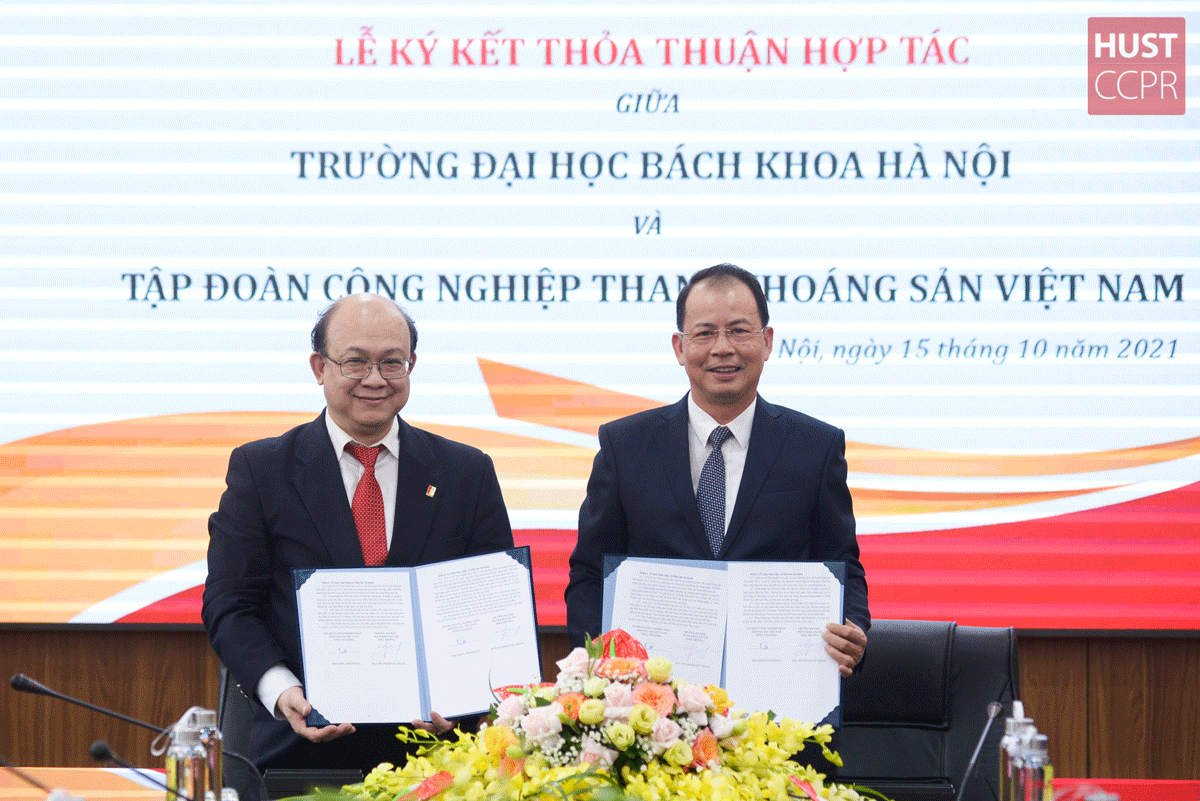 TKV and Hanoi University of Science and Technology signed a cooperation agreement
In recent time, Vinacomin implemented links and cooperation between 3 partners "Researcher - Manufacturer and Producer" and used the knowledge for increasing learning level and making the new products, technologies to the digital transition of the enterprise.
Vinacomin strengthened cooperation with the domestic and foreign associates, scientific and technologic organizations, among which the cooperation with HUST is one of the most successful cooperation and an important contribution in the development strategy of the group.
In recent 60 years Vinacomin directly cooperated with a number of the experts and laboratories of HUST for carrying out scientific and technologic research projects and human resource training programs.
Vinacomin and HUST cooperation lead to a combination of the scientific and technologic activities in information, automation, technical chemistry, metallurgy, machinery manufacturing … of HUST with the broadly applied environment of Vinacomin.
Under the agreement, HUST will build the short-term, undergraduate and graduate training programs to meet the human resource requirements of Vinacomin, while Vinacomin commits to supply scholarships for students and post-graduates of HUST in subjects as technical chemistry; scientific and technologic material, environment; electricity; thermodynamics; automatics and mechanics.
Speaking at the ceremony, Mr. Huynh Quyet Thang, HUST Rector high appropriated results achieved by Vinacomin in 9 months of 2021 in successfully implementing directions of the Government on Covid-19 pandemic prevention and economic development. He also expressed that with a high consensus of the leadership and strength of Vinacomin and HUST this cooperation will more and more develop and achieve many successes in the future.
Mr. Dang Thanh Hai, Vinacomin General Director said, with 85 - year historic tradition "Discipline and consensus" of a Coal Miner, Vinacomin always fulfills the tasks of the Party and State and gradually owns the modern and advantage technologies, goes forward to the successful digital transition in coal and minerals industry, while HUST has 65 years with many successes, prestige and experience in 65 recent years in scientific and technologic researching and resource training, so we can trust that this cooperation will be successful and positively contribute to the development of Vinacomin and HUST in the coming time.