Accepting for operating the longest sea-crossing power transmission line in Southeast Asia
09:18 | 10/12/2022
- As well known, the Kien Binh - Phu Quoc 220kV transmission line a longest sea-crossing line in Southeast Asia was technically energized in mid-October 2022. Currently, the project is completing the procedures to hand over to Power Transmission Company 4 under the National Power Transmission Corporation (NPTC) for managing and operating.
Mr. Nguyen Van Bay - Deputy Director of Power Transmission Company 4 (PTC4) said that PTC4 was assigned by NPTC to receive for operating the Kien Binh - Phu Quoc 220 kV transmission line.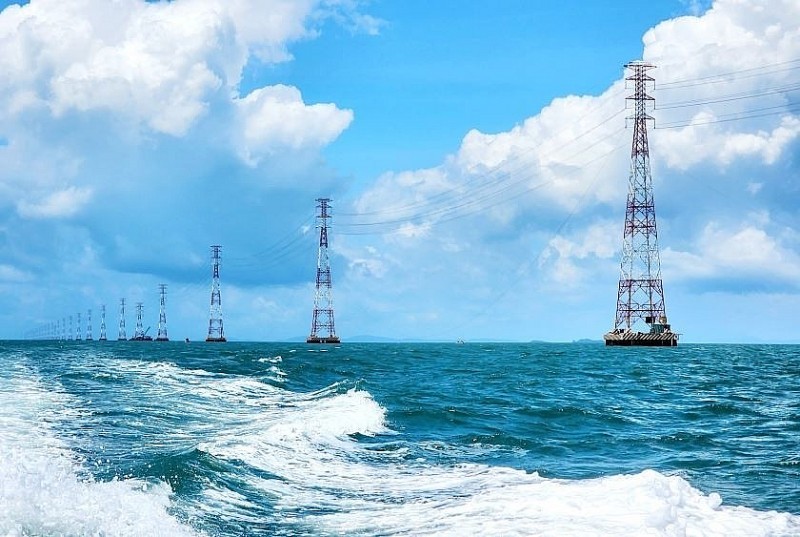 220kV Kien Binh - Phu Quoc transmission line.
Today, PTC4 is in cooperation with the Southern Power Cooperation an investor for accepting and preparing to operate the project.
The Kien Binh - Phu Quoc 220 kV transmission line is an important project for ensuring security, politics, national defense, economy, society and contributing to the development of Phu Quoc island.
The total investment of the project is more than VND 2,200 billion invested by the Southern Power Corporation.
Accordance with Mr. Nguyen Van Bay, one of the difficulties and challenges for the management and operation of PTC4 is the lack of experience in managing lines at sea, that lead to the difficulties in controlling, repairing and handling the breakdowns on the line with large save and strong wind or extraordinary weather.
Therefore, PTC4 has developed the management and operation option with the following criteria:
1/ Recruiting the workers with good health and experience in working with the water areas and organizing to learn experience from the countries with the similar line models.
2/ Researching to apply and equipping the monitoring technologies for sea-crossing lines.
3/ Coordinating with the local authorities and functional units for developing the coordination regulations on protection of the sea-crossing transmission lines.
4/ Organizing propaganda and mobilizing households with fishing boats in the area to coordinate in protecting the line.
Besides, in order to ensure the management and operation of the first sea-crossing line, PTC4 will regularly organize assessments to draw experience from the management operation to promptly add to the operation process.