EVN handed over Sesan 4 Solar Power Project to Sesan Hydropower Development Company
11:24 | 07/01/2022
- On January 4, in Kon Tum, Electricity of Vietnam (EVN) held a ceremony to hand over Se San 4 Solar Power Project (SPP) to SeSan Hydropower Development Company (HPDC) for management and operation.
Se San 4 SPP with a capacity of 49 MWp, invested by EVN with a total investment of 937.1 billion VND in Ia Toi commune, Ia HDrai district, Kon Tum province. The project was managed by Power Project Management Board (PPMB)2, deployed since December 20, 2019, put into commercial operation at November 22, 2020 and checked upon delivery by EVN since November 30, 2020. Up to now, the EPC Contractor has operated the project for one year in accordance with the terms of the contract.
Deployed from December 20, 2019, the commercial power generation project was completed on November 22, 2020 and put into use by the EVN Acceptance Council on November 30, 2020. Currently, the EPC contractor has completed 1 year of operation according to the provisions of the contract.
According to Mr. Ho Trung Dong - Director of Sesan Hydropower Development Company, during his company operation it was noticed that the equivalent average operation time of Se San 4 SPP was 3.73 hours per day and the average generation of the project is 71.26 GWh per year.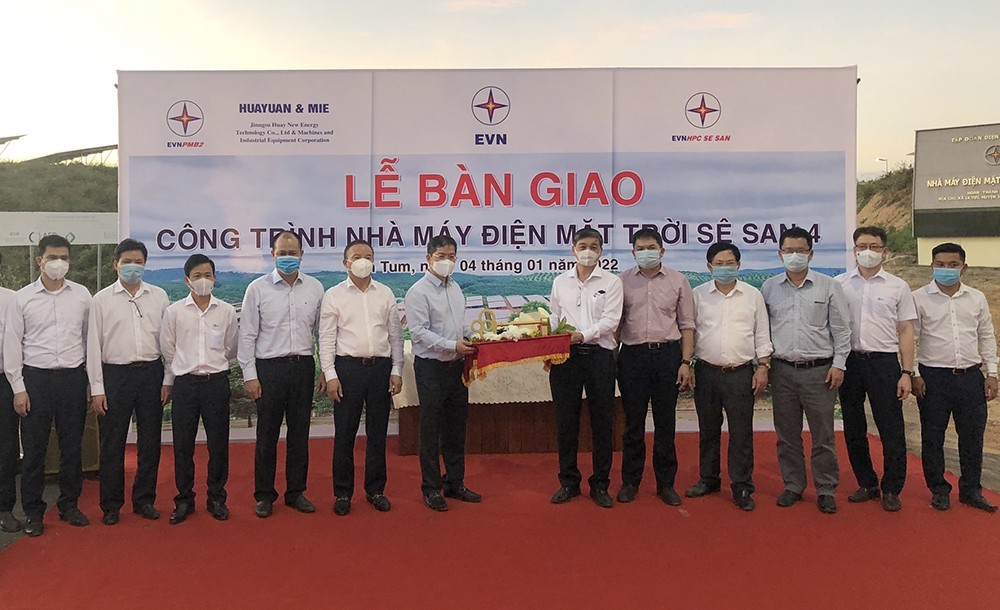 The EVN Deputy General Director, Mr. Nguyen Tai Anh (the sixth person from the left side) hands the key of the project to the Leader of Se San 4 Hydropower Development Company.
Mr. Ho Trung Dong informed that HPDC has put into operation Controlling center, the shift bosses were granted the operation certificates and company issued the schemes and operation regulations for the Se San 4 SPP.
Mr. Nguyen Tai Anh highly appreciated the efforts of PPMB 2, General Contractor and Se San HPDC in close coordination for guaranteeing project construction, safe and efficient operation asked Se San HPDC to accept Se San 4 SPP and operate it safely and efficiently after official handing over.