Inaugurating Le Thuy Dohwa solar power project
16:03 | 26/04/2022
- On April 24, in Le Thuy district, Quang Binh province, the ceremony for inaugurating Le Thuy Dohwa solar power project with a capacity of 49.5 MWp under the Le Thuy Dohwa renewable energy complex was held by Investor as Dohwa Engineering Group - Korea.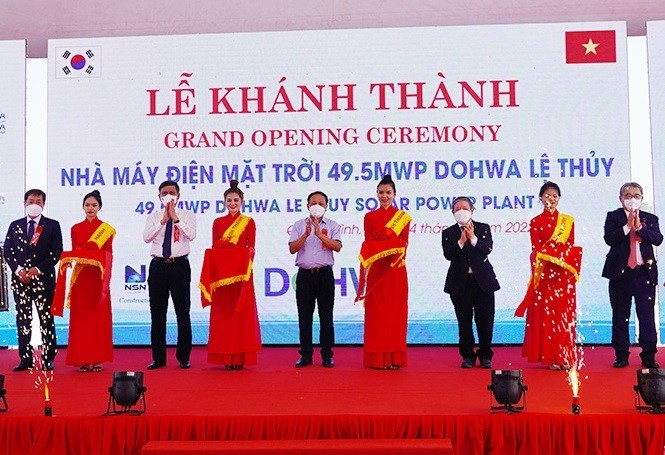 Ribbon cutting to inaugurate the 49.5 MWp solar power plant under the Dohwa Le Thuy Renewable Energy Project Complex.
The project located in Hung Thuy and Ngu Thuy Bac communes, Le Thuy district with a total investment of more than 1,000 billion VND is the project invested by Korean FDI, opened Dohwa investment strategy in Vietnam generally and in Quang Binh province, particularly.
Le Thuy Dohwa solar power project with a capacity of 49.5 MWp was approved for supplementing to the Power Development Planning by Ministry of Industry and Trade and accepted for investment policy by Quang Binh Provincial People's Committee in 2017.
However, due to many objective reasons (specially due to Covid-!9 pandemic), the project started up to construction only from June 2020, and completed for putting into operation at December 31, 2020 with planned timely schedule.
Operated in over one year, the project generated over 60,000 MWh with a turnover of 111 billion VND and paid to State budget by more than 10 billion VND.
Le Thuy Dohwa project is operated by the experimental and high technical staff. The project operated and managed in safe, reliable and stable, competent with the regulations of the National Dispatching Center.