Finland helps develop smart power grid in Vietnam
09:28 | 14/03/2016
- The Central Power Corporation and Finland's ABB Oy Company launched mini Supervisory Control and Data Acquisition (SCADA) system projects in the central and Central Highlands regions with the aim to develop a smart power grid there.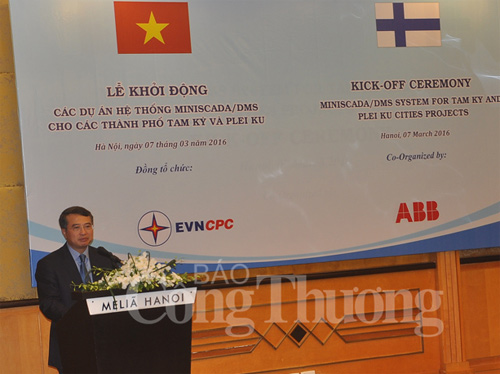 Deputy Minister of Trade and Industry Hoang Quoc Vuong addresses the launching ceremony.
The introduction of the mini SCADA system in Tam Ky city of central Quang Nam province and Pleiku city of the Central Highlands province of Gia Lai is vital to minimise system faults, reduce the risk of accidents and improve the effectiveness of power supply.

Investment for the two projects totaled around 4.5 million USD.

Deputy Minister of Trade and Industry Hoang Quoc Vuong said that since 2006, with a preferential credit worth 10.5 million EUR (11.5 million USD) from Finland, the Central Power Corporation has built the mini SCADA system in four cities in the central and Central Highlands regions, which have produced positive results.

He expressed his hope that in the time to come, the electricity sector will continue receiving official development assistance (ODA) and preferential credit from the Finnish Government to invest in modernising the national grid in line with a development roadmap of Vietnam's power system.

According to Finnish Minister for Foreign Trade and Development Lenita Toivakka, the mini SCADA projects in Tam Ky and Pleiku cities will use Finland's technologies to increase the efficiency and reliability of power supply systems.

A more frequent and stable power supply will help step up economic growth and raise the quality of locals' living conditions, she added.

Finland has so far provided assistance for approximately 20 projects with a total investment of 57 million EUR in health, environment, clean water and energy in Vietnam./.
Source: VEN-VNA