How does the Covid-19 pandemic affect the progress of Super Energy's wind power projects?
12:40 | 05/08/2021
- The Covid-19 pandemic has had a strong influence on the economy and society and greatly affected the project progress of renewable energy investors in Vietnam, including Super Energy. Therefore, the extension of the time to apply the FIT rates for wind power projects (until the end of June 2022) is to increase the "resistance" for businesses to firmly overcome the epidemic and complete their projects as soon as possible.
Super Energy (Super Energy Corporation Public Company Limited), formerly known as Super Block Public Company Limited, was established in 1994, in Thailand, with a registered capital of 150 million Bath. Super Energy's business line is the production and distribution of aerated concrete. In 2005, Super Energy listed on the Stock Exchange of Thailand (SET).
In 2017, Super Energy expanded its investment in Vietnam's green energy industry (wind and solar power). Its goals are to conquer the domestic renewable energy sector and become the leading manufacturer in ASEAN, and at the same time aim for sustainable development and green environment.
As of this moment, Super Energy has invested in 148 renewable energy projects in Thailand and Vietnam, including solar, wind, and biomass power (renewable energy from waste), with a total supply capacity of 1,709.32 MW.
Particularly in Vietnam, Super Energy has put into commercial operation date(COD) 9 solar power projects in the provinces of Binh Phuoc, Ninh Thuan, Binh Thuan, An Giang, and Phu Yen.
They are specifically solar power plants of Binh An (50 MW); Phan Lam (36.72 MW); Sinenergy Ninh Thuan 1 (50 MW); Thinh Long AAA Phu Yen (50 MW); Van Giao 1 (50 MW); Van Giao 2 (50 MW); Loc Ninh 1 (200 MW); Loc Ninh 2 (200 MW); Loc Ninh 3 (150 MW). These nine solar power plants each year provide 836.72 MW of electric power to the national power system.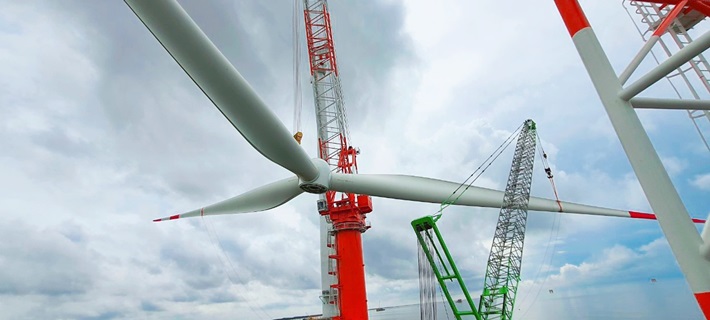 Installation of equipment for Super Energy's wind power projects.
In terms of wind power projects, Super Energy is building 4 plants, with a total capacity of 421 MW, including Cong Ly Soc Trang offshore wind power (30 MW), Cong Ly Bac Lieu wind power (141 MW); Onshore wind power: HBRE Phu Yen (200 MW), HBRE Gia Lai (50 MW).
Super Energy plans to put into commercial operation 3 wind power projects in Gia Lai, Bac Lieu and Soc Trang in 2021 to enjoy the wind power development policy according to Decision No. 39/2018/QD-TTg dated September 10th, 2018 of the Prime Minister on the mechanism to support the development of wind power projects in Vietnam and the Circular No. 02/2019/TT-BCT dated January 15th, 2019 of the Ministry of Industry and Trade, regulating the development of wind power projects and Sample Power Purchase Agreement for wind power projects.
Solar and wind power projects, after being installed and put into operation, have contributed to supplementing electric power due to the increasing demand for electric power in both production and consumption.
However, in fact, not only Super Energy but also businesses investing in wind power projects in Vietnam are facing difficulties in completing the connection and commercial operation on schedule, before January 11th, 2021 (such as the Decision No. 39/2018/QD-TTg) due to the prolonged impact of the Covid-19 epidemic and its violent outbreak in 2021 globally. Specifically, the pandemic has been affecting not only construction activities, but also purchasing plans, especially the production of wind turbine generators. In addition, the production and supply of equipment, as well as key accessories, were in shortage and delayed in delivery.
The epidemic has become more and more complicated since April 2021 to now, the Government of Vietnam has implemented measures to prevent, control and localize the Covid-19 epidemic, making the transportation of materials and people's movement limited, especially the allocation of foreigners, as well as technical workers was interrupted, leading to delays in financing projects and construction in order to put them into commercial operation.
In addition, road traffic obstacles affected the progress of transporting equipment from the seaport to the construction site. The turbines and propellers of wind power poles have a very large weight and size, their transportation requires specialized transport equipment, but the current road system has a certain load capacity. Before transporting, investors must survey and evaluate the feasibility of the roads before being granted with a transportation permit, which prolongs the time and slows down the completion progress.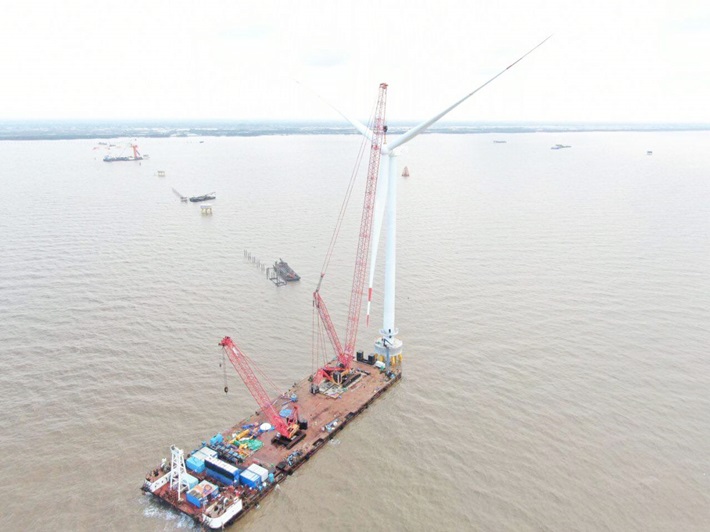 Super Energy is attempting to accelerate construction to keep up with the set schedule, with the expectation of completing its projects on time.
Said by Mr. Supa Waisayarat - Country Director of Super Energy: In order to ensure the power capacity of the plants, as well as contribute to maintaining energy security, we have arranged personnel to comply with the "3 on-site" principle at the plants (from the beginning of June 2021) for 24/24h operation. For ongoing projects, the construction department also arranges for workers, engineers and management personnel to set up camps at the construction site, and minimize travel, in order to avoid the Covid-19 infection.
"Super Energy always complies with all regulations of the State of Vietnam in the prevention and control of the Covid-19 epidemic and project implementation regulations, but there are still objective obstacles that affect the progress of projects, therefore, we hope to receive the support of agencies, departments and sectors to remove difficulties for wind power businesses in general and Super Energy in particular." affirmed by Mr. Supa Waisayarat.
Despite being in difficult times, Super Energy does not forget the social responsibility of a business to join hands to support the fight against the Covid-19 epidemic. In the past time, Super Energy has brought medical supplies to Children's Hospital 2 in Ho Chi Minh City, intensive ventilators to Hospital 175 in Ho Chi Minh City, contributed to the Vietnam Vaccine Fund, and provided items and food for people, as well as those on the front lines against the epidemic in the provinces of Binh Phuoc, An Giang, Phu Yen.
Facing current challenges, Super Energy is still attempting to accelerate construction to keep up with the set schedule, with the expectation of completing its projects on time. In addition, it always believes in the support of the authorities, and expects the Prime Minister to consider and support businesses by extending the time to enjoy preferential rates for wind power projects (according to the Decision No. 39/2018/QD-TTg of the Prime Minister). Super Energy always aims to become an indispensable factor that contributes to enhancing the power supply for the system, ensuring energy security for Vietnam's economic development and contributing to the environmental protection./.
EDITORIAL BOARD OF VIETNAM ENERGY MAGAZINE.