European enterprises are ready to invest billions of dollars in wind power projects in Vietnam
16:14 | 29/11/2022
- Within the framework of the Forum and Green Economy Forum and Exhibition GEFE 2022, on November 28, in Thu Duc City, Ho Chi Minh City, Prime Minister Pham Minh Chinh received leaders of major European corporations, including Equinor, CIP, Mainstream, Vestas, Airbus, HSBC, Suez, Siemens Gamesa, Schneider… At this event, European Enterprises showed that they are ready to invest billions of USD in wind energy projects in Vietnam.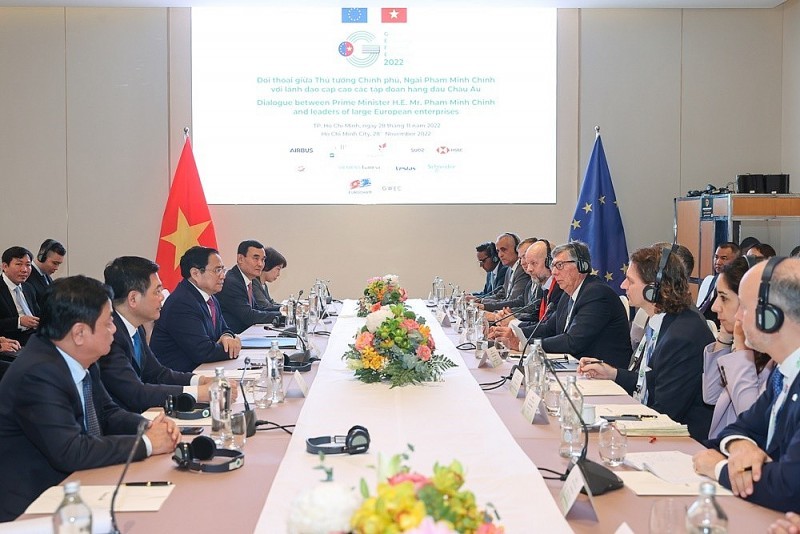 Prime Minister Pham Minh Chinh receives leaders of European corporations - Photo: VGP/Nhat Bac.
Present at the event, on the Vietnamese side, were Minister of Industry and Trade Nguyen Hong Dien, Minister of Natural Resources and Environment Tran Hong Ha, Minister of Agriculture and Rural Development Le Minh Hoan, and leaders of ministries, agencies, localities, and enterprises of Vietnam.
On the European side, there were EU High Commissioner for Environment, Oceans and Fisheries Virginijus Sinkevičius, Dutch Minister of Foreign Trade and Development Cooperation Liesje Schreinemacher, Head of Mission - EU Ambassador to Vietnam Giorgio Alberto, leaders of the European Enterprise Association in Vietnam (EuroCham), representatives of European embassies in Vietnam, European corporations and experts of international organizations.
Speaking at the opening ceremony, Prime Minister (PM)Pham Minh Chinh highly appreciated the efforts of the EuroCham and European Mission in Vietnam, the European corporations and the experts of the international institutions that in coordination with the Vietnamese ministers, agencies and localities to organize GEFE 2022 with a new topic "The green innovations and solutions from Europe to Vietnam", PM expressed happiness on participations of the ministers, agencies, localities, enterprises and international organizations, that should be considered the interests and commitments of both Vietnam and Europe on sustainable development.
Vietnam has approved the National Green Growth Strategy for the period of 2021-2030 with a vision to 2050. Vietnam is one of the five countries affected by climate change. Therefore, climate change prevention and green development is an objective requirement for Vietnam, with the goal to bring prosperity, and a comfortable and happy life to the people. Climate change prevention is not the job of one country, but a global job, no country could be left out and it can call for global solidarity and heightened multilateralism.
Climate change prevention, green development, and circular and digital economy impact the whole people, so it needs the cooperation of the whole people, making the people as the center and the subject. All policies must be oriented to the people and the people must participate in developing, and implementing policy with a spirit of People know, people discuss, people do, people control, people monitor and people come in for.
The Prime Minister said that after 35 years of renovation, Vietnam achieved great success; The country has never had the opportunity, potential, position, and international prestige as it today. Vietnam has actively developed an independent and self-reliant economy, actively and efficiently integrated into the world economy, and is a good friend, reliable partner, and responsible member of the international community. "Your presence here shows that very clearly," the Prime Minister said.
After more than 2 years of fighting the Covid-19 pandemic, the people's life returned to normal. In the 11 months of 2022, the economy and society developed very positively. Macro-economy was stable, inflation was under control, and the economic growth rate reached a high level. The Large balances were ensured.
Affirming a strong commitment to sustainable development, not sacrificing the environment for economic growth, the Prime Minister said: It is evident that Vietnam has joined nearly 150 countries in net emissions to " 0" by mid-century; together with more than 100 countries participating in the Commitment to reduce global methane emissions by 2030; join 140 countries in the Glasgow Declaration of Leaders on Forests and Land Use; together with 48 countries participating in the Global Declaration on the transition of coal power to clean energy; together with 150 countries participating in the Global Adaptation Coalition.
The Prime Minister said that Vietnam is focusing on building three pillars: socialist democracy, socialist rule of law, and socialist-oriented market economy complying with market rules, with state intervention for protecting the legitimate rights and interests of people and businesses. In that process, people should be the center, the subject, the driving force, and the resource of development.
Vietnam is promoting the signing of the Investment Protection Agreement, creating favorable conditions for businesses of both sides to expand investment; promoting the establishment of the G7 and Vietnam's Fair Energy Transition Partnership (JETP) on the basis of ensuring the harmony of interests, fairness, and justice in the transition process.
Before a large number of leading European investors, the Prime Minister stated that Vietnam will continue to improve the investment environment, reduce input costs for businesses, encourage a green and circular economy, and digital transition, ensure political stability, social order and safety, promote public-private cooperation, diversify supply chains, diversify products and markets and encourage creative innovation into emergent industries.
Prime Minister considered that investment in Vietnam is not only for economic benefits but also for human development benefits, and for Vietnam-Europe friendship, "we look forward to your support for the advanced technology, green and cheap capital.", suitable to the socio-economic situation of Vietnam; for supporting Vietnamese enterprises to develop on pace with European enterprises. The Prime Minister emphasized the spirit of all parties winning, harmonizing benefits and sharing risks.
European enterprises are willing to invest billions of dollars in wind power in Vietnam:
This morning, November 28, within the framework of the GEFE 2022 Green Economy Forum and Exhibition, Prime Minister Pham Minh Chinh received leaders of major European corporations, including Equinor, CIP, Mainstream, Vestas, Airbus, HSBC, Suez, Siemens Gamesa, Schneider…
The Prime Minister expressed his gratitude to businesses that invested and will invest in Vietnam with affection and responsibility, always accompanying and sharing with Vietnam during difficult times due to the Covid-19 pandemic. Highlighting the exhibition activities for displaying green products and technologies this time shows the high responsibility and great capacity of enterprises in implementing projects in the direction of green investment associated with economic growth, environmental protection and communication development with the humane and sustainable community, thereby speeding up the effective implementation of action plans of ministries, agencies, localities and businesses.
The Prime Minister said: Vietnam has issued the National Strategy on Green Growth for the period of 2021-2030, with a vision to 2050. Today's forum is very important, it encourages Vietnam to implement this strategy. In the coming time, Vietnam wishes to have cooperation and support in terms of preferential credit sources, market support, technology, human resource training, green development management, and green transition.
Prime Minister proposed that European businesses take advantage of strengthening connections with the representatives of the departments, sectors, localities and Vietnamese businesses attending the event to promote investment in Vietnam in the spirit of all wins, with the motto of harmonizing benefits and sharing risks.
Affirming, the Government of Vietnam will continue to create favorable conditions for EuroCham and its members to invest in the fields that Vietnam are giving priority and special incentives such as high technology, environmental protection, energy renewables…
Thanks to the Prime Minister for taking the time to meet businesses from Europe, the representatives of these businesses said that Vietnam has great potential for renewable energy. European businesses are ready to invest billions of dollars in Vietnam's wind energy sector. They committed that a council of large European businesses has been founded to create a "greener and more responsible" global supply chain. European businesses affirmed that they will cooperate and help Vietnam towards this goal.