The Prime Minister requested to renegotiate prices for the developed wind power projects
12:52 | 06/12/2022
- On the morning of December 4, Prime Minister Pham Minh Chinh and the Government Mission carried out a survey of the coastal wind power projects in Hoa Binh district, Bac Lieu province, worked with Bac Lieu provincial leaders, investors on renewable energy development in Bac Lieu province and Vietnam.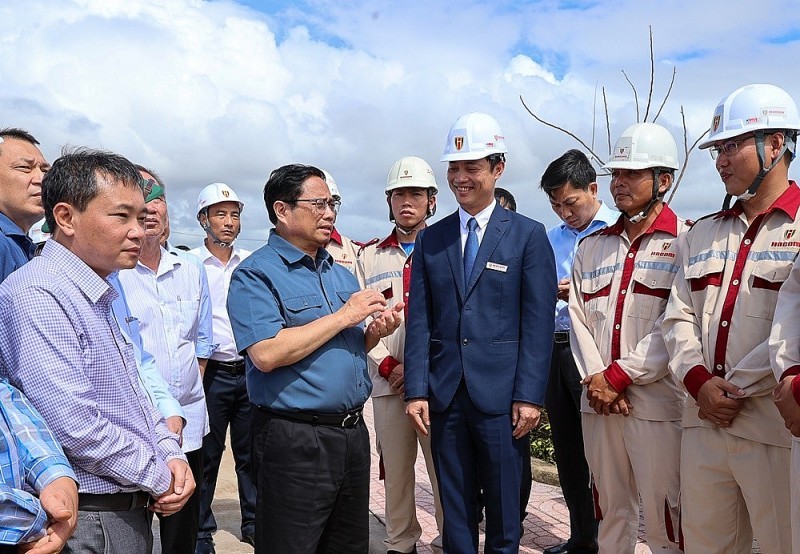 The Prime Minister requested renegotiation of electricity prices for invested wind power projects. Photo: VGP/Nhat Bac.
During this field survey, the Prime Minister requested the Ministry of Industry and Trade (MOIT) to consider and renegotiate electricity prices for deployed wind power projects.
Exchanging with the Prime Minister, the Representatives of investors said that electricity prices in Vietnam need to be competitive with other countries to attract investors.
Agreeing with this view, but the Prime Minister analyzed that it is necessary to consider all five factors including power plant, power transmission and distribution, electricity consumption and electricity price must be at a level that the people can accept.
According to the Prime Minister: In recent years, Vietnam encouraged a mechanism to develop the wind and solar power projects, but the prices were not reasonable, leading to competition for wind and solar power, affecting the balance of supply and demand. In particular, there was a situation of buying wind and solar power projects at high prices, while reducing the purchase of hydropower at low prices.
In previous years, when the technology was not yet developed, the prices of wind and solar power projects at that time might be suitable for encouraging the investors, but today the price of wind power in Vietnam is higher than in comparison with the electricity prices of other power sources and of the world while the electrical technology advances very quickly and today the production costs of renewable energy protects have decreased very much.
On the other hand, the investors do not have to invest in the transmission system, but the state has to invest with a large amount of money. The Investors in renewable energy projects are with the high profits while the Vietnamese people must bill for electricity with the high prices. Therefore, the Prime Minister requested to review electricity prices and renegotiate the electricity prices for the deployed wind power projects and to find suitable solutions for ensuring the harmonious and suitable and effective interests of the investors, state and people.
Prime Minister required MOIT to study for perfecting the mechanisms and policies on the solar and wind power projects. The relevant sides to promote research, transmit, own technologies, train manpower, support capitals and call foreign and domestic investors, technological manufactures to develop renewable energy industry for contributing in developing the independent, self-control economy with the active, wide and deep, substance and effective international integration.