PECC2 signed a MOU on cooperation to invest in biomass and waste – to - energy projects
13:25 | 19/03/2020
- The Power Engineering Consulting Joint Stock Company 2 (PECC2), Tin Thanh Group (TTG), Ninh Thuan Agriculture and Renewable Energy Joint Stock Company (NITSA) and Son My Renewable Energy Joint Stock Company (SSC) have signed a Memorandum of Understanding (MOU) on a cooperation to invest in and develop biomass power projects in the Mekong Delta region and waste-to-energy projects in Ho Chi Minh city.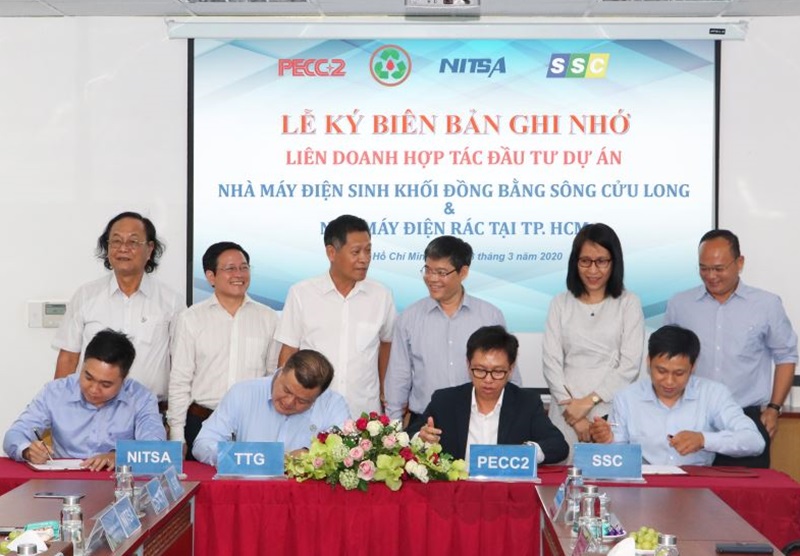 Signing ceremony of MOU on cooperation to invest in biomass and waste-to-energy projects between PECC2 - TTG - NITSA -SSC.
Investment in the effective clean energy projects is one of the important development strategies of PECC2, a leading EPC contractor in Vietnam in a goal to contribute to developing clean energy sources for environmental protection and sustainable growth of the country.
The cooperation of PECC2 with Tin Thanh Group, a company with a capability and strong position in the field of high-tech agriculture, processing agricultural products, biofuels and biomaterials, and with the trusted partners as NITSA and SSC, will open up the new opportunities for the biomass power and waste-to-energy development, a field the State encourages investment in with many preferential mechanisms.
Speaking at the signing ceremony, Mr. Nguyen Chon Hung - Chairman and CEO of PECC2 emphasized: as one of the pioneering enterprises in investing in developing renewable energy projects, PECC2 in the role of the investor, designer, EPC contractor, management operator of many solar power projects.
Mr. Hung also hoped and believed that PECC2 - TTG - NITSA - SSC consortium will become a leading joint venture in biomass power and waste-to-energy power development contributing to additional creating power supply for socio-economic development of the country and environmental protection by orientation of circulative economic development of the government.
PV.