PTSC and Bank Consortium of LBBW & Natixis CIB cooperate to develop offshore WPPs in Vietnam
11:08 | 14/06/2022
- PetroVietnam Technical Services Corporation (PTSC) and Bank Consortium of Landesbank Baden-Württemberg (LBBW) & Natixis Corporate & Investment Banking (Natixis CIB) signed an MOU on Cooperation Agreement on developing the offshore renewable energy projects (OREP) in Vietnam.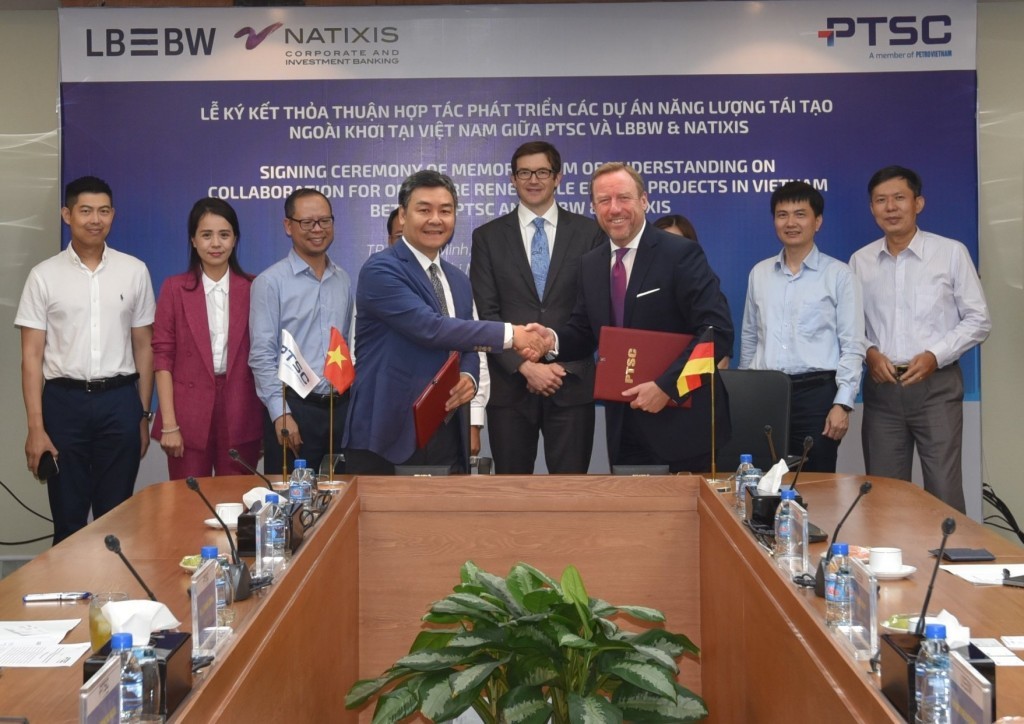 The Signing Ceremony.
By the Cooperation Agreement, LBBW & Natixis CIB will assist PTSC in finding the partners and financial solutions for developing and investing in OREPs of OREPs in Vietnam.
The signing ceremony was held at PTSC's office in Ho Chi Minh City with the participation of Mr. Jens Ruebbert – LBBW CEO in charge of the Asia-Pacific region and Mr. Le Manh Cuong – PTSC General Director.
Mr. Le Manh Cuong said that the cooperative relationship with LBBW & Natixis CIB with the extensive expertise in the electricity and renewable energy field and a deep understanding of Asia – The pacific market generally and the Vietnamese market particularly is an honor with PTSC. These banks are leading units to arrange capital for RE projects over the world. PTSC with LBBW & Natixis CIB should be towards realizing OREPs in Vietnam.
Mr. Jens Ruebbert shared: "We are delighted to have a strong and close partnership with PTSC and play an important role in further developing the renewable energy sector in Vietnam".
"Energy transition is an urgent and important challenge. Therefore, we are pleased to travel with PTSC to support the development of new renewable energy projects in Vietnam. Such projects not only enrich PTSC's portfolio of sustainable energy projects but also make a positive transition of the form of the future energy source structure of the country to a more environmental favorable one, suitable with the government's wishes" said Mr. Bruno Le Saint, Asia-Pacific director of Natixis CIB.
The signing of the Cooperation Agreement with LBBW & Natixis CIB is an important milestone in the strategy of investing and developing offshore renewable energy projects of PTSC, suitable with the orientation of PetroVietnam in the background of strong developing energy transition over the world and in Vietnam.
The Vietnamese government is also developing policies to encourage using green, clean energy suitable with the Government's commitment to reducing greenhouse gas emissions to achieve net- zero in 2050.
LBBW is a global bank with a state-owned, extensive regional networks and client relationships, and a team of global international financial experts. In Vietnam, LBBW has arranged financing for many renewable energy projects by the end of 2021. LBBW has successfully structured and financed approximately 10% of wind capacity operating in Vietnam.
Natixis Corporate and Investment Bank is a leading global financial institution providing services of consultancy, finance, investment and corporation banking, and capital markets for companies, financial donors, and global governmental and supranational organizations.
In 2021, LBBW and Natixis CIB established a strategic alliance to provide clients with financial consultant services related to trading, merging, and global corporate financial transactions.