Doosan Vina and Ørsted signed the MOU on cooperation in offshore wind power development
12:45 | 03/11/2022
- Doosan Enerbility Vietnam (Doosan Vina), Dung Quat Economic Zone, Binh Thuan Commune, Binh Son District, Quang Ngai, Vietnam: Global offshore wind leader Ørsted announced its latest cooperation agreement in Vietnam with Doosan Enerbility Vietnam, focused on foundations infrastructure and boosting local supply chains for offshore wind.
Doosan Vina, Doosan Enerbility's Vietnamese subsidiary, recently signed a memorandum of understanding to supply substructures for offshore wind turbines to Denmark's Orsted.
The memorandum of understanding was signed as part of the Royal visit by their Royal Highnesses the Crown Prince and the Crown Princess of Denmark to Vietnam as part of the celebrations to mark half a century of Danish - Vietnamese diplomatic relations.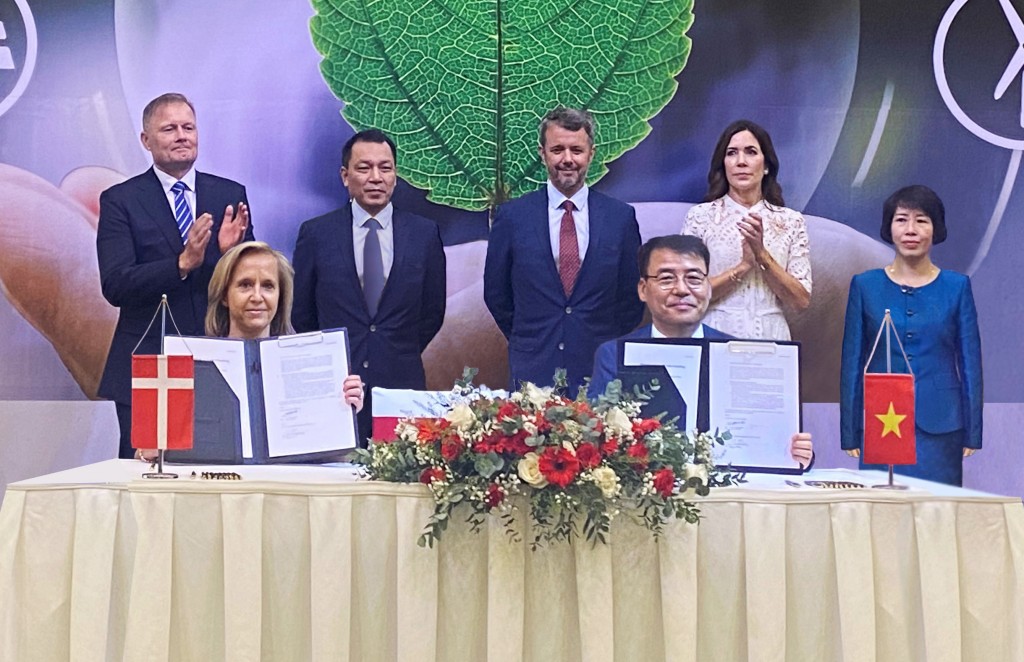 The Signing Ceremony.
Accordingly, the two companies take charge in leading the development of an offshore wind foundations supply chain in Vietnam for Orsted's projects in Southeast Asia, Asia Pacific and Europe.
"Founded in 2007, Doosan Vina has been supplying key components for power and chemical plants, and seaport cranes to about 30 countries worldwide," said Kim Hyo Tae, Doosan Vina CEO. "With the cooperation with Orsted, we will expand our standing in the global offshore wind farm market, which includes Vietnam where the 7-gigawatt offshore wind plants are scheduled to be built by 2030."
Ørsted
Ørsted is a global renewable energy company that has embodied actual energy transition to achieve the goal of creating the world that runs on green energy. Since it built the world's first wind farm in 1991, Ørsted has been the world's No. 1 energy company with development, construction, and/or operation of 29 offshore wind farms including Hornsea 2, the world's largest offshore wind farm, and the Greater Changhua 1 & 2a, Asia Pacific's first large scale offshore wind farm. To date, Ørsted takes up 26% of the global offshore wind market and has installed over 1,600 offshore wind turbines (01 in 04 turbines at sea). Ørsted is supporting the green transformation of Asia Pacific working across markets such as Australia, Japan, Korea, Taiwan, and Vietnam. In Korea, Ørsted is developing the country's largest 1.6 GW offshore wind power projects in Incheon. For more information, please visit https://orsted.com/
Doosan Enerbility
Doosan Energy started its offshore wind business in 2005 and currently has 3.3MW and 5.5MW models and an 8MW model under test in Yeonggwang, Jeolla Nam which will be put in commercial by the end of the year. Last year, Doosan Energy expanded its offshore wind business by building a second wind power plant with a capacity of 5.5 MW, expanding, and restructuring its wind power products and developing a development plan of super large models for the next generation. More information is at https://www.doosanenerbility.com
Doosan Vina
Doosan Vina is a high-tech industrial complex in the Dung Quat Economic Zone of Central Vietnam's Quang Ngai Province employing 2,000 Vietnamese. The company supplies the mega infrastructure products that make modern life a reality. Doosan Vina's products include Boilers for thermal power plants, Desalination plants are the size of a football pitch that turn seawater into fresh, Material Handling Systems like cranes that are the heart of logistics at ports around the world, Module and Structural Steel for refineries, buildings, and infrastructure developments. Contact us through http://www.doosan-vina.com/doosanvina