Signing EPC and O&M contracts for Hau Giang Biomass Power Project
15:15 | 12/10/2022
- On October 11, 2022, Power Engineering Consulting Joint Stock Company 2 (PECC2) signed an EPC Contract and a Contract to provide management and operation (O&M) services with Hau Giang Biomass Energy Joint Stock Company (HBE) for Hau Giang Biomass Power Project, at PECC2 Innovation Hub.
A signing ceremony is an important event in the process of developing the largest biomass power project using rice husks in Vietnam. This is also the first biomass power plant project that PECC2 implements as EPC general contractor and provides O&M services.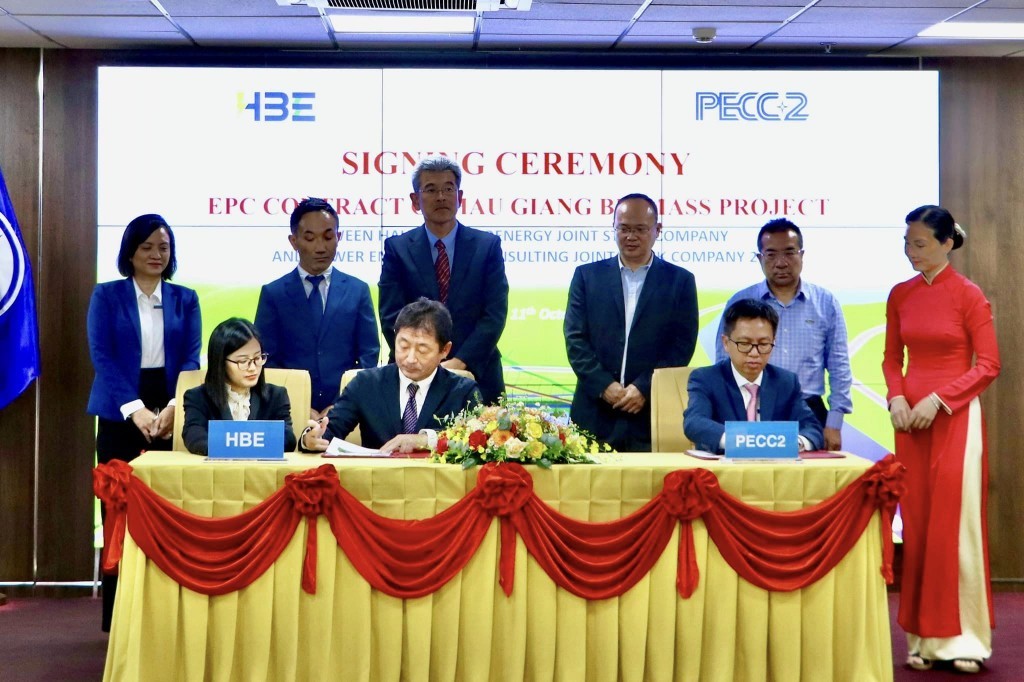 Signing Ceremony.
Hau Giang Biomass Power Project with a capacity of 20 MW invested by HBE, developed on a land area of 10 ha, in Thuan An ward, Long My town, Hau Giang province, including 2 independent units (2 boilers, 2 turbines, 2 generators) and a number of common auxiliary items.
The project with traditional steam condensing turbine technology using mainly rice husk, the carbon neutral and environmental friendliness. The rice husk should be transported through the fuel import port system allowing access for ships up to 300 tons.
The project will participate in reducing green gas emissions, salvaging agricultural wastes for electricity generation, and appropriating with the circular economy model and sustainable development.
From a social-economic aspect, the project will promote a set of collecting and transporting, and subjecting biomass fuel to preliminary treatment and attracting domestic and foreign investment capitals for renewable energy, and increasing income for the farmers in Mekong Delta.
PECC 2 and HBE are focusing on the resources on developing the project to put into operation in 2024.
PECC 2 also will provide O&M services for the project as its strong potential in many years with experience to manage and operate 31 power plants with a total capacity of 2,400 MWp.