Signing EPC contract for Hau Giang Biomass Power Project
15:33 | 30/06/2022
- On June 29, 2022, in Ho Chi Minh City the Signing Ceremony of EPC contract for the Hau Giang Biomass Power Project between Hau Giang Biomass Energy Joint Stock Company (HBE) and Power Engineering Consulting Joint Stock Company 2 (PECC2) took place.
Hau Giang Biomass Power Project with a capacity of 20 MW invested by HBE, contracted as EPC General Contractor by PECC2. The project is developing in Thuan An ward, Long My town, Hau Giang province, including 2 aggregates.
The project with the traditional steam condensing turbines, fires mainly rice husk as an environmentally friendly, carbon neutrality biomass fuel, transported through the fuel import port system allowing ships with a tonnage of up to 300 tons to assess. The project is fully equipped with advanced waste treatment technology, ensuring currently regulated environmental standards.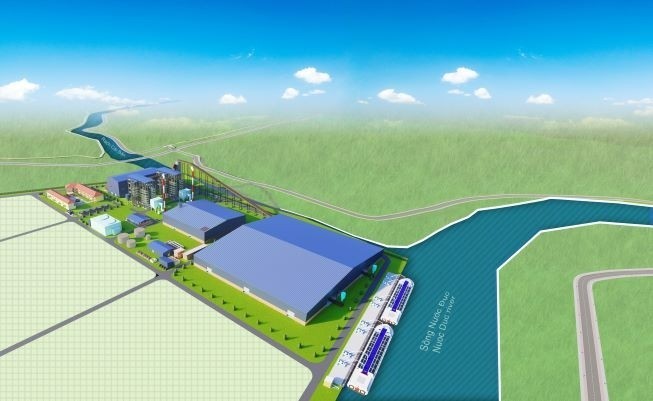 The perspective of Hau Giang Biomass Power Plant.
In future operations, the project will contribute to reducing greenhouse gas emissions, salvaging agricultural wastes as input fuels to generate electricity that is suitable for the circular model and sustainable development of the economy.
Regarding the economy and society, the project should contribute to developing a network of biomass fuel collection, transportation, and preliminary processing and attract more domestic and foreign investment capital to renewable energy development, and at the same time help increase income for farmers in the region.
It is an important event marking a start step for developing the largest biomass power project using rice husk in Vietnam.
The project will contribute to diversifying fuel sources for electricity supply, enhancing energy security in the locality particularly and in the Mekong Delta region generally.
HBE and PECC2 actively focus resources to implement the project according to the committed schedule with Hau Giang province, to put the project into commercial operation by the end of 2024.
Besides, HBE and PECC2 continue to research for applying the new technologies with high efficiency, and optimal costs and ensure the operation and exploitation process of the project to meet the standards on safety and environmental protection.