Starting construction of liquefied natural gas (LNG) supply station in Long An
13:00 | 19/10/2022
- At Thuan Dao Industrial Park, Long An Province, Vietnam CNG Joint Stock Company held a Ceremony for starting the construction of a liquefied natural gas (LNG) supply station.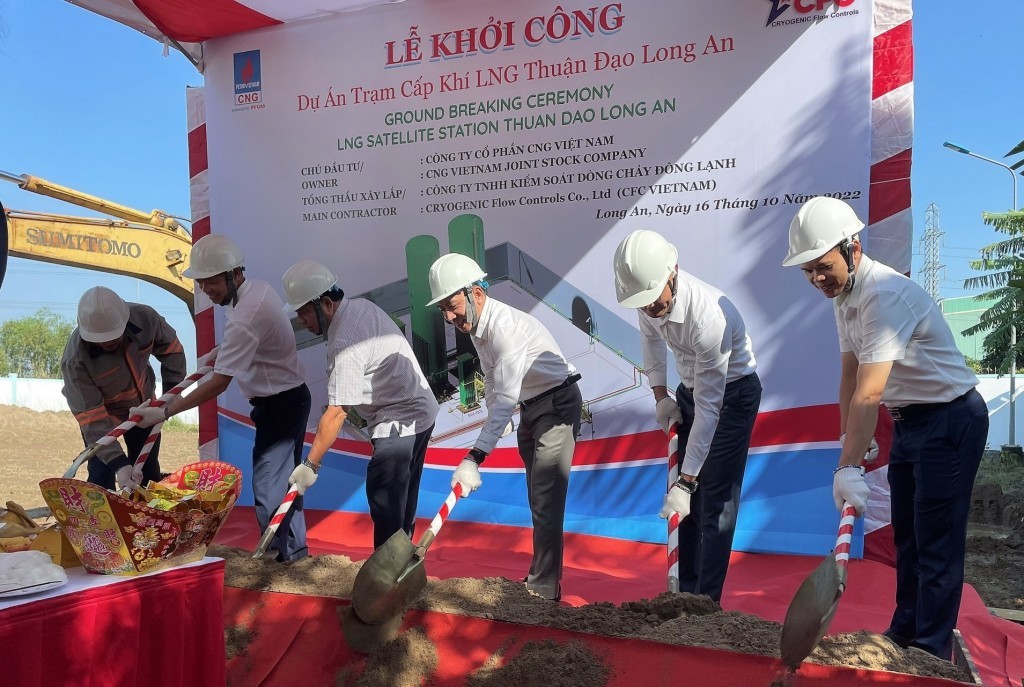 Groundbreaking ceremony.
This is the first LNG supply station project of Vietnam CNG Joint Stock Company with a storage capacity of 50 tons in the first stage. It expects that after construction and installation (April 2023), the station will supply LNG for existing customers using compressed natural gas (CNG) such as Oechsler Motion, Nam Hung steel, Petfood Evolution, Asia Steel,...
In the future, the station will be expanded for meeting the demands of other industrial customers in Thuan Dao Industrial Park.
Speaking at the ceremony, Mr. Nguyen Huu Xuan, Deputy Director of Vietnam CNG emphasized that although this is a small gas project, but is the first LNG supply station and the first important step for the chain of LNG projects of Vietnam CNG in the whole country when supply and prices are stable.
The representative of the Vietnam CFC contractor, Mr. Nguyen Van Hung thanked Vietnam CNG Investor for trusting the ability of the contractor and committed to implementing the project safely, ensuring quality and on schedule...
With the popular orientation of using clean fuels such as CNG, and LNG, Vietnam CNG Joint Stock Company would like to contribute to minimizing impacts on the environment, reducing greenhouse gas emissions, and ensuring the environmental criteria in accordance with the international conventions signed by Vietnam.