VIB arranged a credit of 515 billion VND for EVNNPC
13:49 | 10/07/2017
- On July 5, 2017 EVN Northern Power Corporation (EVN NPC) signed a credit agreement with a value of 515 billion VND with Vietnam International Joint-Stock Commercial Bank (VIB) and two foreign banks. VIB plays as an arranger for this credit.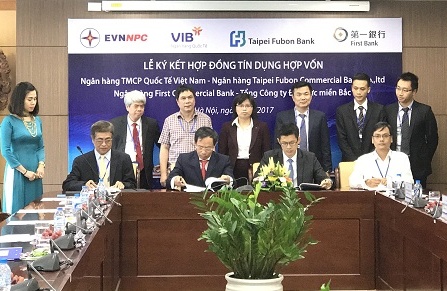 EVN NPC, VIB and two foreign banks at the signing ceremony.
Speaking at the signing ceremony, Mr. Thieu Kim Quynh, EVNNPC President and CEO high appreciated the support of credit institutions for production and business activities of EVNNPC. Specially, in current time, the credits from the banks are the favorable conditions for NPC to implement it's long term investment plans.
"Through the credit agreements, EVNNPC continuously receives the belief from regional leading banks due to it's effective using loans, ensuring the interests of the all sides, and expects the good cooperation opportunities in the future" Mr. Quynh emphasized.
Mrs. Vuong Thi Huyen, Vice Director of VIB and Director of VIB Business Customers Group said: during 11 year cooperation, VIB always appreciates EVN NPC as a reliable partner and believes in success of the value cooperation agreement with the Corporation.
VietnamEnergy.vn