Vinacomin promotes equitization on schedule
03:22 | 09/06/2014
- In a talk with Vietnam Economic News' Reporter, Vietnam National Coal and Mineral Industries Group (Vinacomin) Deputy General Director Nguyen Van Bien affirmed that following Prime Ministerial Decision 314/QD-TTg dated February 7, 2013 approving the group's restructuring project for the 2012-2015 period, Vinacomin has promoted the equitization of some member companies on schedule.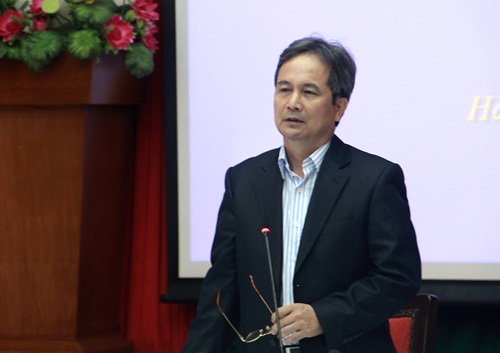 Mr. Nguyen Van Bien
Could you tell us specific steps which Vinacomin must take in 2014-2015 to complete the equitization of its member units?
Of the six member units which must be equitized in 2014, three units (Mineral Corporation, Electricity Corporation and Viet Bac Mining Industry Corporation) have over VND500 billion in chartered capital. Vinacomin is identifying the business values of these corporations to report to the Ministry of Industry and Trade and submit their equitization plans to the prime minister for approval. The evaluation of the three corporations must be finished by the end of the second quarter of 2014 and then the evaluation results will be reported to the government.
To accelerate the equitization process, the most important thing is the determination and initiative of the leaders of businesses which must be equitized. As a parent company, Vinacomin must provide timely guidance for its member units to resolve problems which arise in the equitization process. Therefore, the group has established an equitization steering committee and specific teams to provide guidance for business restructuring, headed by leaders of the Vinacomin Member Council, General Director and Deputy General Directors of the group. Members of the teams include experts from the group's management. The responsibilities of each member have been made clear.
These teams are responsible for assisting our member units in the equitization process. They have to review the results of equitization steps at least once every month so that they can provide our member units with timely assistance and guidance to help them resolve arising problems.
What benefits can Vinacomin get from equitization, in your opinion?
Equitization allows the state and groups to recover partly or in full the amount of capital they invested in businesses in fields where the state does not need to hold 100 percent of chartered capital. It diversifies sources of investment in these businesses and mobilizes social resources for their development. After they are equitized, businesses can list their shares on the securities market and join transactions in the capital market. Equitization will put businesses under multiple ownership with the participation of external investors including foreign investors. This requires state-owned businesses to accelerate the renovation of management, making them more dynamic and allowing them to access modern management technologies through the participation of strategic investors with rich management experiences in order to maximize profits for shareholders, including the state.
Vinacomin will improve the organizational structure of production in the direction of specialization, focusing on main fields of business. The parent company will simultaneously carry out extraction and processing activities (with nine branches involved in coal extraction, three sifting companies and three storage, transportation companies), invest in subsidiaries by holding some of their chartered capital, manage their coal and major mineral markets, and manage the implementation of their coordination plans.
Some experts said that the successful equitization of those three corporations depended on the search for strategic shareholders. Do you agree with this opinion?
I think these experts had reasonable grounds for raising this opinion. These three corporations are large-scale in terms of capital and they sold large amounts of stocks in their initial public offerings (IPOs). However, state documents indicate that equitization does not necessarily require businesses to find strategic investors. Therefore, in the equitization process of these three units, we have concentrated on developing their equitization plans on schedule while at the same time looking for strategic investors.
Some domestic and foreign organizations and individuals have expressed their wish to become strategic investors of the three corporations which must be equitized in 2014. We are promptly assessing their capabilities and setting criteria for selection of strategic investors. We will submit these criteria to the government for approval.
Vinacomin and its member units operate in a sector where the workforce is large. Does the group have any plan to ensure worker interests after equitization?
To ensure successful equitization of its member units, Vinacomin has provided the following guidelines:
Firstly, reducing indirect labor at intermediate stages in coal companies which operate under a two-level model (companies with subsidiary enterprises) so that these companies can operate under a one-level model (companies with no subsidiary enterprises). Specifically, the indirect workforce of companies' subsidiary enterprises will be reorganized with some workers to be moved to main, support stages of production, and some to be encouraged to have their labor contracts terminated or retire before the retirement age. The average percentage of indirect labor in the total workforce of these units will then decrease from 13 percent to below 10 percent.
Secondly, encouraging workers to voluntarily retire before the retirement age to minimize the workforce and improve the effectiveness of company operations after equitization.
Thirdly, Vinacomin member units must have their own salary-funds to pay workers involved in main, support and indirect stages of production. In the period from 2011-2015, they must reduce their indirect labor by 0.5 percent annually.
Fourthly, the recruitment of workers must be based on development strategies and actual demands of companies.
In the process of business restructuring, we have actively reorganized the workforce to increase labor productivity and improve the effectiveness of business activities. From 1994-2011, the coal output increased by nearly seven times while labor increased by just 1.7 times, tax payment and equity considerably grew. Apart from coal production, Vinacomin also effectively implemented other tasks in fields such as minerals, electricity, mining chemical industry and mining engineering.
In 2001, Vinacomin was allowed by the government to establish a labor reorganizing and restructuring fund based on voluntary contributions of workers (one percent of their salaries) to deal with redundant and unqualified workers of its member companies. From 2001-2013, the group paid VND858.6 billion to 24,576 workers who retired before the retirement age and had their labor contracts terminated. Each year, Vinacomin dealt with nearly 2,000 redundant and unqualified workers or approximately 1.5 percent of its total workforce.
However, Vinacomin's member units used to be state-owned companies which have been reorganized to operate in the form of one-member companies limited. Under existing regulations, these companies will not be offered state support to deal with redundant workers in the equitization process. Therefore, we expect the state will create a specific mechanism that provides financial support for businesses which must be equitized to help them reorganize their workforce and retrain their employees.
Source: VEN