Working with GWEC to develop Vietnam's wind market
14:58 | 07/12/2022
- GWEC is a member-based organisation that represents the voice of global wind energy industry. The members of GWEC represent over 1,500 companies, organisations and institutions in more than 80 countries, including manufacturers, developers, component suppliers, research institutes, national wind and renewables associations, electricity providers, finance and insurance companies.
The Vietnam Wind Power Conference 2022 (VWP2022) was held on 1-2 December, 2022 at Lotte Hanoi Hotel. The Conference was attended by representatives of the Electricity & Renewable Energy Administration, Denmark-Norway-Netherlands-UK-German embassy, and many project developers, suppliers and associations, experts from well-known domestic and international research institutes and universities.
With the aim to reach 7 GW of Offshore Wind (OFW) power installation capacity by 2030 in the latest draft PDP8, Vietnam will move closer to the Government's goal of net-zero carbon emissions and phasing out use fossil fuels. Basing on the current situation, there is an urgent need for a Route to Market process in place to enable the installation of 7+GW of OFW by 2030.
Experts outlined the key factors that need to be addressed including: Clear, coordinated and streamlined permitting process, with a simple remuneration mechanism which is quicky to implement. In addition, the Goverment needs to have a clear marine spatial planning approach and improve PPA bankability to attract international finance.
Besides sharing the Global OFW development, the local experts also disscused the OFW development challengers in Vietnam, policy and infrastructural planning, as well as other missing pieces for OFW to reach its potential in Vietnam; The conference also focused on best practices and strategies for bringing 4GW of FIT-lagged OFW projects to Commercial Operation.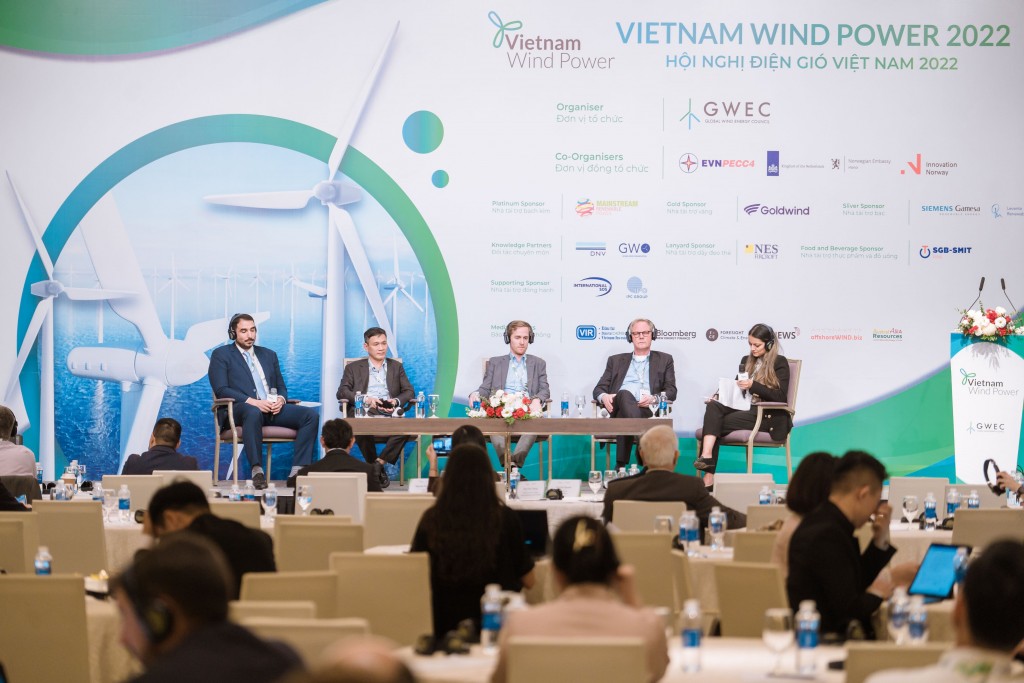 A forum about Offshore supply chain and port infrastructure development
During the panel discussion referring to OFW supply chain in Vietnam, Mr. Pham Quoc Sy – IPC Group's Technical Director – a new GWEC member expressed that: "Vietnam OFW can be built on the 35 - years existing Oil and Gas Industry, which can manufacture and assemble heavy equipment and processes by itself. For example: Jack-up rig production project Tam Dao 05 in 2017 at PV Shipyard, which jack-up rigs can be used for assembly equipment of offshore wind power at sea depth of more than 200m.Vung Tau and Hai Phong seaports are home to many shipbuilding factories and super-heavy equipment operating at sea that have been assessed for international certificates. Therefore, international partners can completely assure to invest, transfer technology and localize mechanical products manufactured in Vietnam as the current Vietnam Oil and Gas Industry has been implementing for a long time".
"The PDP 8 draft's target of 7 GW of offshore wind by 2030 is a major milestone – the offshore wind industry can help improve Vietnam's energy security, provide predictable costs and create tens of thousands of quality jobs. Given that it takes 6 – 8 years to bring online an offshore wind farm, urgent clarity on policies and regulations is needed to ensure the 2030 target of 7 GW can be met. GWEC has recommended that an inter-ministerial committee be established to help remove bottlenecks in permitting and regulatory processes and that 4 GW of demonstration projects be used to kickstart the industry, before switching to the bidding mechanism"- said by Mr. Bui Vinh Thang, Vietnam Country Director of the Global Wind Energy Council (GWEC)"./.