Opening a Workshop - Show of Nuclear Power Development
10:39 | 17/11/2015
- On November 13, in framework of the Project No 370, a Workshop – Show of Nuclear Power Development was officially opened in Ninh Thuan Province.
The Workshop – Show of Nuclear Power Development held by the Vietnam Atomic Energy Agency in collaboration with the Department of Science & Technology of Ninh Thuan province, Electricity of Vietnam, Russian National Atomic Energy Corporation, Japan International Atomic Energy Company and Japan Atomic Industrial Forum Center.
Speaking at the opening ceremony, Deputy Minister of Science & Technology Chu Ngoc Anh emphasized the importance of nuclear power as a main source in electricity energy mix of the country in future.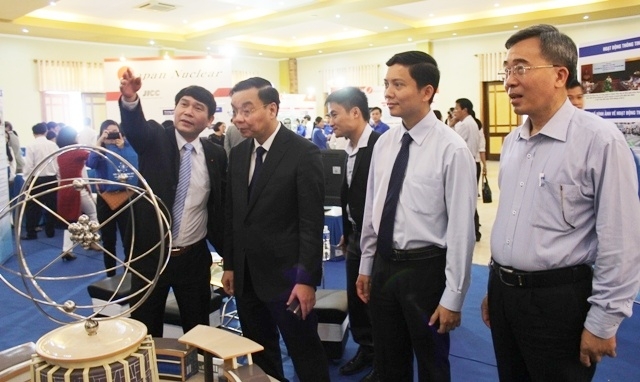 Dr. Hoang Anh Tuan, Director General of Vietnam Atomic Energy Agency (MOST) shows 19 key components of the nuclear power infrastructure (Photos: Hai Van)
The Workshop – Show is an important event taking place when Vietnam is in preparation to develop Ninh Thuan 1 and Ninh Thuan 2 Nuclear Power Projects by technologies of Russia and Japan.
Today, nuclear power has become a prior choice for many countries in the world. According to the data of the International Atomic Energy Agency (IAEA), updated to September, 2015, there are 31 countries and territories in the world that have nuclear power plants with a total number of 438 reactors, distributed mainly in some countries as: 99 in the US, 58 – France, 34 – Russia, 28 – Chine, 24 – Korea, 21 – India.
The strategy of using nuclear energy for peaceful purposes up to 2020 approved by the Prime Minister at the Decision No. 01/2006 / QD-TTg dated 3/1/2006 set the targets of atomic energy application for both spheres as using radiation, radioactive isotopes and developing nuclear power projects.
VietnamEnergy.vn