The workshop on supplementing Thang Long wind power project to the PDP
15:39 | 06/07/2019
- On May 05, 2019, in Hanoi, Enterprize Energy Group and Vietnam Energy Association (VEA) held a workshop on supplementing Thang Long wind power project into the National Power Development Planning (PDP) for the period of 2011-2020, with a vision up to 2030.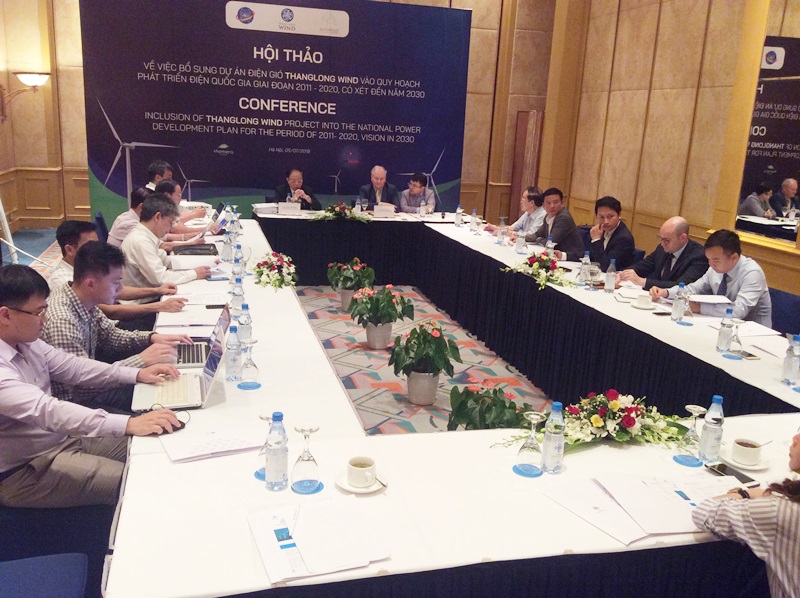 Overview of the workshop
The report on supplementing Thang Long wind power project into National PDP in period of 2011-2020 with a vision up to 2030 established by Power Engineering Consulting Joint Stock Company 3 (PECC3) shows that Thang Long wind power project is located on an offshore area of about 2,000 km2 in 20 to 50 km from Ke Ga cape, Binh Thuan province.
According to the preliminary studies of Enterprize Energy, the wind power potential of the area is from 3 to 5GW. In the case of a fully developed project, its output can reach about 25 TWh per year.
It is expected that Enterprize Energy Group will develop on this area a wind farm with a capacity of about 3400 MW in period of 2022-2027 including:
Phase I, implementing survey and developing 600MW in 2022 - 2023.
Phase II, III, IV and V (from 2022-2027), developing 600MW per year.
Phase VI, developing 400MW.
The project includes offshore wind farms, offshore power substations, offshore power cable systems and coastal maintenance facilities.
The total investment for the period from 2022 to 2027 is expected to be about 11.9 billion USD, of which 25-30% of share capital, 70-75% from the global financial institutions.
The Thang Long project has been approved by the Prime Minister on the policy for survey, research and construction investment, by Binh Thuan Provincial People's Committee and Ministry of Industry and Trade for implementing survey, research and construction investment.
To clarify the special interests of the local fishermen, the representative of Enterprize Energy Group said that the project will not obstruct the fishing process of fishermen. The distance between the wind power turbine towers designed as 1km and the fishing boats can normally go through the interval between two wind power towers. All wind turbines will be equipped with safety signal lights according to international standards.
In addition, the project will create a good effect due to that the turbine towers with the strong bases will attract aquatic species to reside below, creating a richer aquatic resource.
The area for constructing ​​the 500kV transformer substation and the electric towers on the mainland have also been selected as vacant, unproductive lands. In case if there are people living within the project area, the investor will coordinate with local leaders to organize relocation and adequate compensation for fishermen.
VietnamEnergy.vn