Prime Minister: The Roadmap of electricity prices will be evidently public
14:00 | 11/06/2015
- At the Mid-term Vietnam Business Forum 2015 (VBF), with the theme "Improving the Competitive capacity of Enterprises for International Integration" was just held in Hanoi, regarding the worry before of foreign business community on the electricity shortage and supply reliability problems in Vietnam in future, Vietnamese Prime Minister Nguyen Tan Dung quieted the investors that the Roadmap of electricity prices will be evidently public in coming time. Besides, PM also confirmed, there will be no shortage of electricity and energy in Vietnam even up to 2020 or 2030.
According to the assessment of international investors at the Forum, the electricity shortage and low prices are the greatest obstacles for their decisions to invest the energy projects in Vietnam.
And the Minister of Industry and Trade (MoIT) Vu Huy Hoang assessed the electricity generation and supply has never been as good as present since 2011.
Minister Hoang still said, though due to very hot weather at present, electricity consumption suddenly high increased, but EVN guarantees enough the demand of production and consumption of the country. Besides, the reserve margin of power system of Vietnam today is an over 20% level and may increase up to around 30% in coming time.
That, the electricity supply does not meet the demand only occurs at the concrete time and areas, mainly due to the decreased quality of electricity distribution networks, the Minister said.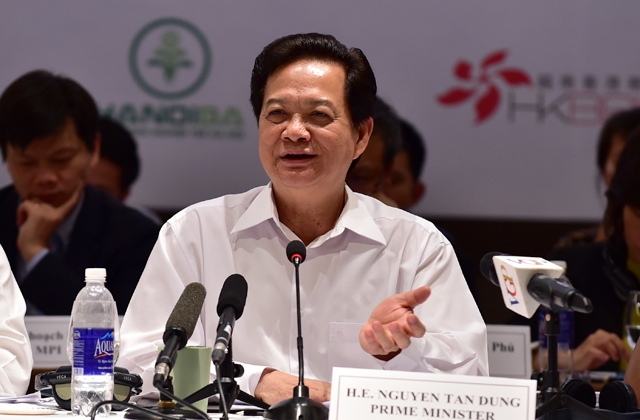 Prime Minister Nguyen Tan Dung speaking at the Mid-term Vietnam Business Forum 2015.
In the conclusion speech at VBF 2015, Prime Minister Nguyen Tan Dung also consoled the worrying opinions on the electricity shortage in southern region due to a slow progress development of the power projects in the region by the decisive of Vietnam to overcome every obstacle, guarantee sufficient electricity supply for economic growth target, carry out electricity economizing and raise quality of electricity supply effectively.
The Prime Minister also said that incoming time Vietnam will implement measures to stabilize the electricity prices and determine not to sell electricity below the cost price.
On the other hand, Vietnam will make an open and evident electricity price roadmap for quieting the investors and facilitate investors to have sufficient energy for production. Vietnamese government will also promulgate a policy for directly helping the poor people but subsidiary through electricity prices.
VietnamEnergy.vn