Signing a power purchase agreement for Song Hau 1 Thermal Power Plant
12:18 | 06/05/2022
- On May 4, in Hanoi, the signing ceremony of the power purchase agreement (PPA) for Song Hau 1 Thermal Power Plant was held between the Vietnam National Oil and Gas Group (PVN) and the Electricity of Vietnam (EVN).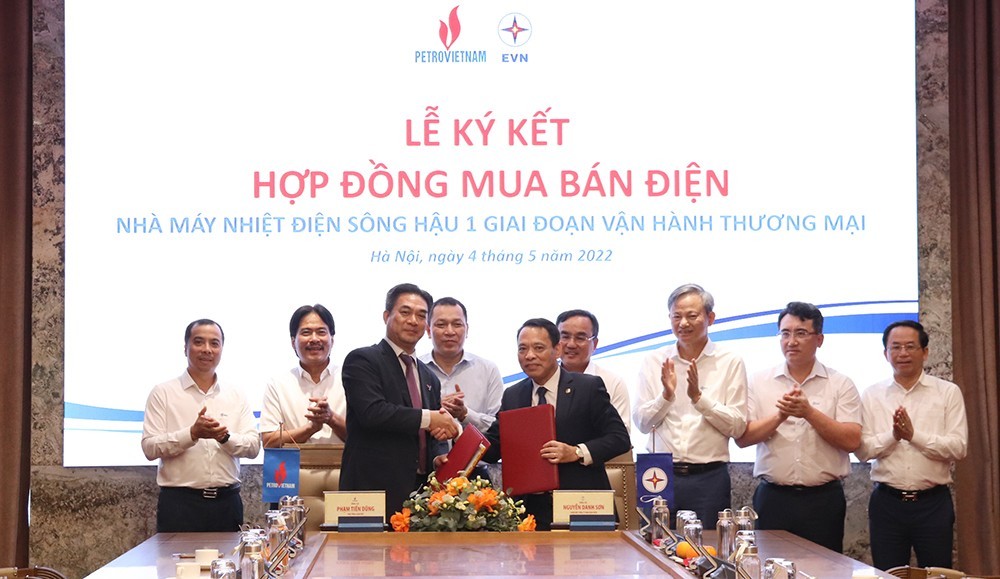 Under the authorization of the General Directors of the two
Groups, PVN Deputy General Director - Pham Tien Dung (top left) and Director of Electricity Power Trading Company (EPTC) Nguyen Danh Son signed a power purchase agreement for Song Hau 1 Thermal Power Plant (TPP).
The construction of Song Hau 1 TPP with a capacity of 1200 MW (2 x 600 MW) was started on May 16, 2015 in Phu Xuan hamlet, Mai Dam town, Chau Thanh district, Hau Giang province. The project invited by PVN was deployed by an investment specific mechanism in accordance with the Decision No 2414/QĐ –TTg dated 11/12/2013 of the Prime Minister. After nearly 7 years, at 26/11/2020, the first unit of the project was synchronized with the National Power System and at 12/4/2022, the whole Song Hau 1 TPP has been handed to PVN for commercial operation.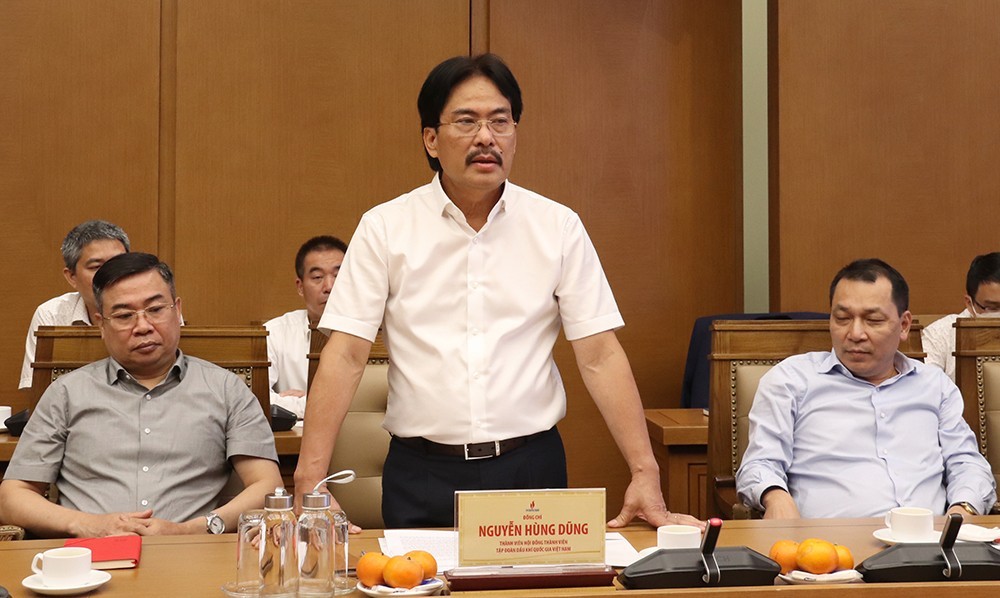 Member of the Board of Directors of PVN - Nguyen Hung Dung.
Speaking at the ceremony, Mr. Nguyen Hung Dung, member of the PVN Member Council said that Song Hau 1 project has a very important meaning in the PVN development and it's completion contributes to promoting Hau Giang provincial economic development and finalizing the financial targets of PVN. PVN confirms to direct its units to manage and operate the project in absolute safety and good environmental protection.
Mr. Dung expressed thanks to close direction and support of the Government, Ministry of Industry and Trade, Hau Giang Provincial People Committee and cooperation of EVN for the project coming to the current PPA.
This is an important step for Song Hau 1 Thermal Power Plant to officially participate in bidding in the competitive power generation market, in harmony with the development of Vietnam's electricity industry, contributing to ensuring the country's energy security.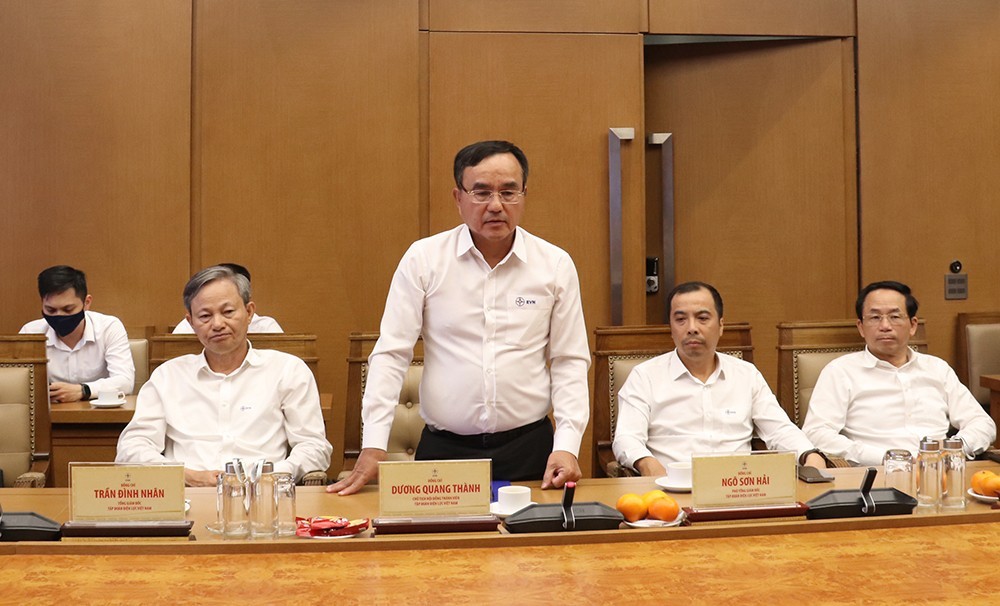 Chairman of the Board of Director of EVN - Duong Quang Thanh.
Speaking at the PPA Signing Ceremony, Chairman of EVN Member Council - Mr. Duong Quang Thanh said, in recent years, the Party, State and Government entrusted EVN with the core responsibility in ensuring sufficient electricity supply for socio-economic development of the country and daily life of the people.
In order to fulfill that responsibility, besides the efforts of EVN, the joint efforts of other power generating unit as PVN were an important and indispensable element with an aim to maintain stability and energy security in general and electricity supply security in particular.
The putting Song Hau 1 TPP into operation is a significant event, making an important contribution to ensuring the supply - demand energy balance in the South and Southwest regions. Today PPA Contract Signing Ceremony t is the result of close, proactive and active coordination, through many rounds and many negotiation sessions between EVN and PVN, including many rounds of negotiations presided over by PVN and EVN leaders.
The EVN Chairman would like EVN And PVN will increasingly find a high consensus in implementing PPA negotiations for Thai Binh 2 TPP, Nhon Trach 3 & 4, deploying gas projects from Block B, Blue Whale fields and handing over the distribution yards of Long Phu, Song Hau 1 TPPs...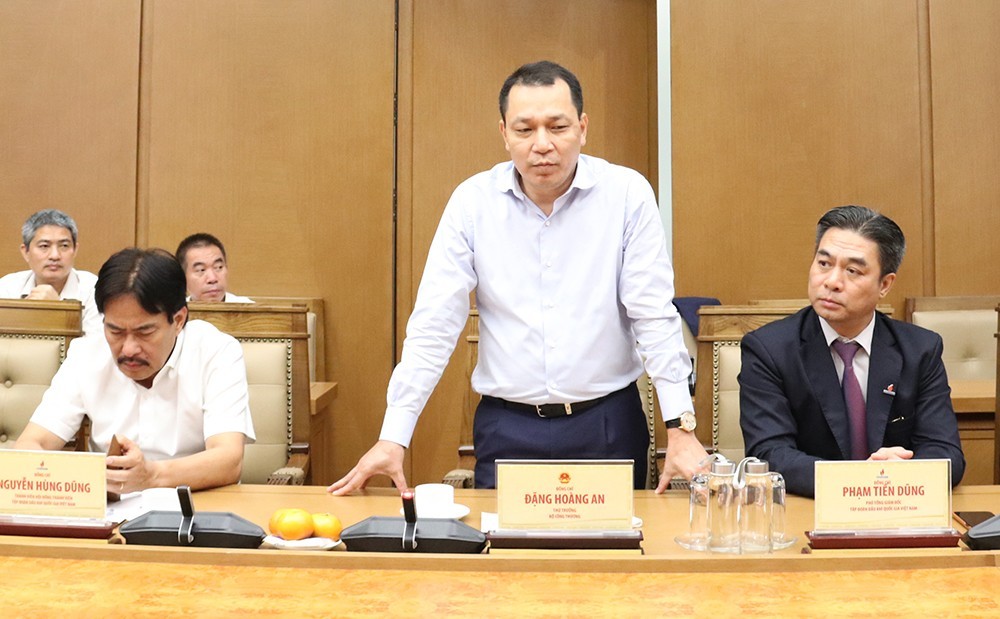 Deputy Minister of Industry and Trade - Dang Hoang An.
Speaking at the Signing Ceremony, Deputy Minister of Industry and Trade - Dang Hoang An affirmed that this is a large project with a great significance in ensuring national energy security. During the construction process, the project encountered many difficulties, especially affected by the COVID-19 pandemic. The PPA contract signing has a very important meaning in supplying electricity of 7.3 billion kWh/year, contributing to energy security of the country and promoting socio-economic development in Hau Giang province.
Deputy Minister Dang Hoang An highly appreciated the close coordination between PVN and EVN as well as the efforts of PVN and EVN negotiating teams to reach agreement on contract clauses. Mr. An also trusted PVN with its experience should stably, safely and effectively Song Hau 1 TPP, contributing to ensuring national energy security and to socio-economic development.