Signing the contract to supply the electromechanical equipment and technical services for Ialy HPP Expansion
10:48 | 12/06/2022
- The signing ceremony took place on June 9, in Hanoi, organized by the Power Project Management Unit 2 (under Electricity of Vietnam - EVN) and the Contractor Consortium of Andritz Group (Austria) and 3C Computer - Communication Joint Stock Company - Control (Vietnam).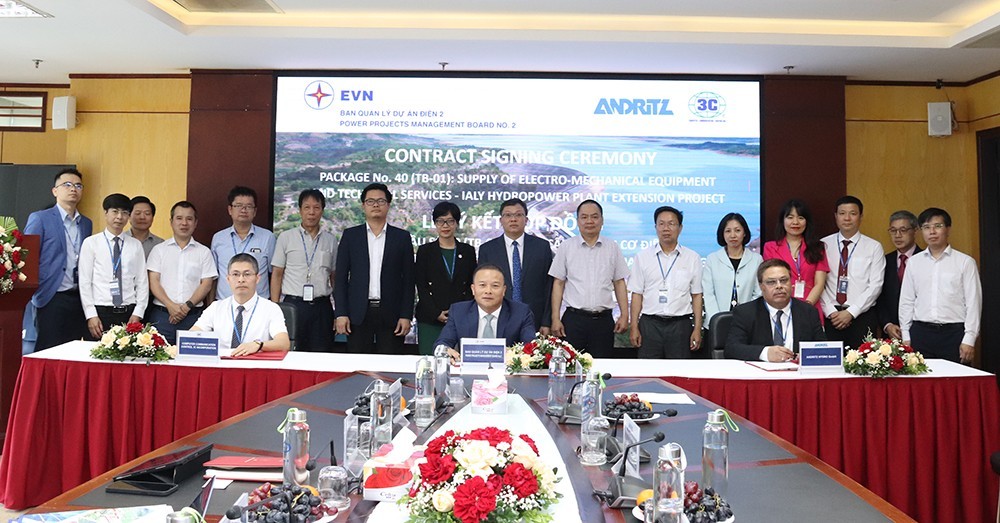 The Signing Ceremony.
The Ialy Hydropower Project expansion includes more than 50 different bidding packages. In which, package No. 40 (TB-01) providing electromechanical equipment and technical services is the largest technological equipment package of the project.
The main items of the package include: the Hydraulic turbines, Generators, Excitation, GIS, 500 kV main transformer, Protection control, Auxiliary equipment, Electrical equipment systems and Performing relevant technical services.
Mr. Nguyen Duc Minh - Deputy Director of Power Project Management Unit 2 (PPMU 2) said: Recognizing the importance of this bidding package, on the basis of the contractor selection plan approved by EVN, PPMU2 has deployed contractor selection in accordance with the current regulations for ensuring fairness and transparency in bid evaluation. As a result, the winning bidder was the Contractor Consortium of Andritz (Austria) and 3C Computer - Communication - Control Joint Stock Company (Vietnam).
The contract package values over 1,375 billion VND with an implementation time of 36.5 months from the effective date of the contract.
Speaking at the ceremony, Mr. Pham Hong Phuong - EVN Deputy General Director highly appreciated the efforts of PPMU 2 in coordination with the consulting unit to complete the contractor selection procedures and congratulated the Contractor Consortium on winning this contract.
The EVN Deputy Director asked PPMU 2 to closely coordinate with the Contractors in contract implementation progress as finding solutions to speed up the project rate of progress with a timely supplying design and equipment and regulatory reporting EVN for the Group to timely direct and resolve the raising problems. To coordinate with ADF – an agency funding capital for the package to promptly disburse the completed volume in accordance with the signed Contract.
Due to very urgent progress of the package with electricity generation in June 2024 and completion of the whole project in 2024 year, EVN asks Contractor Consortium to immediately deploy activities, closely manage quality of the package and timely recount the problems to investor in the project implementation progress and strictly comply with the terms of the signed contract.