Signing a credit contract for financing the Extended Ialy Hydropower project
13:00 | 15/02/2023
- On February 14, 2023, in Hanoi, Electricity of Vietnam (EVN) and the Bank for Agriculture and Rural Development of Vietnam (AGRIBANK) held a ceremony to sign a credit contract worth VND 2,400 billion for the extended Ialy Hydropower Project. The extended Ialy Hydropower Project has been approved by the Prime Minister for investment policy, and its feasibility study project was approved by the Committee for Management of State Capital at Enterprises.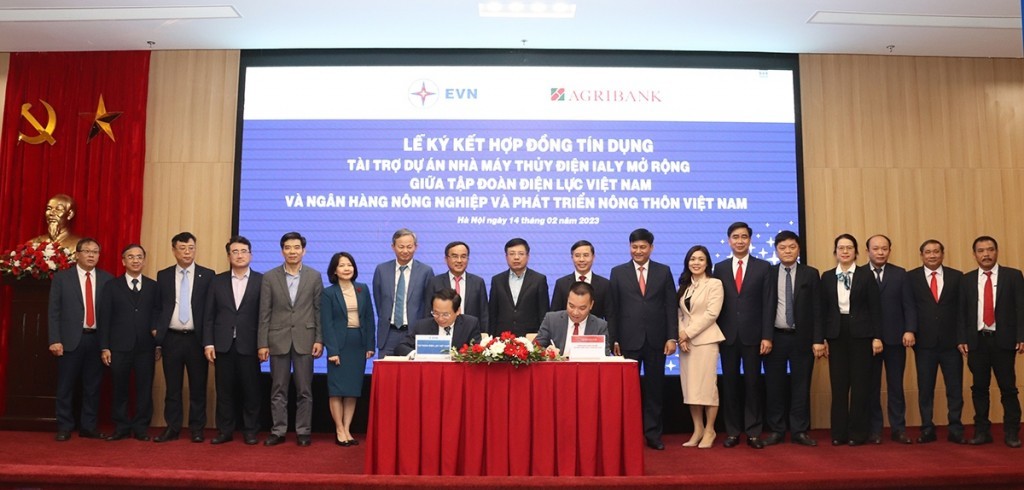 The Singing Ceremony.
The EVN has decided to invest in the project and assigned the Power Project Management Board 2 as an Investor.
The extended Ialy Hydropower Project includes two units with a total capacity of 360 MW (2x180 MW) and a total investment level of about 6,398 billion VND including 30% from EVN and 70% from credit loans of AGRIBANK and the French Development Agency (AFD).
The credit loan from AGRIBANK is worth 2,400 billion VND with a maximum loan term of 168 months. Previously, in mid-2021, EVN and AFD also signed a preferential credit loan without a government guarantee worth 74.7 million euros (equivalent to about VND 1,900 billion).
The extended Ialy Hydropower Project and other extended hydropower projects place in the sustainable and green energy development strategy of EVN, thereby not only increasing EVN's hydropower capacity but also enhancing the sustainability and performance of power systems in the context of strong development of the renewable energy in the Central region.
In the recent 2 years, despite the great affection by the COVID-19 pandemic and the prices of raw materials and fuels increased very high compared to the time of bidding, with the great efforts of the investors, the construction and supervision units, the extended Ialy Hydropower Project still basically ensured the progress, even many items were ahead of schedule (from 1 to 3 months) compared to the approved plan.
At the present, the EVN and the Power Project Management Board 2 coordinate with the contractor consortium to focus the human and equipment resources for construction with the requirement to ensure the progress and quality of the project, to implement the HSE (health - safety - environment), strictly observe the control procedures to minimize the impact on the social environment during the project construction process.
The extended Ialy hydropower project will increase the average annual generation of the power system by 233.2 million kWh per year and decrease greenhouse gas, lengthen the ages of the equipment and economize costs for maintaining and repairing equipment.