Signing the credit contract for Cat Hiep solar power project
08:35 | 15/03/2019
- On March 9, 2019, the French Embassy in Hanoi, Joint Stock Commercial Bank for Investment and Development of Vietnam (BIDV), Quadran International Group (France) and Vietnam Truong Thanh Group, held an official ceremony on signing the credit contract for Cat Hiep (Binh Dinh province) solar power project, with a credit limit of up to 37 million USD.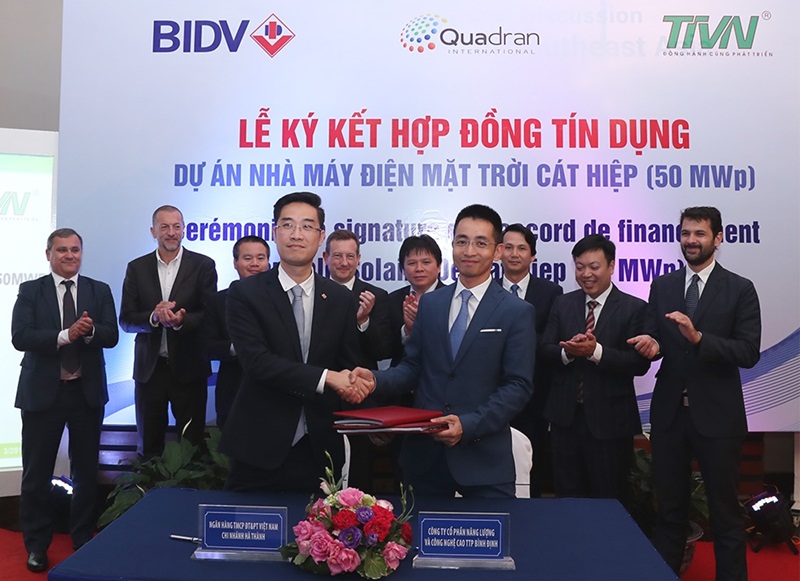 The official ceremony on signing credit contract for Cat Hiep solar power project
Cat Hiep solar power project, with a capacity of 49.45MWp and an output of 76.500 MWh per year is invested jointly by Quadran International (QI) and Vietnam Truong Thanh JSC Group (TTVN).
Currently, the construction of the project is being urgently implementing with an aim to put it into commercial operation before June 30, 2019.
The project is agreed with the National Renewable Energy Development Strategy, the National Strategy on Green Growth and the Power Development Planning of Binh Dinh Province for the period of 2016 - 2025, with a vision up to 2035. It is the first project that BDIV finances with a participation of the foreign investor for green energy – solar power development.
Previously, on November 2, 2018, the ceremony on signing the cooperation agreement on financing Cat Hiep solar power project between BIDV, Quadran International and Truong Thanh Group was held in Hanoi under the witness of French Prime Minister - Edouard Philippe and Vietnamese Prime Minister Nguyen Xuan Phuc.
According to Mr. Quach Hung Hiep, Deputy General Director of BIDV, this is the first renewable project in Vietnam that a French company (Quadran) takes investment in.
"We hope this event will enhance the image of Vietnam as a destination for prestigious safe and friendly investment, and thereby contribute to further the cooperation between Vietnam and France to a new high level" Mr. Hiep expressed.
VietnamEnergy.vn