Signing a credit contract for Quang Trach 1 Thermal Power Project
10:00 | 02/07/2021
- On June 30, 2021 in Hanoi, Electricity of Vietnam (EVN) and Joint Stock Commercial Bank for Foreign Trade of Vietnam (Vietcombank) held the signing ceremony of the Comprehensive Cooperation Agreement and Credit Contract for Quang Trach 1 Thermal Power Project (TPP).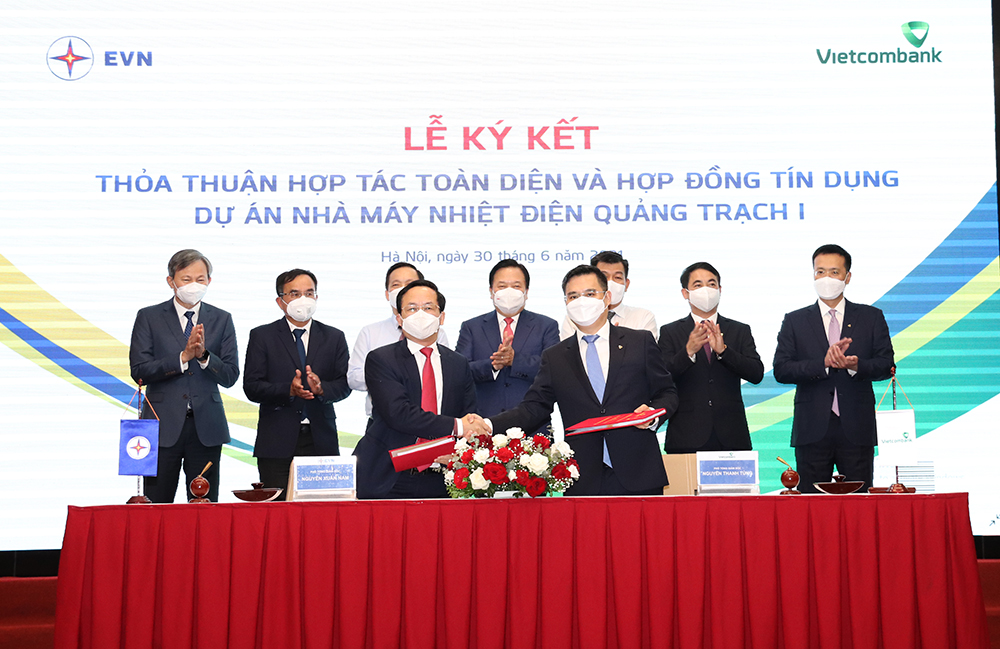 Representatives of EVN and Vietcombank signed a credit contract for Quang Trach 1 Thermal Power Plant project.
According to the cooperation agreement, the parties commit the comprehensive, long-term and mutually beneficial cooperation in many fields of activity. Vietcombank will promote finance capitals for EVN and its member units, provide the services on cash flow payment and management; international payment and trade finance; preferential services for EVN employees.
Besides, Vietcombank commits to finance capital and services for EVN's contractors.
On the basis of the terms of the agreement, Vietcombank, EVN and its member units will concretize and organize implementing the cooperation contents for achieving the set goals.
The signing ceremony of the comprehensive cooperation agreement and the credit contract for the Quang Trach 1 TPP as an important milestone in the cooperation relationship between EVN and Vietcombank opens a new phase of cooperation for the best making potentialities of each party to contribute to the sustainable economic development of the country.
Quang Trach 1 TPP located in Quang Trach power center including Quang Trach 1 (1200 MW) and Quang Trach 2 (1200 MW) developed on an area of 48.6 ha in Vinh Son village, Quang Dong commune, Quang Trach district, Quang Binh province.
Quang Trach 1 TPP with a capacity of 1200 MW (2x600 MW), applying ultra-supercritical technology (USC) will be developed by EPC consortium of Japanese Mitsubishi Corporation, Korean Hyundai E&C, and Vietnamese Construction Corporation 1.
The total investment level of the project estimates about VND 41,130 billion including 30% of EVN equity capital and 70% of Vietcombank loan.
Vietcombank is the first credit organization to meet the conditions presented in Decision No 13/2018/QĐ-TTg approved by Prime Minister to finance credit loan for EVN Quang Trach 1 TPP with a sum of VND 27,100 billion with a loan term of 15 years and being disbursed within a period of 4 years according to the project progress.
In many recent years, Vietcombank provided the credit capitals for a lot of national key energy projects as Son La, Lai Chau, Ialy, Hoa Binh extended Hydropower Projects…
Recognizing the importance of electricity's role for socio-economic development in the country, Vietcombank has and will continue to finance many other large energy projects, especially the green energy and renewable energy projects.
Vietcombank has strongly speeded up to finance green and renewable energy projects in recent time, as Vietcombank's credit value in 2020 was for 160% compared to value in 2019 and in 2021 expected for 244% compared to 2020.
VER.