Signing the credit and commercial loan contracts for Song Hau 1 Thermal Power Project
09:18 | 25/11/2016
- According to information from PVN, on November 23, 2016 there was taken place the ceremony of signing credit contract and commercial loan contract with total value of USD 1.2 billion, between PVN and Korea Export-Import Bank (KEXIM) and Consortium of Nine Foreign Commercial Banks with the clue of Citibank for financing Song Hau 1 Thermal Power Plant (TPP) capacity of (2x600) MW. This TPP is a key project in Power Planning VII invested by PVN and allowed for development by special mechanism application to timely meet high electricity need in southern region in period to 2020.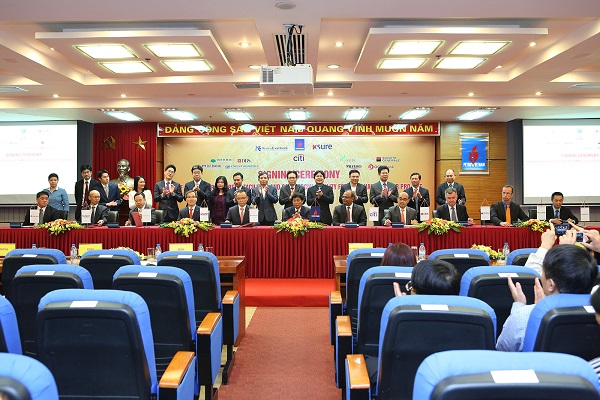 The signing cerymony of the credit and commercial loan contracts for Song Hau 1 Thermal Power Project.
The total investment level of Song Hau 1 TPP is estimated about USD 2.05 billion, among that 70% as USD 1.43 billion – foreign loans including USD 987 million of Korea export credit loans (ECA) insured by Korea Commercial Insurance Company (K-Sure) with a loan term of 17 years and USD 213 million of Foreign Commercial loans with a loan term of 10 years.
Speaking at the ceremony, PVN General Director Nguyen Vu Truong Son high appreciated goodwill and mutually beneficial cooperation between KEXIM, Foreign Commercial Banks and PVN. Mr. Truong Son also expressed his hope that in coming time PVN will continue to receive the cares from investors for timely project development.
For his part, Mr. Youngpyo Hong, KEXIM Vice Chairman also expressed a confidence that KEXIM, Consortium of the banks and PVN will succeed today successes to have the good cooperation in coming time.
The success of capital arrangement for Song Hau 1 TPP is an evidence of confidence of PVN financial ability from the international financial organizations. This is a particularly notable event in capital market, recent time, and also a step to impulse PVN to be ready to invest the following projects for power production and business development – one of the five major activities of PVN.
KEXIM is an official export credit agency supplying loan programs and comprehensive insurance to support Korean companies in oversea production and business activities.
Since foundation in 1976, KEXIM has actively supported Korea to promote export and strengthen economic cooperation with the foreign countries.
K-Sure is a an official export credit supplying commercial and investment insurance under Korean Ministry of Trade, Industry & Energy. Since foundation in 1992, K-Sure has ceaselessly reinforced competitive ability of Korea through promoting trade and oversea investment.
The foreign commercial banks as Citibank, Cathay United, DBS, SMBC, DZ BANK, Credit Agricole, Mizuho and OCBC are companies which have a long development history, financial resources and extensive operational capability in the region and around the world.
VietnamEnergy.vn