The rooftop solar power is strongly developing in the South
12:48 | 12/10/2020
- According to the information of Electricity of Vietnam (EVN), at the present the capacity of rooftop solar power projects (RSPPs) in the South accounts for over 60% the total capacity of solar power projects (SPPs) of EVN (1,142 MWp).
Many member companies of the Southern Power Corporation (EVNSPC) exceed 100% of the 2020 plan for rooftop solar PV development.
From the beginning of the year, the EVNSPC has installed a total rooftop solar power capacity of over 572 MWp for 15,579 customers, exceeding 63% of the plan for the whole year 2020 as 350 MWp. Particularly in September, EVNSPC signed the minutes to install 2-way meters for 3,231 customers with a total rooftop solar power capacity of 157 MWp.
The electricity output generated by customers on the grid in September was 55.3 million kWh and accumulated output from the beginning of the year was 250.7 million kWh. In the first 9 months of 2020, the EVNSPC paid customers more than 360 billion VND for corresponding output of 171.6 million kWh.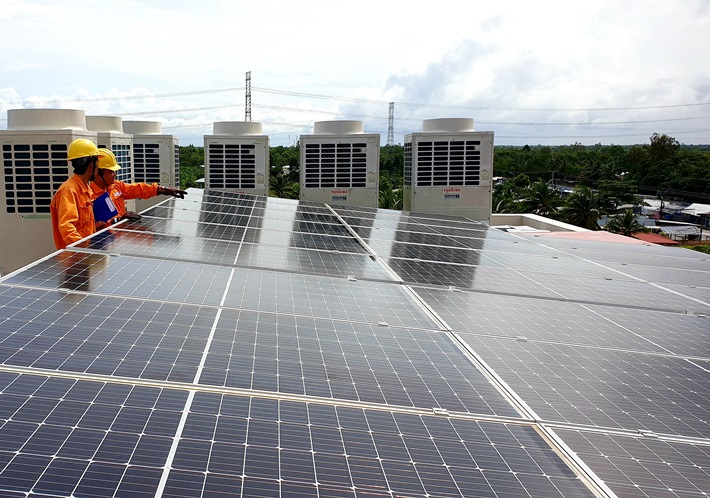 A rooftop solar power system of a customer in Hau Giang province.
There were many Electricity companies in EVNSPC that have exceeded 100% of the plan assigned by the Corporation such as: Binh Phuoc with 255%, Lam Dong -132%, Binh Duong -186%, Long An -118%, Dong Thap -118%, An Giang -117%, Ca Mau -101%, Bac Lieu - 124%, Hau Giang -123% ...
Mr. Nguyen Van Ly - Deputy General Director of EVNSPC shared that, at present the large customers participating in investment in RSPPs are enterprises in the industrial zones that have been propagated on double benefit of RSPPs as saving electricity bills, contributing to protecting environment and reducing pressure on national power system.
Regarding household customers, EVN SPS is ready to introduce the good and safe technologies for the investors to refer and select. The local electricity companies are ready to free of charge install 2-way meter, sign contract to buy redundant electricity of RSPP and implement the documents relevant to connecting RSPP with power system…
In coming time, EVNSPC will aim at the customers as the offices, schools, hospitals, hotels, commercial centers… the places where RSPP could be installed.
In coming time, in order to promote RSPP installation contributing to develop RSPP market with high quality and efficiency in Vietnam, on September 9, 2020, in Ho Chi Minh City, EVN published a RSPP foundation with a name of EVNSOLAR. The EVNSOLAR having been established on website with address of https://solar.evn.com.vn provides comprehensive solutions for customers, which need RSPP installation easily to connect with the prestigious contractors with reasonable costs and with the banks, financial institutes supplying credit support solutions for investment in RSPP installation.
VER.