Commencement of installing steel structures for Boiler 1 of Song Hau 1 TPP
14:11 | 02/08/2016
- In the morning of July 31st in Chau Thanh, Hau Giang, Lilama Corporation in coordination with Vietnam Oil and Gas Group (Petrovietnam) and other contractors conducted the commencement ceremony of installing steel structures for Boiler 1 of Song Hau 1 thermal power plant.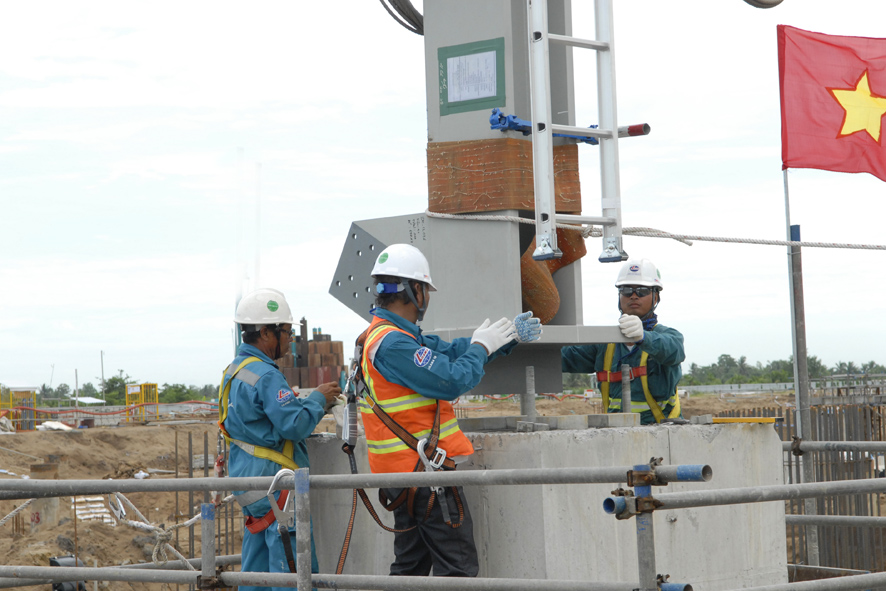 At 8:30 a.m, the first steel structures was installed at their places safely and accurately. Mr Khuat Van Thuy – Director of Lilama Management Board of Song Hau 1 power project let us know that the total volume of steel structure installation for boiler 1 was approximately 20-22 thousand tons performed by Lilama 18 JSC (member of Lilama Corp.). As anticipated, this work will be finished by January 2017, after that the company will switch to install pressured mechanical equipment for the boiler.
Speeking at the ceremony, Lilama General Director Le Van Tuan said with responsibilities of EPC Contractor, Lilama would make the best effort to mobilize manpower and facilities to complete the project in accordance with the schedule committed to the Owner.
Song Hau 1 thermal power plant with a capacity of 1,200 MW is invested by Petrovietnam and its EPC Main Contractor is Lilama Corporation. This is a national main important project being built since May 2015. After finishing and putting it into operation in 2019, the plant will supply the national grid with about 7.8 billion kWh per year, contributing to assure the national energy security and economic development of the Mekong River Delta generally and Hau Giang province particularly.
According to Lilama.com.vn