EVN and the Department of National Remote Sensing signed a cooperation agreement
14:10 | 18/03/2022
- On March 17, 2022, in Hanoi, Electricity of Vietnam (EVN) and the Department of National Remote Sensing (DNRS), Ministry of Natural Resources and Environment held a signing ceremony for a cooperation agreement on applying image data, remote sensing products into survey, design consultancy, investment and construction activities of power projects, management, operation and monitoring of power systems, serving to build digital data platform of EVN.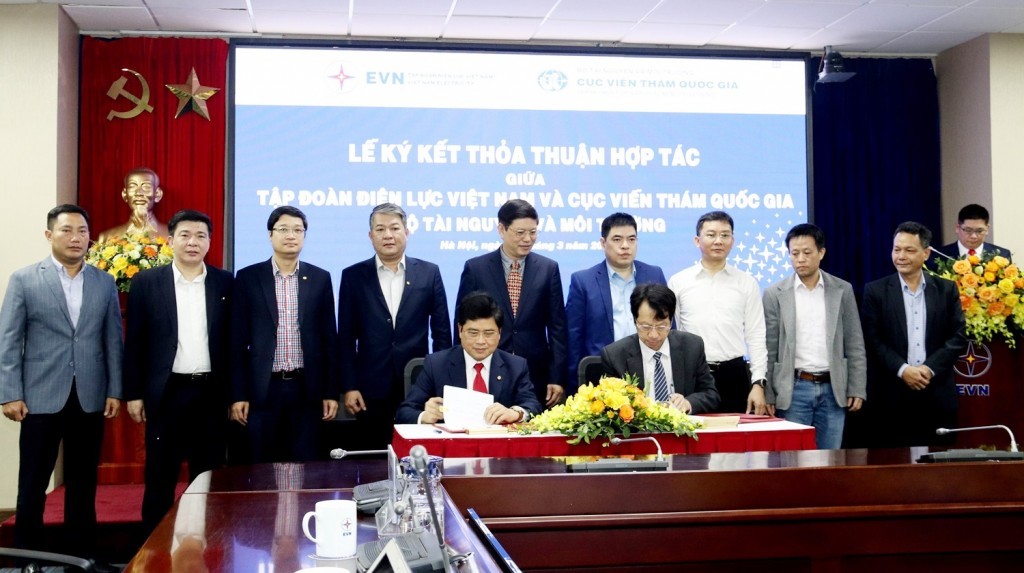 The signing ceremony.
In recent years, EVN continuously promotes applying the technologies of the 4.0 Industry Revolution in production and business management, especially synchronous implementing digital transformation programs with a general goal as "Basically complete digital transition by 2022 and operate under the digital enterprise model by 2025". One of the most basic requirements of digital transition is building a digital data platform.
The signing ceremony between EVN and DNRS is an important milestone in connecting with the national remote sensing image databases in order to apply image data and remote sensing products in building the image data, contributing to the construction of the EVN digital data platform.
The cooperation is the basis for orienting the application of information, image data and remote sensing products in EVN activities, ensuring that the exploitation of remote sensing image database complies with the regulations on the mechanism of information exploitation, image data and national remote sensing products.
The contents of cooperation focus on specific items suitable with the actual needs of EVN and DNRS including:
Firstly, applying the image data, removing sensing products to survey, design consulting, construction investment for the power projects and managing, operating and supervising the power system.
Secondly, Support building image database and remove sensing products of EVN.
Thirdly, Support training and transiting the instruments for managing and exploiting image databases and removing sensing products of EVN.
Fourthly, Ensure maintaining a stable and safe power supply for the remote sensing imaging stations of DNRS.
The process of exploiting and using the remote sensing image database will contribute to accelerating scene applications to many fields of EVN, especially for units in the power production, transmission and customer service business. At the same time, it also makes an important contribution to building a database for the EVN Digital Ecosystem (EVNCONNECT).
The application of remote sensing information, images and data provided by DNRS will contribute to improving the efficiency of surveying, design consultancy, construction investment of the power projects, operation management and supervision of the power system, suitable with the current digital transition trend of EVN.
This agreement is also one of the specific solutions and actions for EVN and DNRS to jointly implement the Project "Application of Remote Sensing for Socio-Economic Development" being carried out by DNRS and submitted to the Government for promulgating.