EVN signed a long-term coal supply agreement with Vinacomin and Dong Bac Coal Corporation
13:02 | 25/09/2023
- A conference to agree and sign a cooperation agreement between Vietnam National Coal and Mineral Industries Group (Vinacomin), South East Coal Trading Company (SECTC – Dong Bac Corporation) and Electricity of Vietnam (EVN), on long-term coal supply for Thermal power plants using anthracite coal in EVN has just taken place in Hanoi.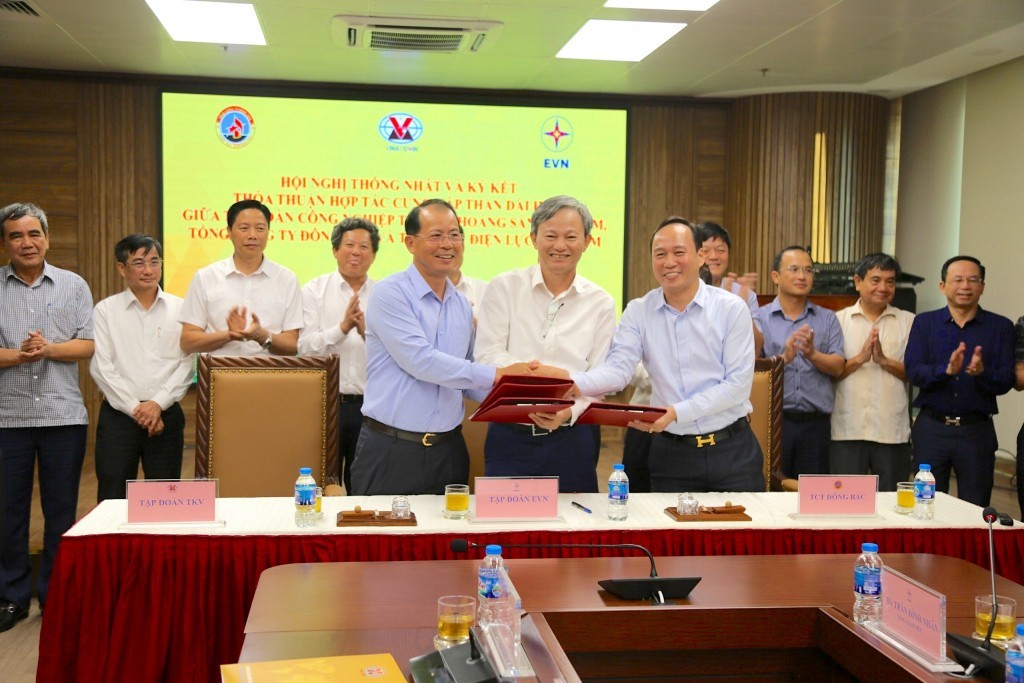 General Director of TKV - Dang Thanh Hai, General Director of EVN - Tran Dinh Nhan, and Colonel Do Manh Kham - General Director of Dong Bac Corporation at the Cooperation Signing Agreement.
At the conference, leaders of Vinacomin, SECTC (Dong Bac Corporation), and EVN conducted exchanges, negotiations, and cooperation agreements to ensure a stable, long-term coal supply for the power production of plants in EVN. At the same time, EVN also creates favorable conditions for Vinacomin and Dong Bac Corporation in production operating, and importing to meet the coal supply demand of the thermal power plants in EVN.
The three enterprises expressed the responsive determination, sense and high consensus on the goal of coordination and cooperation.
Mr. Ngo Hoang Ngan, Vinacomin Chairman expressed his confidence that Vinacomin together with Dong Bac Corporation and EVN will continue to promote close coordination and strive to successfully complete the tasks assigned by the Party, State and Government, ensuring energy for the country. Providing enough anthracite coal for electricity generation is identified as a political task. After signing the agreement, the leaders of EVN, Vinacomin, and Dong Bac Corporation will report to the Prime Minister, ministries and agencies so that Vinacomin and Dong Bac Corporation have a basis for implementing the solutions such as investment, increasing output and import... to ensure coal for electricity generation.
Speaking at the conference, Mr. Dang Hoang An EVN Chairman emphasized that the units of coal provided and used for power generation need to determine the electricity supply for the country's economic development and the coal supply for electricity production is all top important political tasks. Joining forces to carry out the task of ensuring national energy security, Vinacomin, Dong Bac Corporation and EVN will unite, share, and cooperate to carry out assigned tasks.
Also at the conference, Mr. Dang Thanh Hai, Vinacomin General Director, and Mr. Tran Dinh Nhan EVN General Director and EVNGENCO leaders also discussed in detail and especially a number of the negotiated contents to reach a consensus and sign an agreement.
The parties agreed on the principle that Vinacomin and Dong Bac Corporation will be politically responsible for providing enough anthracite coal to operate all EVN/EVNGENCO thermal power plants from 2024 and the following years throughout the operating time of the power plants.
The supplying volume, quality, and progress will be according to the annual plan agreed by the parties in the 5-year plan.