Groundbreaking a 19.2MW Solar Power Project in Quang Ngai province
08:38 | 01/09/2015
- On October 29 morning, in Duc Minh commune (Mo Duc District), Quang Ngai Provincial People's Committee (PPC) and the Investor held a groundbreaking ceremony for the Thien Tan Solar Power Project SPP. Deputy Prime Minister Hoang Trung Hai attended and spoke at the ceremony.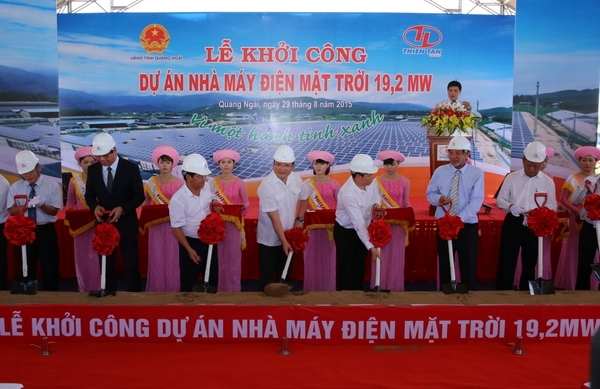 Groundbreaking Ceremony of the 19.2MW Solar Power Project (Photo: VGP)
Thien Tan SPP is a project with a capacity of 19.2 MW and technologies of no dust, no waste water and no noise, designed by the Thailand consultant expert and constructed with a participation of the Indian contractor.
The project is invested by Thien Tan Investment and Construction JSC with a nearly VND 900 billion total investment and expected to be completed before June 30, 2016.
Speaking at the ceremony, Deputy Prime Minister Hoang Trung Hai high appreciated the significance of the project, although the capacity is not large, but initially opens the diversified development for renewable and clean energy sources of the country.
Deputy Prime Minister emphasized, the power energy demand of our country is still very high with an average annual growth of over 13%, but the average consumption per capita is still low. Therefore, the diversified development of primary energy sources, especially renewable energy ones by using social capital sources as the Thien Tan SPP in Quang Ngai is very necessary and important for the rapid and sustainable socio - economic development course of the country.
DPM wishes Thien Tan Investment and Construction JSC and India, Thailand partners to focus on mobilizing the resources for guaranteeing the project progress and quality, coordinate with the local administrations during the process of project construction, operation and labor recruitment, training.
VietnamEnergy.vn