Doosan Vina proudly became the "Best Supplier in 2021" of Waste-to-Energy boiler of MHIEC (Japan) customer
MHIEC (Japan) awarded "Best Supplier in 2021" of Waste-to-Energy boiler to Doosan Vina
11:51 | 20/11/2021
- Doosan Vina was certified by Mitsubishi Heavy Industries Environmental & Chemical Engineering Co., Ltd. (MHIEC), Japan as the best supplier after completing the manufacture and supply of Waste-to-Energy (WtE) boiler pressure parts and made a great contribution to quality assurance and project schedule for the WtE power plant in Fushimi, (Kyoto).
The world is implementing a green trend to improve the situation of climate change and environmental pollution which is taking place more and more seriously. The WtE power plays an important role in both reducing the load on the environment (by reducing 90 - 95% of waste volume and mass, saving landfill area, reducing water and air pollution, reducing greenhouse gas emissions, ...), and contributing to sustainable economic development.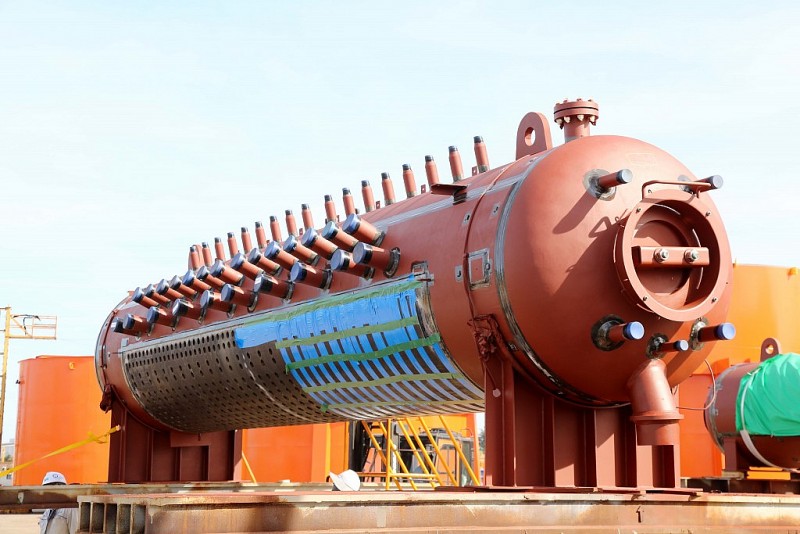 A total of 228 tons of boiler pressure parts and Nickel-coated welding are exported to the WtE Power Plant in Fushimi, Kyoto (Japan) for MHIEC customer from Doosan Vina dedicated port in Dung Quat Economic Zone, Quang Ngai province
Catching the world trend, Doosan Vina has been converted boiler production technology for power plants to WtE technology and other advanced technologies using renewable and green energy.
Although it was the first time producing WtE boiler, Doosan Vina has succeeded in implementing the Fushimi Kankyo Hozen project which was signed on September 4, 2019 and completed on May 25, 2021. This project involved the supply of 228 tons of boiler pressure components and nickel-coated brazing to install in a WtE power plant at Fushimi, Kyoto for MHIEC, Japan.
"Japan is a market known for its extremely stringent quality, but in recent years, Doosan Vina's heavy industrial products have continuously penetrated the market.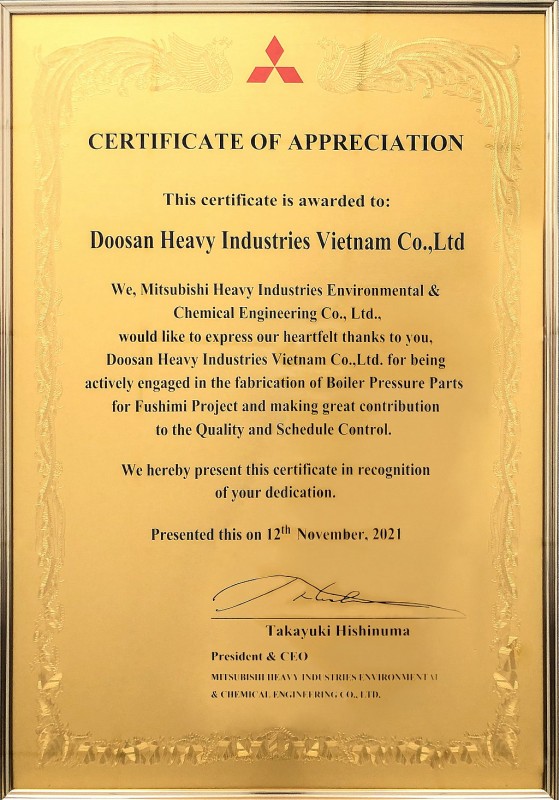 - Certificate of "Best Supplier" granted to Doosan Vina by MHIEC (Japan) related to the outstanding quality of Waste-to-Energy boiler parts
This awarding certificate has brought the future cooperation opportunities of Doosan Vina with potential customers like MHIEC as well as many other customers around the world in the field of heavy industrial equipment manufacturing, especially in a clean and friendly environmental power industry. It also affirms the position and the production capacity, technical skills of Doosan Vina's employees. We are very proud and always ready to create products at the best quality, raising Vietnamese brand products to international level." Doosan Vina General Director Jeong Yong Chil said.
In addition to the Fushimi Kankyo Hozen project, Doosan Vina has also been implementing other projects such as the Sodegaura Biomass Power project which included 4,000 tons of boiler pressure, non-pressure parts, and steel structure and other projects for the Japanese market.
The MHIEC, a wholly-owned subsidiary of Mitsubishi Heavy Industries, Ltd. (MHI), is a leading company in the waste management industry, specializing in providing equipment including Air Pollution Control Equipment, Water Pollution Control Equipment, Municipal Solid Waste (MSW) Treatment System, Heat Recovery Equipment, Sludge Treatment System, Waste Recycling Equipment, MSW Transship System (to reduce the volume of the garbage brought from the resident, whose destination will be landfill, and other relative Environmental Equipment. MHIEC has supplied more than 300 waste treatment facilities in Japan and around the world and will continue to work toward achieving the UN Sustainable Development Goals (SDGs), and resolving global environmental issues.
Below is some photos of Doosan Vina engineers and MHIEC customer representatives check the quality during the manufacturing process of Waste-to-Energy boiler pressure parts
Doosan Vina
Doosan Vina is a high-tech industrial complex in the Dung Quat Economic Zone of Central Vietnam's Quang Ngai Province employing 2,000 Vietnamese. The company supplies the mega infrastructure products that make modern life a reality. Doosan Vina's products include Boilers for thermal power plants, Desalination plants the size of a football pitch that turn seawater into fresh, Material Handling Systems like cranes that are the heart of logistics at ports around the world, Modularization and Structural Steel for refineries, buildings, and infrastructure developments. To date, the company has exported products valued at $2.4 billion.
The Doosan Group
The Doosan Group is a global multinational focusing on Power, Water, and other infrastructure developments worldwide. The company is headquartered in Seoul, South Korea, has operations in 38 countries, over 42,600 employees and $22 billion in annual revenue.